Sports
Live: Demons get the jump on Bulldogs early in historic AFL grand final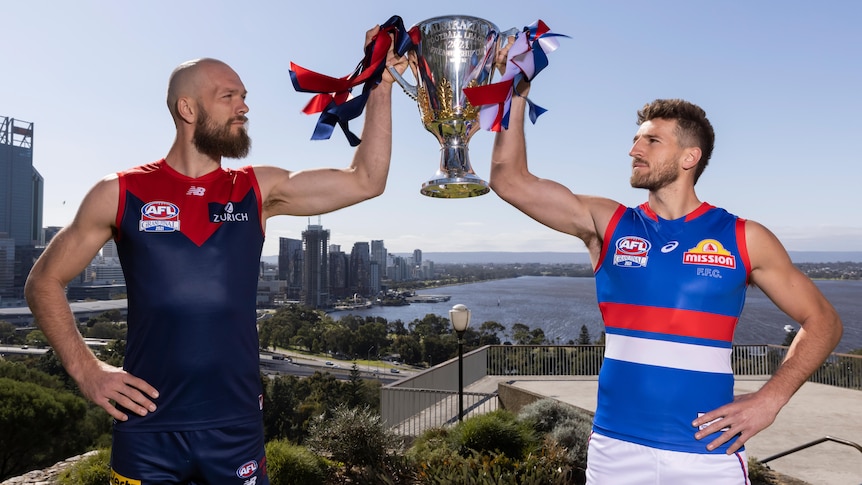 After two weeks of lead-up, the last game of the season is finally off and running. Will Melbourne break the drought, or will the sons of the West win in the west?
Follow our AFL grand final live blog.
Live updates
FRITSCH BANGS IT THROUGH! DEES START HOT!
It's normally the Dogs who are the masters of spreading from the stoppages, but this time it was Melbourne taking it almost the length of the ground in quick time. Fritsch got out the back and took the mark on the goalline.
14′: Bayley Fritsch marks in the goalsquare! The Dees broke from a stoppage on the wing and are about to have their second goal…
15′: Dogs on the board thanks to a rushed behind. It was Josh Schache's snap, but Cody Weightman got the last touch on it on the line. He also axed himself on the goal post.
CHRISTIAN PETRACCA SLOTS THE FIRST GOAL OF THE GF!
Off a step, from 45 metres, the superstar Demon opens his team's account! They've made a fantastic start here Melbourne, their physicality around the ball and structure behind it are a big problem for the Dogs.
17′: Brown misses badly. Barely a behind.
17′: Take two for Melbourne, this one coming from Ben Brown! Oliver has been everywhere so far, and was the man to spot up Brown in the pocket. Big chance for the first goal…
18′: First real chance coming up for Alex Neal-Bullen. Cordy's attempted clearance went out of the full, so the Dee will kick from the boundary, about 40 out…
It's not bad, but it's short! A rushed behind.
20′: The hottest of starts in the centre as Libba pings Oliver holding the ball. A little slow getting it forward though, and Melbourne's defensive set up stops the attack.
Here we go
Jako's got the cup
And he has delivered it to Garry Lyon and Chris Grant.
We're into the anthem now, performed by Amy Manford. It's nearly go time.
It's a grand old flag…
For the first time since 2000, the Melbourne players are on deck on grand final day. History beckons for the Demons, can they seize it?
The sons of the west are here!
The Bulldogs have taken to the Perth Stadium field. The coaches have done all they can, it's up to those Dogs now.
It's nearly time…
How we feeling, Dees/Dogs fans? It's been a long two weeks, but there's only a few more minutes of excruciating pain to go.
Proud Melbourne supporter for sixty years. Love affair began when someone gave me a second or third hand jumper when I was eight. Loved the Deez ever since, waiting ever so impatiently for The Big Dance to begin.

-Mark
Go bulldogs

-Ian
You are dreaming if you think Gawny will be nullified by any one. The man is unstoppable! And yes I'm Mrs Gawn, I have the nickname in a group chat to prove it.

-Mrs Gawn
This one's for Jim Stynes.

-Dharma Bro
Gang's all here for Land Down Under
Including an appearance from Men at Work's Colin Hay, piped in from LA.
Sometimes you kick, sometimes you get kicked
Get it? Because it's footy!
We had John Butler doing Great Southern Land before, and now it's Eskimo Joe with INXS's 'Kick'.
Eskimo Joe are back!
Two guess as to what they're playing. If you guess 'Black Fingernails' and 'Red Wine', you win!
Baker Boy is good
He started with an interesting Kylie Minogue mash up, but moved into Meditjin complete with his own didgeridoo. He's really good.
Pre-match hype has begun
After Welcome to Country from Dr Richard Walley, we've got a sweet Mike Brady medely from lockdown in Melbourne.
And now a selection of Aussie classics, from a selection of Aussie classics. And we're in Perth, which can only mean one thing — ACDC covers!
Aren't the punters loving it.
Final teams are in
No late changes for either side.
Melbourne's medical sub will be James Jordon, and the Bulldogs' Laitham Vandermeer.
And yes, that means there is only one hour to go…
Drama!
No joke, we've just had two people predicting draws. We might be here all night!
draw!

-Shock and horror!
Winner: Dees in overtime
Margin: 4 points
Norm Smith: Maxy
First goal: Cody
Surprise hero: Bailey Dale

-Simon
Posted , updated 
File source