Sports
Gohar spins Glos to win against Glamorgan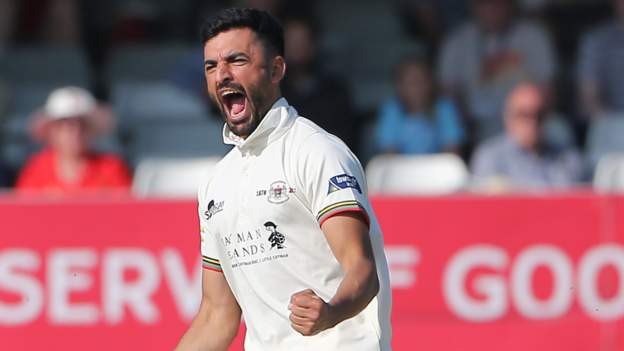 Glamorgan 309 & 124:
Zafar Gohar Khan 6-43
Gloucestershire 419:
Dent 75, T Price 71, van Buuren 65; Hogan 3-49
& 15-0
Gloucestershire (22 points) beat Glamorgan (5 points) by 10 wickets
Scorecard
Pakistan spinner Zafar Gohar Khan finished with 6-43 as Gloucestershire thrashed Glamorgan by 10 wickets with two sessions to spare.
Ryan Higgins claimed his 50th Championship wicket this season as Glamorgan were bowled out for 124.
Gloucestershire needed just 15 to win and took nine balls to ensure victory in Cardiff.
They now have two wins from three in Division Two and could finish eighth in the overall rankings.
Glamorgan have been heavily beaten in their last three games.
Gohar continued his dominance of the previous evening despite token attempts to hit him off his line.
Andrew Salter reached 19 with three fours before being trapped lbw, while Ruaidhri Smith was bowled for four trying to reverse-sweep.
Dan Douthwaite's dogged resistance ended on 14 when he was bowled by one that kept low from Higgins, but a lofted four from last man Michael Hogan levelled the scores.
Gohar was struck for two sixes by Timm van der Gugten (14) before a brilliant relay catch on the boundary when the sprinting Higgins flicked the ball infield for Graeme van Buuren to complete the dismissal.
Chris Dent and Miles Hammond quickly finished off a game which had looked evenly poised only 24 hours previously.
Gloucestershire host Durham in the final round of Championship games next Tuesday, when struggling Glamorgan travel to Surrey.
Glamorgan coach Matthew Maynard told BBC Sport Wales:
"We couldn't prise out their last two wickets and then in hindsight on Tuesday night we probably weren't proactive enough against the spin.
"We've had games this season, especially since the resumption, where we've lost wickets in clusters and it's cost us the game with a poor session. It comes down ultimately to having confidence to play in your particular way as a batsman.
"I've never known such a topsy-turvy season. We've been really good in the first 10 games, then the disappointment of the T20 with Marnus Labuschagne out for four games, and we haven't knitted as well back after The Hundred as we could have done.
"It's been tough emotionally for everyone at the club, but you've got to remember we've created history as the first team to win a knockout cup for the club."
Gloucestershire interim coach Ian Harvey told BBC Radio Bristol:
"The main thing for us after the defeat last week against Essex was to turn it around. We've done that really well all season so it was very pleasing.
"We wanted to get as big a lead as we could knowing the wicket is not going to get better towards the end. Zafar was outstanding and took full advantage of the conditions.
"Spinners around the country come into their own around day three and four, so that's one of the reasons we got Zaf, you've got to play to the conditions and he did that exceptionally well.
"Ryan Higgins keeps putting into consistent performances and it's great he's on our side, fantastic for him to reach 50 wickets."
File source