World
Why Christian Porter's mystery legal donations are different to Sarah Hanson-Young's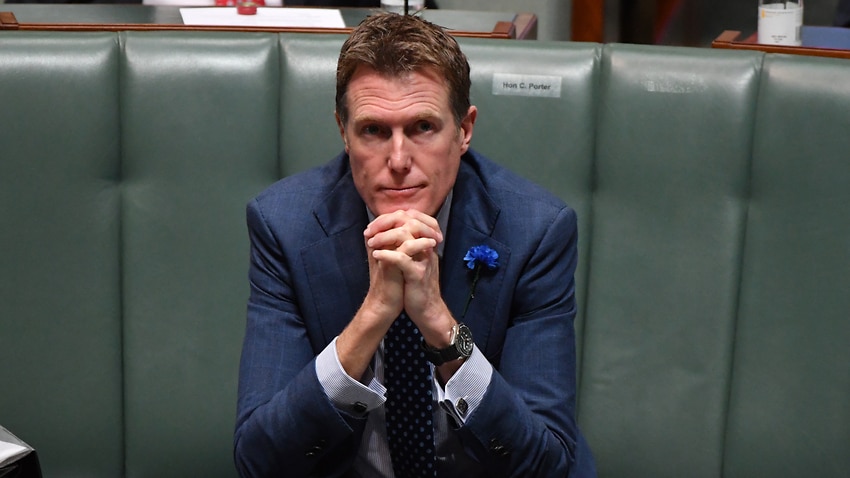 The government has instead said it's important to look into the broader issue of politicians crowdfunding legal cases, and referred that question to the committee.
It has pointed to the example of Greens Senator Sarah Hanson-Young's crowdfunding campaign in her defamation case against former senator David Leyonhjelm, which she subsequently won. But experts have told SBS News that the two cases are different.
Senator Hanson-Young in September said she had listed all of the donors in the parliamentary register, "as they should be".
FYI when I took legal action after suffering harassment in the parliament, I was able to do so with the support of a crowdfund. Hundreds of Australians contributed to that fund and I am forever grateful.
These donors have been listed on the parliament register, as they should be.
In making its case for a broader look at all politicians, the government has argued some of Senator Hanson-Young's donors were too anonymous – including such colourful names as "John51884010" and "Poopy Head".
But Senator Hanson-Young says she received 1,800 donations in her crowdfunding campaign, and most of them were under $20.
"I have been absolutely upfront – I have nothing to hide," she told reporters in Canberra on Thursday.
She said some donors had chosen anonymity through the GoFundMe page which was "what those systems allowed".
"But as a parliamentarian, I've detailed every single donor on the public register. It's all there for everyone to see."
Senator Hanson-Young also said she was "proud" of her donors.
"I don't understand why Mr Porter and (Prime Minister Scott) Morrison can't be proud of who's donated to his legal fund. What is he hiding? What is he ashamed of?"
'Difference' in donation sizes
It's been reported that Mr Porter's legal bills were in the range of $600,000 to $1 million, but the exact donation figure and how many donors there were remains unclear.
Swinburne University governance and parliamentary studies expert Professor Ken Coghill, a former Labor MP, said factoring in the size of donations is important.
"Smaller amounts are less likely to sway someone but what the research shows … if someone makes a gift to you, you feel more favourably towards them," he told SBS News.
"A large number of small donations are far less likely to lead to someone who has received them acting favourably towards the gift-giver than someone who received a large amount, an amount that was very much tied to their future career and well-being."
A J Brown, a professor of public policy and law at Griffith University and a board member of Transparency International Australia, said there was a "huge" difference between a crowdfunding campaign and a blind trust, which was designed to maintain the confidentiality of the donor.
"For small donations, it doesn't matter so much to maintain the privacy of individuals, provided it's clear that they're individuals making small donations quite openly, and the threshold for disclosure of the identity of large donors should be the same in a crowdfunding campaign as it is in the requirements on members of parliament to declare their interest," he said.
"But using a trust, and specifically either inviting or receiving donations on the understanding that even large, large, large donors, the identities can't be revealed, is a real problem for any politician."
Lack of guidance
Professor Brown said the bigger issue is that there's currently no guarantee that any independent mechanism or committee will look into such issues, and formulate guidelines and rules for parliamentarians.
He says whether it's Senator Hanson-Young or Mr Porter's cases, there needs to be a better system for guidance.
"We don't have strong enough mechanisms overseeing the federal parliament to ensure that these kinds of transparency issues are properly dealt with in the public interest when they arise," Professor Brown said.
"The real problem and the real reason why parliamentarians have to disclose the gifts they received from any source over a threshold, unless it's clearly from a personal family member or close family friend, is because we don't know who they're beholden to – it basically effectively is a debt.
"We don't know who might be coming along down the track in order to say to a particular parliamentarian, 'Well I didn't tell you at the time but I would like a favour in return for all of that money that I gave you for your legal costs or for your by your house or whatever it is'".
Public integrity commission
Professor Coghill says it all goes back to the need for an effective and strong federal integrity commission.
"The public, by and large, is appalled and disgusted by the way in which political financing operates in Australia," he said.
The federal government says it's committed to introducing laws to parliament this year for a National Integrity Commission.
But there are concerns, including those recently raised in an independent analysis, that it will not be effective to investigate major scandals over the misuse of public funds.
Professor Brown said the "proof will be in the pudding" once the public finally could see what the government's version of a commission could look like.
"It would be better if the government was starting to fully walk the walk, as well as talk the talk of serious integrity and transparency reform," he said.
"We can only hope that the government is still listening to the importance of acting on these issues in a very strong way when it finally does introduce the integrity commission bill."
With AAP
File source