World
Victoria suspends international flights during five-day lockdown as Holiday Inn cluster grows to 14 cases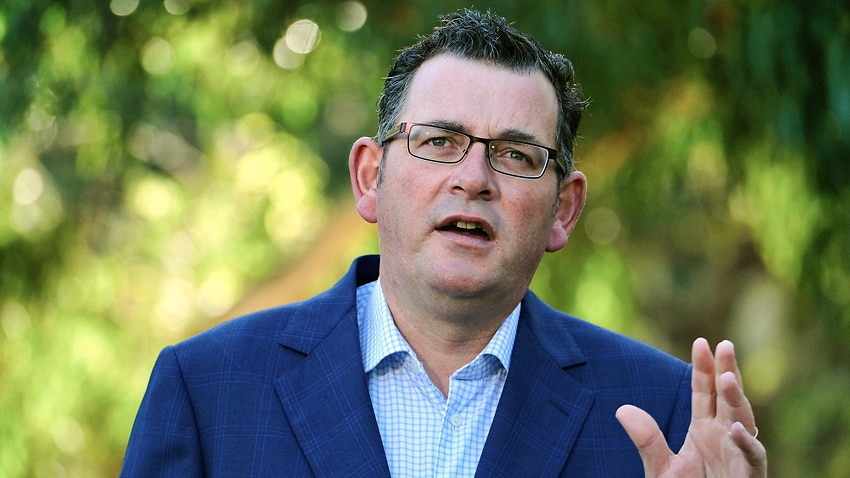 Premier Daniel Andrews has confirmed that international flights into Victoria have been suspended while the state endures a five-day lockdown due to a growing COVID-19 cluster.
One new locally-acquired case was reported in Victoria on Saturday which authorities have linked to the Melbourne Airport's Holiday Inn cluster. 
The man in his 30s, from Point Cook in Melbourne's west, is a friend of a worker at the quarantine hotel. 
Speaking to reporters on Saturday, Mr Andrews said Prime Minister Scott Morrison had agreed to the suspension of flights.
"It's not instantaneous because flights are already in the air, and people are well and truly on their way to coming home. They may be in transit, they may be in Singapore or another place, all those issues," he said.
"There will be five more flights. We think there are about 100 passengers on those. They will be appropriately taken care of, but there are no further fights flights beyond those five until next Thursday but will keep you informed of that as we get closer to Thursday."
The Victorian weekly cap had been set to lift from 1210 to 1310 overseas arrivals.
A reduced traveller cap would make it harder for Australians stranded overseas to make it home. Thousands are already struggling with constantly cancelled flights and high ticket prices.
Mr Andrews said it was for the federal government to decide how many people would be returning to Australia.
But Mr Morrison has defended the hotel quarantine program, arguing that leaks are inevitable.
The Commonwealth has now declared greater Melbourne a COVID-19 hotspot as it manages the new outbreak. 
Mr Andrews said there are now 14 cases linked to Melbourne Airport's Holiday Inn, the site from where the UK variant of the virus escaped. 
He said the recent case's 38 primary close contacts are isolating and have been tested. 
"That will be a big focus of our efforts today and we hope to be able to report negative results … as soon as they come to us, most likely a feature of tomorrow's briefing," he said. 
There are now 996 identified primary contacts of the Holiday Inn outbreak in isolation.
Mr Andrews also noted that 11 of the 12 staff at the exposure site at Brunetti's cafe at a Melbourne Airport terminal between 4:45am and 1:15pm on Tuesday have now tested negative.
More than 2000 passengers who went through the airport have been asked to isolate and get tested. 
Mr Andrews praised the "courage" and "compassion" of Victorians as the state endures another lockdown, saying it "sets us apart". 
"There is pain out there and I will have more to say about support for business and others who have been negatively impacted by this absolutely necessary public health measure, to protect all the things we've built, this precious thing with built," the premier said.
"I know it's not easy, and that is why there will be support there and I will have more to say."
Australia's Chief Medical Officer Paul Kelly on Saturday said the outbreak in Victoria is so far "contained" because all of the new cases are in previously-identified close contacts of existing cases. 
But he said concern remains around the Tullamarine exposure site, connected to the worker at Brunetti's cafe. 
"Literally thousands of people would have gone through that place … so all states and territories are now undertaking quite significant contact tracing exercises in the same way as is happening in Victoria," he said. 
The virus has escaped from hotel quarantine in Sydney, Perth, Brisbane and Adelaide in recent months.
Dr Kelly said he has "full confidence in the Victorian hotel quarantine system", adding several reviews of the systems across the country "has stood us in a very good stead". 
"We have had a very small number of breaches but of course we can always learn from what happens and that continuous quality improvement approach is what we are taking," he said. 
Hotel quarantine boss denies nebuliser claim
The state's health authorities maintain the Melbourne outbreak can be traced back to a family of three who quarantined at the Holiday Inn and are believed to have been infected overseas.
One family member, who is in intensive care, used a medical device called a nebuliser in their room despite them being banned outside of medi-hotels.
Speaking to The Age, the man, who has remained anonymous, claimed he had twice been given permission from quarantine staff to use the device. 
COVID-19 Quarantine Victoria commissioner Emma Cassar faced repeated questions from reporters on Saturday afternoon, denying multiple times the man declared the item.
"I can categorically say that there is no evidence from our audit that he has raised this with our health team," she told them. "[There was no record] of a nebuliser in the sytem. I can't disclose other things because that would be a breach of his privacy." 
Ms Cassar apologised to the man "for his treatment", saying it was "unfortunate that this is playing out in the media". 
"I am deeply sorry for his treatment. No one ever wanted this to happen and I am sorry that this has been played out the way it has. It is awful. We have never accused him of doing the wrong thing, he hasn't done the wrong thing."
Earlier, Mr Andrews was asked repeatedly about conflicting reports over the family member, but said he would direct those to Ms Cassar. 
"My understanding and my expectation is that all relevant material within any government department will be shared with anyone who needs to know about it and it was my sense that was happening," he said.
In the same press conference, Chief Health Officer Brett Sutton addressed concerns over the possibility of an extended lockdown, after a recent health directive made reference to 26 February.
"All directions have always been written until the end of the emergency period, whenever that relevant state of emergency period has been extended. That applies to all directions across all periods," he said.
"So they will be revoked at any point where we think the settings need to be changed. So that has applied previously when we have already had a flagged date of easing of restrictions. We have still had an end date of the end of state of emergency period is absolutely nothing different in the way directions have made written at this stage.
"Nothing should be read into it as having an intention to extend beyond a day beyond when we think they need to be in place. For now, that is five days, absolutely."
Elsewhere, NSW and Queensland on Saturday both reported no new local cases in their respective 24-hour reporting windows. Both states reported two new cases in travellers in hotel quarantine.
Victorian visitors to NSW from Saturday will be obliged to follow their home state's "stay at home" orders. This does not apply to residents of NSW border communities unless they have visited Greater Melbourne.
But NSW has strongly advised its residents to avoid non-essential travel to Victoria.
Tasmania, Northern Territory, Queensland, Western Australia and South Australia have closed their borders to Victorian travellers.
– Additional reporting by AAP.
People in Australia must stay at least 1.5 metres away from others. Check your jurisdiction's restrictions on gathering limits. If you are experiencing cold or flu symptoms, stay home and arrange a test by calling your doctor or contact the Coronavirus Health Information Hotline on 1800 020 080.
News and information is available in 63 languages at sbs.com.au/coronavirus
Please check the relevant guidelines for your state or territory: NSW, Victoria, Queensland, Western Australia, South Australia, Northern Territory, ACT, Tasmania
File source