World
Police restraint footage played at inquest into death of Aboriginal woman Ms Wynne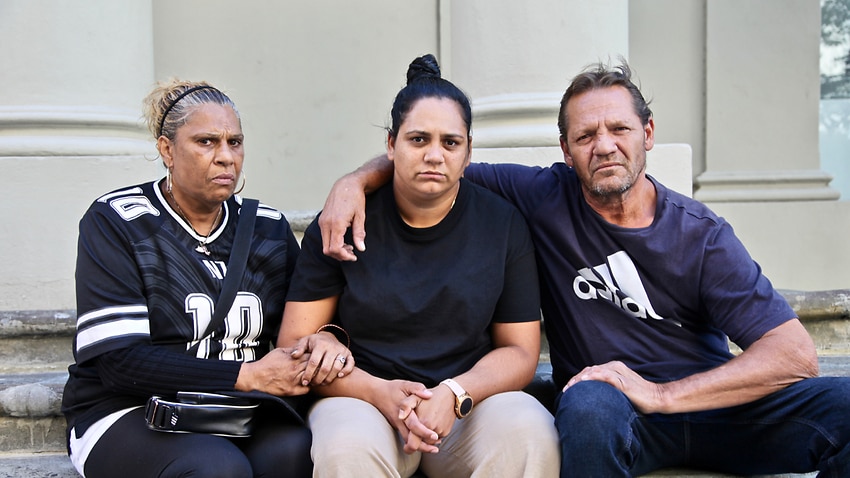 Police officers were called to respond to a person that was "suicidal" and at risk of being struck by a car.
First Class Constable Shaun O'Callaghan was among three officers that arrived at the scene around 7:37am and apprehended Ms Wynne in the middle of the road.
"When I first approached her and (placed) a hand on her shoulder…she said nothing. I could see she had some blood running down her arm and a swollen neck. She had a blank look on her face, as if I wasn't there," he told the inquest on Wednesday.
The CCTV footage, taken from an elevated position approximately 50m away, shows the officers lead Ms Wynne off the highway to a grassed area, where they brought her to the ground.
Constable O'Callaghan said Ms Wynne was non-compliant and resisted officers.
"From my perspective, she was trying to get back onto the road. The direction she was pushing in, trying to get away from us, that seemed to be the direction she was (going)," he said.
On the side of the road, the officers almost immediately rolled Ms Wynne face down onto her stomach to handcuff her arms behind her back.
Several officers restrained Ms Wynne, including Constable O'Callaghan, who placed his knee on the back of her legs, and Sergeant Jace Williams, who placed his leg on Ms Wynne's back.
Sergeant Williams is scheduled to give evidence on Thursday.
While the handcuffs were being put on, the officers noticed Ms Wynne was clenching a cannula needle that she had retained from the ambulance.
Sergeant Williams applied a pressure point technique to Ms Wynne's wrist to release the needle.
Ms Wynne's cousin, Tseena Cooper, pictured holding photos of her Source: Supplied
---
Once Ms Wynne was in handcuffs and the needle had been removed, police lifted her off the ground. Ms Wynne was heavy and limp with her head angling forward, footage showed.
Police tilted her head back, observing she had glazed eyes.
"As soon as they lifted her up I could tell she was not breathing. I could tell there was something wrong," Detective Constable Layla Boyd told the inquest.
By that time, paramedics from the ambulance Ms Wynne had fled from had arrived and could not detect a pulse.
Officers removed the handcuffs from Ms Wynne and rolled her onto her back before both officers and paramedics began resuscitation attempts.
It took approximately ten minutes before signs of life returned.
The CCTV footage played to the court ends at approximately 7:42am, after which Ms Wynne is placed in an ambulance and taken to Royal Perth Hospital.
A CT scan confirmed a severe hypoxic brain injury. She was placed on life support, never regained consciousness and died five days later.
Constable O'Callaghan defended the decision of police to position Ms Wynne face down on the ground on her stomach.
"(Her arms) being bloody and sweaty, she was quite slippery. We decided it was best to set her down and put handcuffs on her," he said.
He said he did not observe Ms Wynne's breathing become abnormal during the incident, but couldn't recall at what point during the restraint that she stopped moving.
"She was breathing heavily like someone who had run, but nothing to make me think what was about to happen would happen."
St John's ambulance paramedics that attended the scene, also told the inquest that they believed the force used by police to restrain Ms Wynne was reasonable.
The inquest continues.
Readers seeking support can contact Lifeline crisis support on 13 11 14, visit lifeline.org.au or find an Aboriginal Medical Service here. Resources for young Aboriginal and Torres Strait Islanders can be found at Headspace: Yarn Safe.
File source