World
NSW records 10 Omicron cases in a single day as authorities continue to investigate source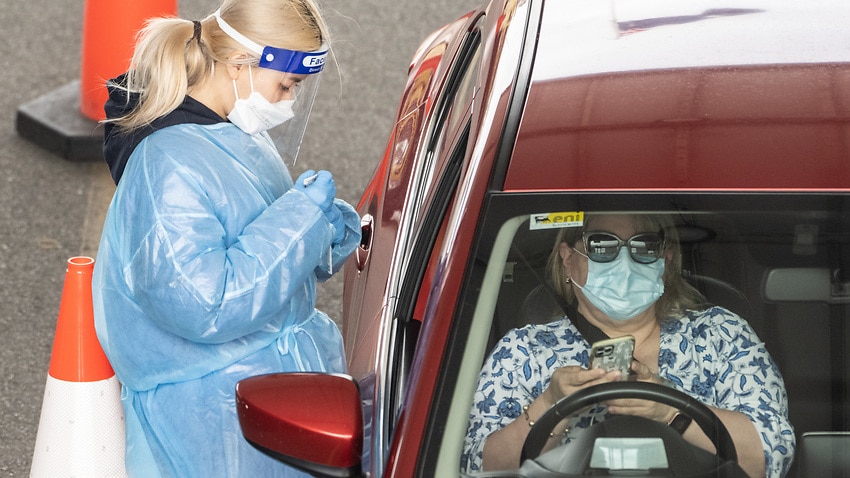 There were 208 new cases of COVID-19 in NSW from 61,132 tests recorded in the 24-hours until 8pm on Sunday.
NSW #COVID19 update – Monday 6 December 2021

In the 24-hour reporting period to 8pm last night:

– 94.6% of people aged 16+ have had one dose of a COVID-19 vaccine
– 92.8% of people aged 16+ have had two doses of a COVID-19 vaccine pic.twitter.com/9iJm2JVSUY
The state's adult vaccination rate remains at 94.6 per cent first-dose coverage while 92.8 per cent are fully vaccinated.
More than 81 per cent of teens aged 12-15 have had one dose of the COVID vaccine and 77.2 per cent are fully jabbed.
There are 152 people with COVID in NSW hospitals, 24 of them in ICU.
Investigation into cluster continues
Meanwhile, NSW authorities are trying to track down the source of the Omicron cluster at St Peter Chanel Catholic Primary School in western Sydney.
A student at the Regents Park school is believed to have acquired an Omicron infection at the Villawood indoor climbing gym.
All year three and year four students and teachers at the school are close contacts and are isolating.
NSW Health continues to investigate the source of infection of the cluster of COVID-19 cases.
Victoria records six deaths
Victoria has recorded 1,073 new COVID-19 infections and another six deaths, as the premier pledges to try to keep the state's border open amid the Omicron variant spreading elsewhere.
The health department confirmed on Monday the state is now managing 16,503 active COVID-19 cases.
There are 310 patients in the state's hospitals, 90 of whom are in intensive care and 19 requiring ventilation.
Virus testers in Victoria processed 56,337 results on Sunday, while 1,513 people were vaccinated in state-run hubs.
More than 91 per cent of Victorians over 12 are fully vaccinated.
Omicron 'presents more mild illness'
Chair in epidemiology at Deakin University Catherine Bennett says the new strain is spreading faster than Delta but the symptoms are less severe.
"You do not want that increase in infectiousness coinciding with even the same level of illness," Professor Bennett told ABC TV on Monday.
"So the fact that it is presenting with more mild illness so far is really encouraging given that high rate of spread.
"And if it does just have that edge on Delta and were to replace Delta in other settings, then it's important that it's not putting more pressure on hospital systems," she said.
"It would be even better if it was putting less," she said.
Meanwhile a pilot program to return international students to the state starts on Monday, with up to 250 students expected to arrive on a charter flight who will then isolate at a student accommodation facility for three days.
Other international students will have to wait until 15 December, after the federal government paused the easing of border restrictions due to the Omicron COVID-19 variant.
No 'Omicron zero' strategy
It comes as Premier Daniel Andrews says the state won't pursue an "Omicron zero" strategy, despite it being among Australian states yet to record a known case.
South Australia reimposed testing requirements for all arrivals from Victoria, NSW and the ACT on Saturday over concerns about the new strain, and Premier Steven Marshall hasn't ruled out shutting the border altogether.
Mr Andrews said he and his NSW counterpart Dominic Perrottet texted about the new variant and are aligned on working to keep borders open ahead of Christmas.
"I've never been one to criticise other states making what they believe to be the right choice, but we will not be pursuing an 'Omicron zero' here," he told reporters on Sunday.
"We don't think that makes any sense. It may already be here. The good news so far is whilst it's more infectious, the evidence suggests it is milder."
ACT reaches 98 per cent vaccination rate
Six new COVID-19 cases have been reported in the ACT, and the number of active cases has fallen to below 100 for the first time since August.
Health officials also said Canberra has now achieved a 98 per cent fully vaccinated rate for people aged 12 and over, the highest rate of any jurisdiction.
ACT Health said there were 98 currently active cases, and there have been two cases of the Omicron variant detected in Canberra since Friday.