World
Nationals leader says little support in party for increasing 2030 climate target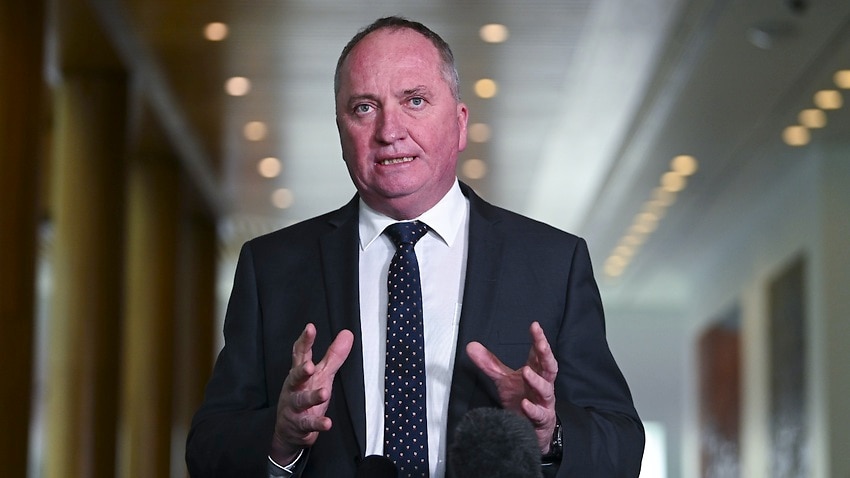 Mr Taylor told reporters ahead of the meeting the government was committed to an approach that focuses on "technology, not taxes" to further reduce emissions.
"(And) making sure we protect our traditional industries in agriculture, heavy manufacturing as well as mining and resources," he said.
Prime Minister Scott Morrison is hoping to go to the Glasgow talks which start later this month with a credible net-zero plan which could also include changes to the 2030 target.
Highly unlikely National MPs will back increase to 2030 target: Barnaby Joyce
Nationals leader Barnaby Joyce said his party room was "highly unlikely" to support raising the medium-range target, which is currently set at reducing emissions by 26 to 28 per cent on 2005 levels by 2030.
He told reporters the overall plan would not be put to a vote in the party room, but rather that he would gauge the temperature.
The party will meet again on Tuesday, with a Liberal party room to be held on Monday. 
Speaking after the Sunday party room meeting, Nationals deputy leader David Littleproud said there are a number of issues that need to be worked through. 
"We're going to make sure we understand this properly and bring the collective together to understand and protect regional and rural Australia."
He said no modelling had been presented by Mr Taylor to consider a 2030 target. 
"The only question we've been asked is net zero by 2050, and that's the only one we're focusing on."
Raising the temperature of the debate, Nationals senator and former minister Matt Canavan wrote in an online article on Sunday the government stood on a precipice.
"Will we stand by our principles and the people that gave up their free time and money to support us?" he wrote, citing past elections where the coalition campaigned against tougher climate action.
"Or will we become the conservative version of Kevin Rudd, an empty, poll-driven kite, that blows with the wind rather than stands against it when it is right to do so?"
He described net zero as a "corporate buzzword" and questioned the reliance on hydrogen power to achieve big emissions cuts.
"The prime minister may very well believe in miracles, but I don't think we should be gambling people's jobs based on the existence of them."
Finance Minister confident a strong plan will be taken to COP26
It is understood the coalition has polling showing as many as four out of five Australians support a net zero target, so long as it does not unreasonably raise the cost of living.
Many coalition MPs face pressure in their seats ahead of the federal election, due by May 2022, from independents, Greens and Labor candidates seeking more ambitious climate action.
Finance Minister Simon Birmingham said a global shift was occurring and the government was confident of landing "strong commitments and strong plans" to take to Glasgow.
"Other nations are already making decisions that will have impacts on Australia and that's why we need to invest and position ourselves to make sure we can take advantage of opportunities and make the transition successfully to protect jobs, to protect regions," he told Sky News.
Former veterans minister and now Nationals backbencher Darren Chester ended his boycott of the party room to attend the online meeting.
Labor frontbencher Katy Gallagher said any targets needed to be legislated to be legitimate.
"(We've had) three prime ministers, 21 energy policies and now we have got the prime minister trying to wrangle a last-minute deal with the Nationals party about what they actually stand for," she told ABC's Insiders.
With one of the potential bargaining chips for the Nationals being a multi-billion-dollar rail line between the southern Queensland mining basin and the Port of Gladstone, Greens leader Adam Bandt said: "The climate action the science demands doesn't have any new coal trains, coal trucks or coal mines."
File source