World
More than 200 arrested in Melbourne after fifth day of protests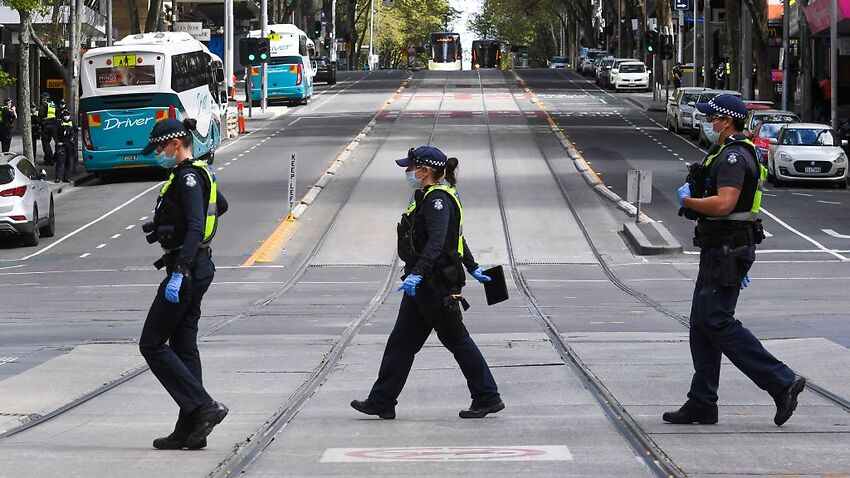 In total, 215 people will be issued with penalty notices for breaching health directions, while a number will be charged with criminal offences, including deception, theft and drug offences. 
Earlier, Health Minister Martin Foley said a woman in her 80s from the local government area of Moreland had died, taking the toll from the current outbreak to 21.
Victorian Health Minister Martin Foley speaks during a press conference in Melbourne. Source: AAP
---
The new locally acquired infections bring the number of active cases in the state to 7,160, with 297 people in hospital including 66 in intensive care.
Mr Foley announced the state will receive 32,000 doses of the Moderna COVID-19 vaccine, which will be distributed to state-run clinics, from the federal government next week.
"Given some of the issues around Pfizer supply, particularly in the second half of October, we will be pivoting more of our pop-up sites in Moderna in the coming weeks," he told reporters on Friday.
The government wants to make sure the "really strong drive of Victorians to get vaccinated in their communities in safe and accessible locations does not lose momentum".
Mr Foley said the vaccine will largely go to the Palm Plaza pop-up clinic in Dandenong, where a COVID-19 outbreak continues to grow.
Some 300,000 doses will also be distributed to 700 pharmacies across the state, with a focus on the north and west of Melbourne, where most of the infected persons reported on Friday live.
Included in the new cases was a man who was at an anti-lockdown protest on Wednesday in Melbourne's CBD and centred on the Shrine of Remembrance.
He is being treated in hospital and public health investigations are underway.
Some Victoria Police officers have been identified as close contacts of the man and will have to self-isolate.
"For operational reasons, numbers will not be provided on how many officers were placed into quarantine as a precautionary measure," a spokesperson said.
"Victoria Police's priority first and foremost is to ensure the safety of its people and the community.
"The community can be assured that service delivery to the public will remain unaffected during this time."
The protests initially began in opposition to mandatory COVID-19 vaccinations for the construction sector and the closure of building site tea rooms but morphed into a wider anti-lockdown and anti-vaccine movement.
The fourth day of protests on Thursday was a non-event, with demonstrators largely a no-show despite flagging potential meeting sites.
Victoria Police made 92 arrests for breaches of public health orders, as well as other matters including outstanding warrants.
Meanwhile, stranded Victorians fully vaccinated against COVID-19 will soon be allowed to return home from Greater Sydney.
From 30 September, double-dosed Victorians stuck anywhere in NSW can come home if they return a negative test 72 hours before departing NSW, isolate at home for 14 days and get tested at the start and end of quarantine.
With SBS News. 
File source