World
Christian Porter's cabinet position up in the air as Scott Morrison considers advice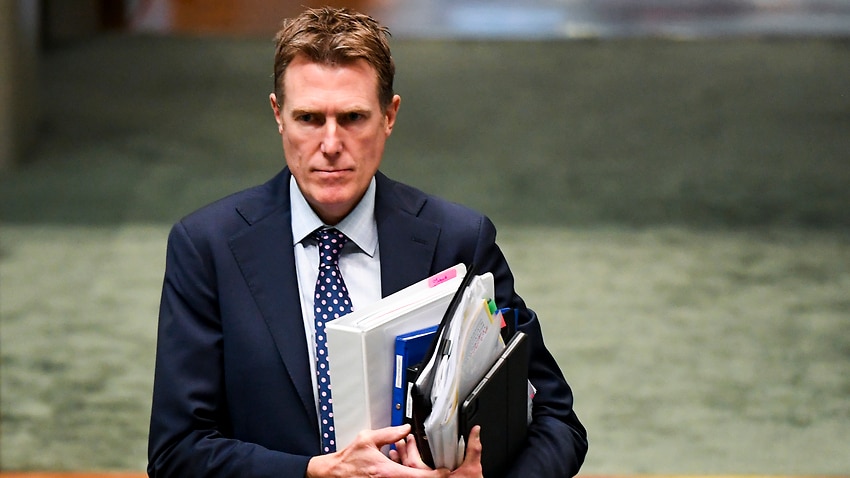 "As always, I will carefully ensure that the ministerial guidelines are adhered to," he said.
"I take the matter seriously and we are looking carefully at the arrangements and what the minister will be required to do in order to ensure he was acting consistently with the ministerial guidelines." 
Mr Morrison added that he had been prepared to make "difficult decisions" in the past where ministers were found to have breached standards. 
Mr Porter has defended the disclosure of the blind trust as acting in accordance with the requirements for disclosing personal legal matters.
He sued the ABC in March over a story that revealed a now-deceased woman's historical rape allegation against a cabinet minister. Mr Porter, who strenuously denied the allegation, came forward to identify himself as the cabinet minister and the ensuing defamation case was settled before trial. 
Opposition leader Anthony Albanese on Thursday labelled Mr Porter's position as in cabinet as "untenable".
"Christian Porter should go and he should go today. You can't just take money as cabinet minister from persons unknown and not declare it," he told reporters on Thursday. 
"There is such a stench around this and around Christian Porter that all that is missing is a cloud of blowflies." 
Geoffrey Watson, a former counsel assisting the NSW Independent Commission Against Corruption and now a director of the Centre for Public Integrity, said Australians deserve to know exactly where the money has come from.
"This is a really concerning thing that a minister is receiving a gift from an unidentified source," he told SBS News. "We don't know if it is a malignant influence."
Mr Watson said he did not understand why Mr Morrison would need to seek further advice on the matter.
"It is so obviously wrong – what does he need guidance on?" he said.
Mr Porter's decision to accept the blind trust has also drawn criticism from former prime minister Malcolm Turnbull, who said politicians should not receive money from undisclosed sources.
File source