World
Carl felt sick at his NDIS job because of independent assessments. So he quit in protest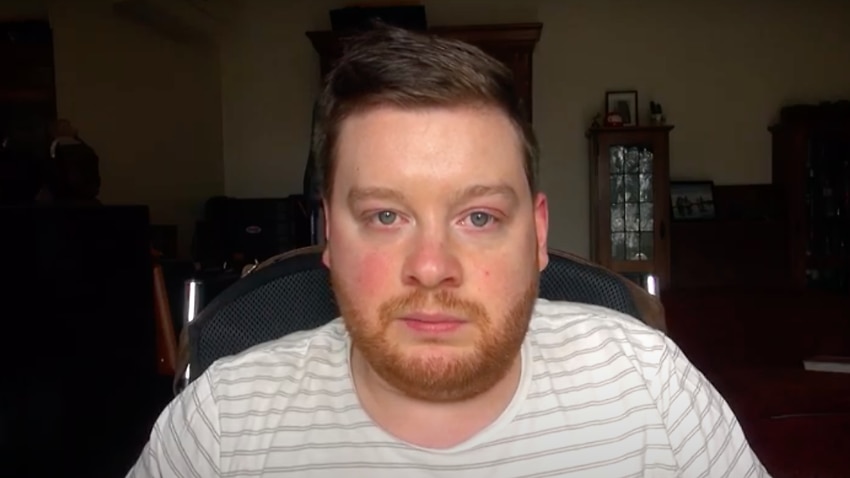 When Carl Thompson began a job helping people understand and access the National Disability Insurance Scheme at the start of last year, he was "really happy".
The 31-year-old, who lives with cerebral palsy and is an NDIS participant himself, said it was rewarding working as a local area coordinator for the scheme in Melbourne's north.  
He was working directly for anti-poverty charity the Brotherhood of St Lawrence, which is contracted by the National Disability Insurance Agency – which runs the NDIS – to help deliver the service in parts of Melbourne.
"It was really good, helping people get their NDIS plans. It was great assisting people through the [coronavirus] lockdown in Melbourne," Mr Thompson told SBS News.
But that all changed in the latter half of last year, when the government announced it would look to introduce independent assessments – contentious reforms that have sparked sector-wide backlash.
Mr Thompson's concern around the reforms continued to grow until it became too much in mid-March, and he quit his role as a local area coordinator. 
He said he was turning up to work feeling sick, and while the Brotherhood of St Lawrence had been "really great", he couldn't bring himself to work under the organisation any longer. 
"It made me really anxious and worried about this myself, but also worried about all of the participants that I'd been helping over the last few months," he said.
"It made me feel really uncomfortable and kind of invisible in terms of the effect that we could have on this."
'Patronising'
The proposed independent assessments, which new NDIS Minister Linda Reynolds has put on hold for the time being, would see participants outsourced to a contracted assessor to determine their eligibility for the scheme and the support they receive.
Assessments would take around three hours.
Critics say the move is a cost-cutting exercise that will make it harder for people to access the NDIS, leave existing participants worse off and force vulnerable people to be assessed by strangers who don't know their nuanced medical history.
There has also been concern about a lack of ability to appeal the decision made by the independent assessor. The total number of appeals against NDIS decisions blew out by more than 700 per cent between 2016 and 2020.
The government has defended introducing the assessments, saying they are a more transparent and equitable way of gauging a person's capacity that would support fairer decisions about NDIS access.
"The beauty" of independent assessments, former NDIS minister Stuart Robert said in March, is that "no one's questioning your disability".
Mr Thompson said the government and NDIA's rhetoric around the assessments had been patronising.
"They kept saying that we just don't understand things properly," he said.
"People with disability are sick of able-bodied people patronising them and telling us how we should feel and react to things, especially with an organisation that's a government department meant to have our best interests."
Mr Thompson said public communications being distributed by the government and NDIA about listening to concerns was not consistent with the mindset he felt the agency was adopting.
"You got the assumption or the vibe that [they felt] this was something that was going ahead …  but then publicly, they were still saying there was still consultation," he said. "That's where I became really worried."
The NDIA in February announced the eight companies to which it had awarded contracts to carry out the assessments, just days after a three-month consultation period closed, prompting questions about how engaged the agency was during the consultation.
In a statement, an NDIA spokesperson said: "Consultation on independent assessments has involved ongoing discussion with peak bodies over the last two years and direct engagement with participants and their families and carers to inform the design and delivery of independent assessments, including a second pilot which is still in progress."
"Independent assessments are one element of reforms announced last year designed to make the NDIS simpler and fairer for all participants."
Functional assessments "have always been a part of the NDIS" and further consultation on the changes are underway, the spokesperson added.
'I can actually speak my mind'
The concept of independent assessments was recommended in an independent review of the NDIS Act in 2019 – known as the Tune review – and by the Productivity Commission at the scheme's inception.
However, documents obtained under freedom of information laws earlier this month appeared to show the government inserted a chapter on independent assessments into the Tune review, which had been used as justification for introducing them. 
Senator Reynolds has defended the review's independence and pledged to listen to more community feedback before pushing ahead.
In a statement on Thursday, she said she understood and shared the passion many people had for the NDIS.
"As the new minister for the NDIS, I am committed to understanding the concerns about independent assessments voiced by the states and territories, stakeholders, and most of all the scheme's participants," Senator Reynolds said.
"This is why I'll be closely assessing the independent assessment trial outcomes and consulting extensively before any reform legislation is taken forward.
"I will meet state and territory disability ministers in July prior to finalising these reforms."
As of Wednesday afternoon, more than 160 different submissions to an inquiry into the issue by a bipartisan parliamentary committee had been uploaded online.
Domestic violence support groups, lawyers, medical bodies, concerned parents, advocates for people with disability from Indigenous and culturally diverse communities, and a former NDIA chair are among those to use submissions to voice concern.
Mr Thompson said while quitting his stable job as a local area coordinator was scary, he has "no regrets", as now he can focus on advocacy to try and put a stop to the assessments for good.
"I feel less stressed now because I'm not having to see all of these messages every day saying how good these independent assessments are going to be," he said.
"I've felt a lot more invigorated and empowered because now … I can actually speak my mind."