World
Australian climate activists battling increased repression and surveillance, new report says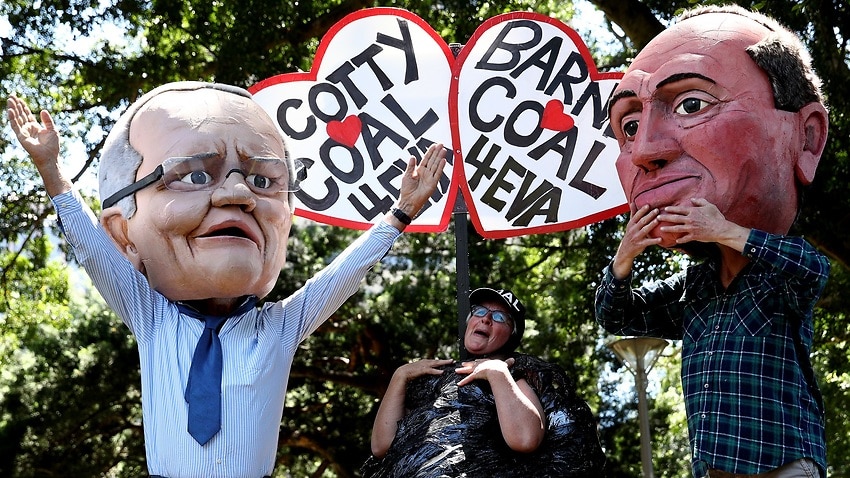 It comes as conservationist Sarah Rees revealed she was followed by a professional private investigator for four days in 2011 at the request of a state government agency.
At the time, she had been involved with a campaign to stop planned logging in Victoria's Toolangi State Forest.
"They told me they wanted me to get as much dirt as I possibly could on the woman," private investigator Alan Davey told ABC's 7.30.
"I was of the understanding Sarah Rees was a person of great interest that VicForests was trying to shut up."
Many of the protesters in Newcastle are young and "frustrated" with a lack of climate action by the government. Source: Twitter/Blockade Australia
---
The arrest of climate activist Eric Serge Herbert also stirred outrage this week, with protesters labelling the 22-year-old a "political prisoner".
Mr Herbert was sentenced to 12 months in jail after stopping a coal train for five hours by climbing on top of it at the world's biggest coal port in Newcastle.
Earlier this month, NSW Police set up Strike Force Tuohy to target anti-coal protesters in the Hunter and Newcastle region and threatened them with potential jail sentences up to 25 years, claiming protests were putting "public safety at risk".
NSW Police told SBS News they had arrested 31 people in the past two weeks over the protests in Newcastle.
Julia Grix, managing lawyer at the Environmental Defenders Office, said there was a concerning national trend of "inappropriate use of police powers against peaceful protesters."
"What we are seeing is police placing onerous bail conditions on climate activists, including strict curfews and movement restrictions, despite these conditions being repeatedly overturned in the courts," she said.
"In one instance, two environmental activists with no criminal record spent more than 24 hours in police custody after refusing to sign bail conditions which would have imposed a curfew and severely limited their movement. These conditions were later thrown out in court."
Prime Minister Scott Morrison delivers an address during the COP26 summit at the SECC in Glasgow, Scotland. Source: Pool Getty Images Europe
---
Yusur Al-Azzawi, senior lawyer at the Human Rights Law Centre, said protesting is a critical way for those without "money or political access" to advocate on the issues they care about.
"Yet we are seeing an alarming trend in which climate defenders are increasingly being restricted, intimidated and attacked by governments and politicians wedded to fossil fuels," she said.
For Richie Merzian, director of The Australia Institute's Climate and Energy Program, the report's findings "ring true".
"The government comes down heavy on climate activists and is light-touched on anti-vaxxers who carry around gallows and nooses," he said.
"The government wants quiet Australians. It doesn't want loud climate activists."
Mr Merzian said frustration is building among climate activists who felt unheard by the government.
He said protesters have been unfairly portrayed as "un-Australian" and "disruptive" but "the usual methods for having a say and exercising that are undermined by a system that is stacked against you".
"By trying to marginalise and portray climate activists as fringe dwellers, you're allowing Australia's climate policies to go unchecked and to appear mainstream and centrist and balanced."
The federal government launched a "uniquely Australian" plan in early November to reach net zero emissions by 2050, and has pledged to reduce emissions by 26 to 28 per cent from 2005 levels by 2030.
Speaking after the COP26 global climate conference, Mr Morrison said "it's not about the if and when" of addressing the climate crisis, "it's only about the how".
"We need a mission focus of the world's [research and development] efforts into the technologies that are actually going to make a difference."
In the face of what it describes as increasing government repression, the report called for urgent and immediate reform to protect the rights of climate activists.
It suggested establishing a federal integrity commission, capping political donations and strengthening legal protections for activists by introducing an Australian Charter of Human Rights.
Katrina Bullock, general counsel at Greenpeace Australia Pacific, said studies show the majority of Australians want stronger government action on climate change.
"The Morrison government has been widely criticised for its inaction," said Ms Bullock.
"We've just seen this play out at COP26, where Australia's progress blocking and weak emissions reduction targets came under intense international scrutiny."
File source