Europe
Key takeaways from Liz Truss' speech after protestors steal headlines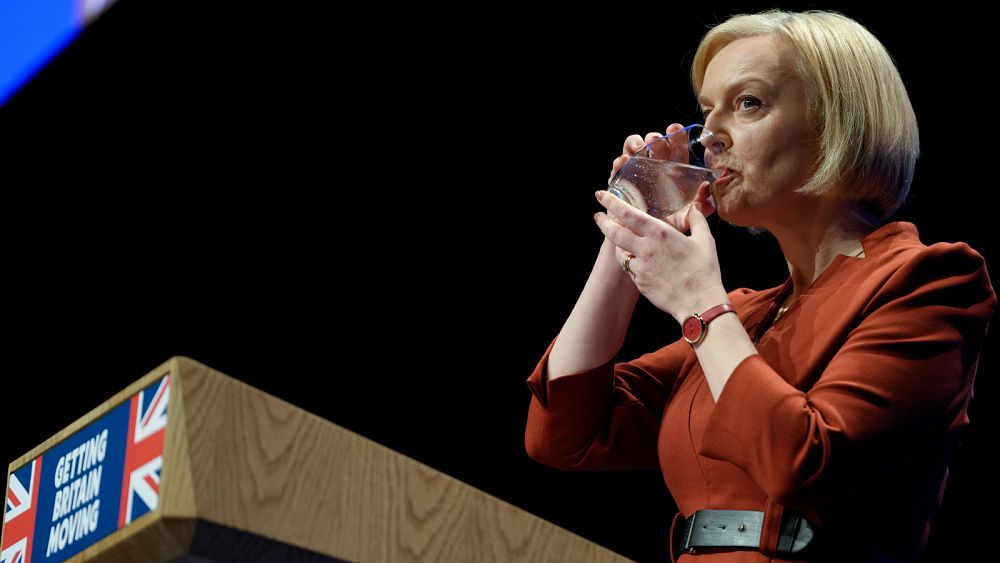 Liz Truss, the UK's embattled prime minister, spoke today in a much-anticipated address that was interrupted by Greenpeace protestors. 
The PM has come under fire in recent days for her controversial plans to slash taxes and increase government borrowing. 
She arrived on stage to a 90s pop song and a standing ovation as she spoke at the Conservative Party conference. 
Truss covered Brexit, defence spending and economic plans – here are the key five takeaways from her speech.
1. Greenpeace protestors interrupt Truss
Just eight minutes after Truss opened her speech by saying "These are stormy days", two Greenpeace protestors stole the show from the Prime Minister. 
Holding a yellow banner reading 'Who voted for this?', the women were jeered by the crowd as TV cameras turned away from the PM to focus on the protestors. 
Security guards bundled the women out of the room after Truss said "Let's get them removed" over the microphone. 
The PM appeared to brush off the protest with a joke about the "anti-growth coalition", which was applauded by her audience.
"Later on in my speech, I will talk about the anti-growth coalition – but I think they arrived a bit early. We'll get on to them in a few minutes," she said.
2. Brexit 'red tape' promise
The UK will offload all "red tape" with the European Union by the end of the year, Truss said.
"We're building an economy which makes the most of the huge opportunities Brexit offers. By the end of the year, all EU red tape will be consigned to history.
"Instead we will ensure that regulation is pro-business and pro-growth."
Truss listed plans to make it easier for people to build homes, afford childcare and set up businesses. 
The PM also doubled down on plans to "take back control" from the European human rights court as she referred to the UK's plan to transport asylum seekers to Rwanda. 
In June, the European Court of Human Rights blocked a plane of people seeking refuge in Britain from being flown to Rwanda by the UK government. 
"Our brilliant new home secretary [Suella Braverman] will be bringing forward legislation to make sure that no European judge can overrule us," Truss said. 
3. Threat to UK 'separatists'
Truss vowed to "face down the separatists" who seek to break away from the United Kingdom. 
While she did not refer directly to Scotland, Truss said earlier this week there shouldn't be another breakaway referendum there "for a generation". 
Today, she issued a threat to independence advocates after talking about so-called investment zones — low tax areas to encourage business — that she has proposed across the country.
"Now is the time to harness the power of free enterprise to transform our country and ensure that our greatest days lie ahead," Truss said.
"This is the United Kingdom at its best, working together and getting our economy growing. 
"And we will face down the separatists who threaten to pull apart our precious union, our family."
4. 'Fiscal responsibility' promise
Truss said her government would keep an "iron grip" on the nation's finances — less than two weeks after her government's fiscal plan sent the pound tumbling to a record low. 
"I believe in fiscal responsibility. I believe in getting value for the taxpayer. I believe in sound money and lean state," she added. 
She defended her decision to turn back on plans to cut the tax rate for people earning over £150,000 a year, which sparked widespread criticism. 
"The fact is that the abolition of the 45p tax rate became a distraction from the major parts of our growth plan.
"That is why we are no longer proceeding with it. I get it, and I have listened," Truss said. 
However, she stood by her plan to cut taxes and blasted opponents as the "anti-growth coalition". 
5. UK's commitment to supporting Ukraine
Truss said the West's response to Russia's invasion of Ukraine came "too late" but said the UK would continue to support Kyiv.
"The Ukrainian people aren't just fighting for their security but for all our security. This is a fight for freedom and democracy around the world," she said.
"We will stand with our Ukrainian friends however long it takes."
Truss also reiterated a commitment to increase defence spending to 3% of British GDP by the end of the decade.
She said the increased budget would ensure that "our armed forces are ready to tackle new and emerging threats".
File source