Entertainment
Why is Demi Lovato feuding with a small frozen yoghurt shop?
Things are a bit frosty between songstress Demi Lovato and Los Angeles-based frozen yoghurt shop The Bigg Chill.
Over the weekend, the 28-year-old took to her Instagram story to blast The Bigg Chill for all the "diet foods" they offer, which the 'Dancing with the Devil' singer said made it "extremely hard to order froyo" from them.
Lovato has been open about her body image issues and past struggles with disordered eating, even previously speaking about how her former management team would watch her the night before photo shoots to make sure she didn't binge eat.
The Bigg Chill, however, released a statement addressing Lovato's "triggering and awful" experience, which prompted a frenzy of backlash towards Lovato from patrons of the frozen yoghurt store, Lovato's fans (also known as Lovatics) and, perhaps unsurprisingly, Piers Morgan.
Here's what happened between Demi Lovato and The Bigg Chill frozen yoghurt shop.
READ MORE: Demi Lovato says she has 'survivor's guilt' after rapper DMX's alleged overdose
What did Demi Lovato say about The Bigg Chill?
Lovato shared a text post to her Instagram story over the weekend, saying she was "finding it extremely hard to order from @thebiggchillofficial when you have to walk past tons of sugar-free cookies/other diet foods before you get to the counter."
She ended the story slide saying "do better please" and using the hashtag #dietculturevultures.
The froyo shop responded to Lovato's initial story by sharing it to their own Instagram story, @thebiggchillofficial, tagging Lovato and writing underneath: "We carry items for Diabetics, Celiac disease, Vegan and of course have many indulgent items as well."
READ MORE: Demi Lovato sings about drug use and overdose in brutally honest new song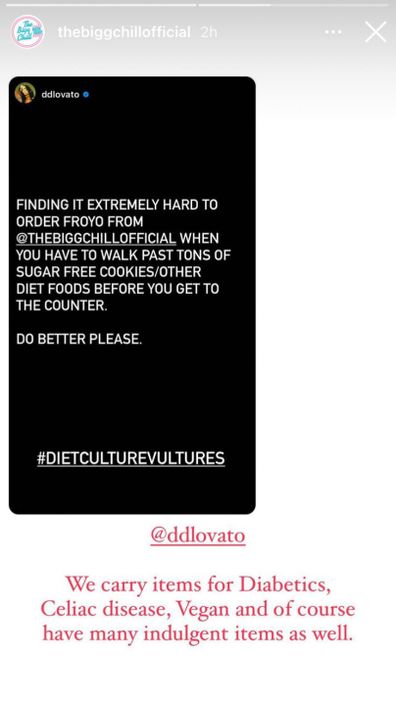 In true Hollywood fashion, the matter was not settled with that simple exchange.
Lovato then went on to post screenshots to her Instagram story, which appeared to be a series of private messages exchanged between herself and the shop.
"We are not diet vultures. We cater to all of our customers needs for the past 36 years. We are sorry you found this offensive," The Bigg Chill appeared to write in a message to Lovato.
The 'Sorry Not Sorry' singer responded, detailing more concerns.
"Not just that. Your service was terrible. So rude," she wrote. "The whole experience was triggering and awful. You can carry things for other people while also caring for another percentage of your customers who struggle DAILY just to even step foot in your store.
READ MORE: Demi Lovato gets support from Kim Kardashian at LA screening of new docuseries Dancing With the Devil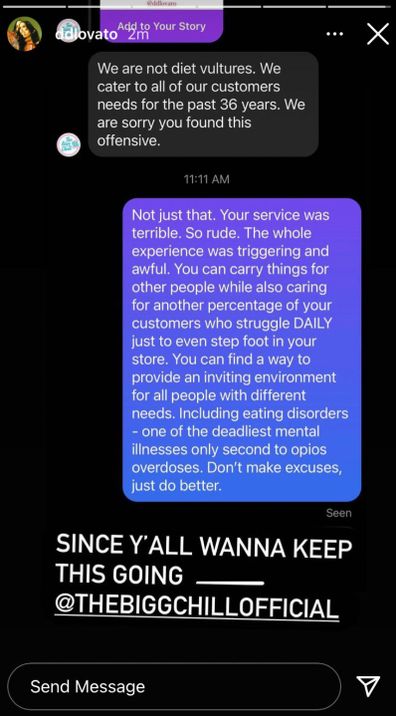 "You can find a way to provide an inviting environment for all people with different needs. Including eating disorders — one of the deadliest mental illnesses only second to opios overdoses. Don't make excuses, just do better."
Lovato's post sparked backlash online, but not necessarily towards The Bigg Chill.
READ MORE: Demi Lovato says she almost gave up on sobriety when she read a story calling her 'morbidly obese'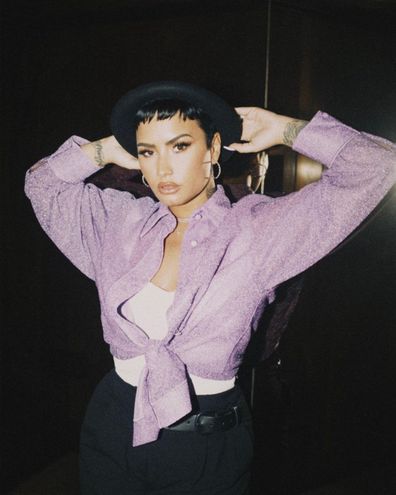 How did fans react to Demi Lovato's beef with The Bigg Chill?
As this was all unfolding via Instagram stories, if any fans had something to say about it, it was kept between them and Lovato in their direct messages.
A surprisingly vocal clapback, however, came from Real Housewives of New York City star and fashion designer Leah McSweeney, 38, who weighed in on the controversy via her own Instagram Stories.
In a six-slide rant, McSweeney blasted Lovato over the weekend for using her large platform to "drag" The Bigg Chill, which is a small women-led business, rather than addressing the wider issues at hand.
"Demi Lovato should be ashamed of herself for using her platform of 102 million people following her on Instagram to drag a frozen yogurt spot because she's mad that they sell diet frozen yogurt and sugar-free options because that triggers her," McSweeney said.
READ MORE: Demi Lovato opens up about being sexually assaulted as a teen in new documentary
"Therefore, they should just be harassed and go out of business. What the f–k?"
While the reality star expressed sympathy for Lovato's history of struggling with eating disorders, she also questioned why a whole industry should change in order to meet her needs.
"What about people who just don't want to f—king eat regular ice cream and want to eat some sugar-free frozen yogurt?" she said. "I want that s—t sometimes."
McSweeney also noted that people with diabetes cannot have sugar.
The fashion designer concluded her tirade saying it was "absolutely disgusting" of Lovato to call out a small business when she has "millions and millions" of followers and that her actions were of the "ultimate privilege".
McSweeney then shared one of The Bigg Chill's Instagram posts to her story, showing her support for the small froyo store.
READ MORE: Demi Lovato says her substance abuse served as a 'coping mechanism': 'Genuinely was in so much pain'
Has Demi Lovato or The Bigg Chill responded?
Although Lovato has not addressed McSweeney's comments directly, she has continued to comment on the drama.
As McSweeney was posting her stories, Lovato posted to her own again, this time with a screenshot of a message she had sent to The Bigg Chill with suggestions on how to make the store more inclusive.
"I was thinking, maybe it would help if you made it more clear that the sugar free options and vegan options are for [health needs]. Labeling the snacks for celiac or diabetes or vegans," she began.
READ MORE: Demi Lovato says her broken engagement to Max Ehrich was a 'huge sign' about her sexuality: 'I started realising how queer I really am'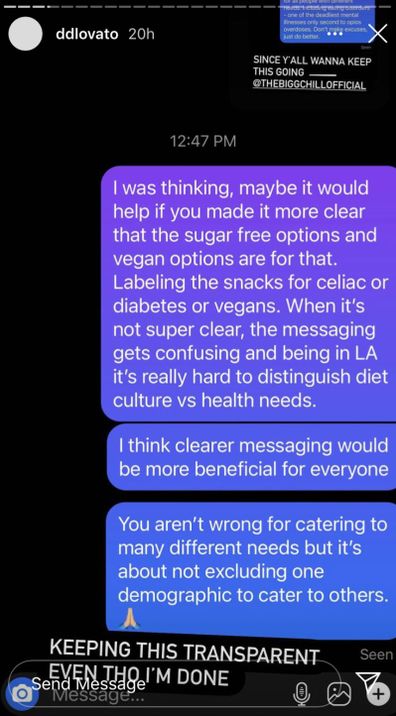 "When it's not super clear, the messaging gets confusing and being in LA it's really hard to distinguish diet culture vs health needs. I think clearer messaging would be more beneficial for everyone.
"You aren't wrong for catering to many different needs but it's about not excluding one demographic to cater to others." 
On top of the screenshot, she wrote, "Keeping this transparent even tho I'm done."
At this stage, it seems The Bigg Chill has not responded publicly to Lovato's more recent messages.
READ MORE: Demi Lovato criticises gender reveal parties as transphobic: 'Insincere and incorrect'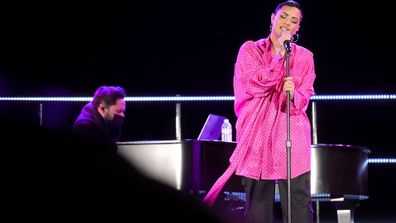 Has Demi Lovato apologised to The Bigg Chill?
On Tuesday morning, Lovato posted an eight-minute-long video to her Instagram TV, where she addressed the backlash she had received, apologised for upsetting people with her comments, and said her "message has gotten misconstrued."
Lovato said her initial intention when messaging "this froyo place" was to "make a point" and "call out behaviours or branding things that didn't sit right with [her]."
"As someone who deals with an eating disorder and is in recovery from an eating disorder, I still to this day have a hard time walking into a froyo shop, ordering yogurt and being content with it and keeping it down," she said.
"I know that seems like not a huge deal to a lot of people, but to me it is."
READ MORE: Demi Lovato says she had three strokes and a heart attack after 2018 overdose in docuseries trailer
The Disney alum explained her in-store experience further, saying that it "wasn't clear" to her that the "diet" and "health food" options were "for specific health needs."
"I definitely jumped to conclusions and probably shouldn't have gone about this the way that I have," she said.
"But I'm willing to talk to this froyo shop to help get the messaging right."
Lovato then revealed why the experience was so profound for her, saying that frozen yoghurt was something she used to eat at the height of her eating disorder "because it was low in calorie[s] and it just felt safe to me."
"That's why I'm super sensitive when I walk into a froyo place and I see diet stuff."
She said her struggle with disordered eating "is a hard thing to live with" daily, and she said it is different from her drug addictions as she cannot walk away from food.
READ MORE: Demi Lovato's ex-fiancé Max Ehrich lashes out at singer for joking about their breakup at awards show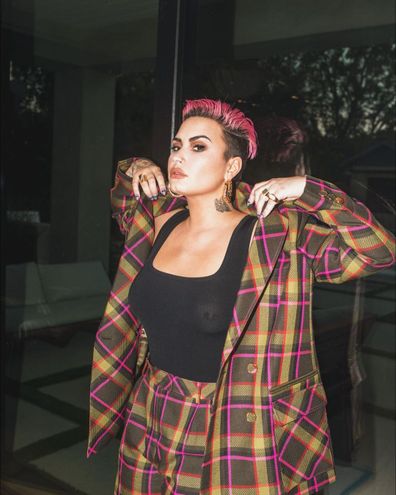 "I have to eat three times a day. This is something that will be with me for the rest of my life," she said.
"I left that yogurt store and didn't get the yogurt that I wanted. And then I had a hard time the rest of the weekend, to be totally transparent." 
Lovato concluded her video emphasising that she never intended to drag "a small business as someone with lots of followers."
She said that while she "feels good" about "speaking up" about her experience in the store, she does not feel good about "the way it's been interpreted and how the message has gotten misconstrued."
"I'm genuinely sorry that people took it the wrong way. I just get really passionate," she said. "It's never coming out of a place of hate, it's always coming out of a place of love and trying to lift people up. I understand that didn't lift the froyo place up, but I'm upset and that's all that that was."
READ MORE: Demi Lovato reveals what she learned from breakup with Max Ehrich
She said she is open to working with The Bigg Chill on their messaging so that people with eating disorders, like herself, "feel safe going in there" and can eat the froyo they go there for.
Fans had mixed reviews of her apology in the comments.
One fan said, "And that's just that. I stand with you boo. 💗"
Another said, "You are amazing thank you for your passion and using your platform to make a difference 😍"
Other fans, however, were not impressed.
"Girl. I love you but you're reaching here," a fan commented.
For a daily dose of 9Honey, sign up here to receive our top stories straight to your inbox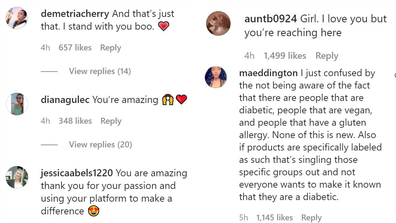 Another said, "I'm just confused by the not being aware of the fact that there are people that are diabetic, people that are vegan, and people that have a gluten allergy. None of this is new. Also if products are specifically labeled as such that's singling those specific groups out and not everyone wants to make it known that they are a diabetic."
The Bigg Chill has yet to comment on Lovato's video.
READ MORE: Demi Lovato shares first 'unedited' bikini photo: 'I'm so tired of being ashamed of my body'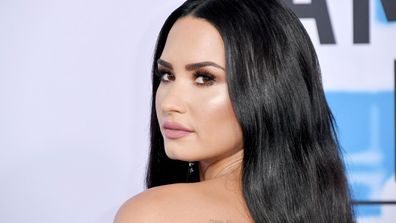 What is Demi Lovato's history with body image issues and eating disorders?
Demi Lovato has been open with her struggles with body image, disordered eating, addiction and mental health.
The singer-slash-dancer-slash-actress, who has a net worth of US$40 million (approx. $51.3 million), has been in the public eye ever since she was a child, beginning her acting career in 2002 starring as Angela on Barney & Friends.
Her breakout role was in Disney's 2008 musical film, Camp Rock, where she played the main character, Mitchie Torres, who was also Jonas Brothers singer Joe Jonas' love interest.
READ MORE: Demi Lovato sings about drug use and overdose in brutally honest new song
The triple threat often speaks about how the pressure of being famous negatively impacted her battle with addiction, eating disorders and mental health.
Lovato overdosed on heroin laced with fentanyl in 2018 and opened up about how close she was to dying in Dancing With the Devil, her four-part documentary series on YouTube.
She also told Paper magazine that when she got out of rehab in 2018, she wanted "to give up" after seeing articles calling her "morbidly obese".
READ MORE: Miley Cyrus and Demi Lovato claim they've both had separate alien encounters
The star has had a turbulent three years in recovery since her overdose in 2018, having also recently called off her two-month engagement to 29-year-old actor Max Ehrich.
Lovato is not currently in a relationship and credits her relationship with Ehrich for helping her realise "how queer [she] really [is].
READ MORE: Demi Lovato shares a photo celebrating natural boobs after her eating disorder.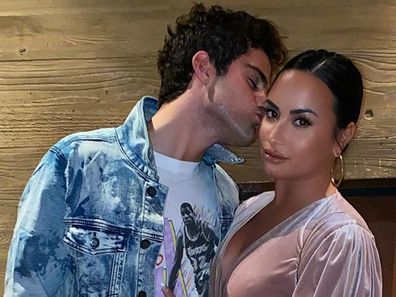 How is Piers Morgan involved with Demi Lovato's feud?
True to his brand, Piers Morgan has inserted himself into Lovato's drama with The Bigg Chill, taking to Twitter late last night — prior to Lovato's apology this morning — to urge his followers to read a column he wrote about "dumb", "deluded" Lovato and her "vile attempt to bully, shame and ruin" what he calls his "favourite frozen yoghurt store."
In his column on Daily Mail, the 56-year-old Morgan said he was "triggered" by the singer, and said that while she may have "set out to shame" the froyo store, "all she did was shame herself."
"Who the hell does Demi Lovato think she is?" Morgan commented on Demi Lovato.
READ MORE: Are Taylor Swift and Selena Gomez still friends?
Twitter users were not impressed, with one saying: "Piers misogyny Morgan. Hates woman. Even more so if they are of colour. Calls people out for bullying yet uses his platform and profile to publicly bully women…"
READ MORE: Why do so many celebrities have fake Instagram accounts?
Morgan retorted: "a) I love women (but not all of them). b) I love women of colour (but not all of them). c) The bully in this story is Demi Lovato.  d) My criticism has nothing to do with her gender or skin colour — it's because she's tried to ruin a small family business in a pandemic."
Neither Demi Lovato nor The Bigg Chill have publicly responded to Piers Morgan.
If you, or someone you know needs support relating to eating disorders, please call The Butterfly Foundation on 1800 33 4673. In an emergency, call 000.
If you, or someone you know would like to talk to someone confidentially about addiction, contact Lifeline on 13 11 14 or visit Reach Out. In an emergency, call 000.
If you or anyone you know needs immediate support, contact Lifeline on 13 11 14 or via lifeline.org.au. In an emergency, call 000.