Entertainment
Sharon Osbourne shares update on daughter Aimee days after she escaped deadly fire
Sharon Osbourne has given an update on the well-being of her eldest daughter, Aimee Osbourne, who was caught in a deadly fire last week.
Speaking on her new British talk show, The Talk, the 69-year-old discussed the tragic blaze inside a Hollywood recording studio that left one person dead and two others narrowly escaping – one of who was Sharon's daughter. 
"She was trapped in the studio on the second floor and the fire was on the ground floor. And she couldn't get out – the windows wouldn't break in the studio," the worried mum shared, adding the ordeal was "traumatising" for the 38-year-old.
READ MORE: Groom flees honeymoon over bride's 'shocking' act
The TV personality first told fans about the fire last Friday, when she posted an LA Times article with the headline: "Fire breaks out at Hollywood recording studios, leaving 1 dead and 2 injured."
"Today my daughter @aro_officialmusic was working in a recording studio at this building with her producer. They are the lucky two that made it out alive," she wrote in her caption.
"It is utterly heartbreaking that someone lost their life today in this fire & we are sending our prayers to this person & their family," she added.
"What happened today was beyond horrific. I really hope moving forward that buildings like this are better regulated for fire safety. This building was a creative hub for music in Hollywood, a space that should have been regulated for fire code."
READ MORE: Kate Middleton undergoes 'glamorous' makeover
"Producers, musicians, mixers & artists also lost all of their equipment. Once again, our prayers go out to the family and friends of the person that lost their life to this senseless fire," she concluded.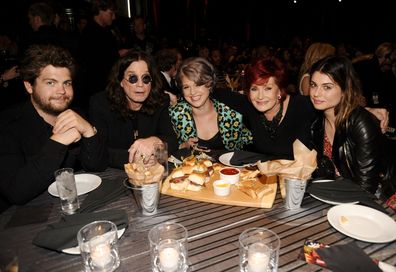 Sharon shares Aimee with rocker Ozzy Osbourne. The couple have two other children: Kelly, 37, and Jack 36.
The Los Angeles Fire Department later released a statement about the incident and said 78 firefighters responded to a call on Thursday night.
"There was an abundance of small individual recording studios inside, creating a very compartmentalized layout, which was extremely challenging to navigate and crawl through in zero visibility," the statement explained.
READ MORE: Shocked passengers film pilot's furious rant onboard flight
"Additionally, the studios had sound deadening thick walls, extra insulation, double drywall, and thick windows. While this design was intended to keep the sound from escaping, it also excelled at keeping the smoke and heat from escaping."
Aimee and her producer were found with smoke-related respiratory symptoms, but sadly one person was found dead at the scene. 
"Tragically, during their systematic interior search, firefighters discovered one person deceased in the structure," the release confirmed.
For a daily dose of 9Honey, subscribe to our newsletter here.
File source