Entertainment
Khloé Kardashian reveals the real reason she wants cosmetic surgery
Khloé Kardashian has confessed the real reason she wants a breast augmentation surgery.
After mentioning the possibility of doing the surgery last week, in this week's episode of The Kardashians, Khloé shared that she wants to live up to her sister's reputations, dispelling the long-time joke that they have "different parents".
The topic came about after her mother, Kris, underwent hip replacement surgery in this week's episode. During recovery, she mentioned that it would be nice to share the experience with someone.
READ MORE: Queensland teen's brutal health battle after finding one tiny lump
Kris tells Khloé that she mentioned to Kim that it would "be so great to do something like this with a friend,
"You know, so you could share it together and hang out,' Kris explains.
Then Khloé tentatively mentions that she is "really contemplating getting my boobs done.
"It's just something I think about all the time," said the youngest Kardashian sister.
READ MORE: Princess Diana 'at breaking point' in new The Crown trailer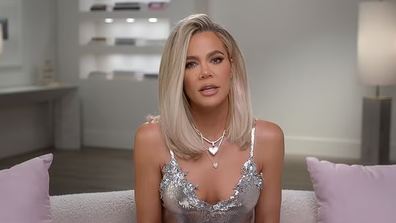 "I just want fuller like… when you see me in a bikini I don't have cleavage like my sisters have this… uh ample cleavage and it's like… I don't know," she struggled to explain.
"I'm not saying I want big old jugs, I just want a handful or a mouthful. Just a little fuller – it's not a porno over here."
Her mother lights up and suggests doing them together, which Khloé sarcastically agrees to.
Kris then asks if that's, "weird, mother-daughter boob jobs", to which Khloé responds, "I don't know what's weird anymore."
For a daily dose of 9Honey, subscribe to our newsletter here.
File source