Entertainment
Kesha reveals vocal cord hemorrhage after Taylor Hawkins tribute concert
Kesha has suffered a vocal cord hemorrhage after performing at a tribute concert for late Foo Fighters drummer Taylor Hawkins.
The Die Young singer explained the injury occurred completely by accident when she attempted to "distract" fan during an awkward outfit mishap.
"So. in the middle of my wardrobe malfunction I decided to distract everyone from my titties falling out by singing rly. Loud," she explained on Instagram.
READ MORE: Queen's death certificate proves theory about William, Harry on night she died
READ MORE: Queen Elizabeth's cause of death revealed
"Today I found out I hemorrhaged one of my vocal cords. Soooo. I'm posting all the pics from the f—ing moment bc. This was quite a moment."
In the photo Kesha shared, she appears to be wearing a nude sparkly bodysuit and no bra, as well as a glittery coat with a feathered neck.
When she initially stepped out on stage, she'd also been wearing a bedazzled triangle bikini-style bra, which apparent snapped off mid-performance.
For a daily dose of 9Honey, subscribe to our newsletter here
Despite her injury, Kesha reportedly told fans during the concert that her tribute performance to Hawkins felt "special" for her.
"I feel really special to be here with all of you guys, because Taylor meant something different to each and every one of us," she said, per Entertainment Tonight.
"To some, he was a f—ing hero. He was a f—ing icon. He was a friend, he was a father, he was a husband. And for tonight, I just want to say, Taylor, you're going to live with us for f—ing ever and ever."
As well as Kesha, the rest of the Foo Fighters, Pink, Alanis Morissette, Miley Cyrus, Joan Jett, Travis Barker, Queen, Nancy Wilson, Wolfgang Van Halen, and Dave Chappelle also performed on the night.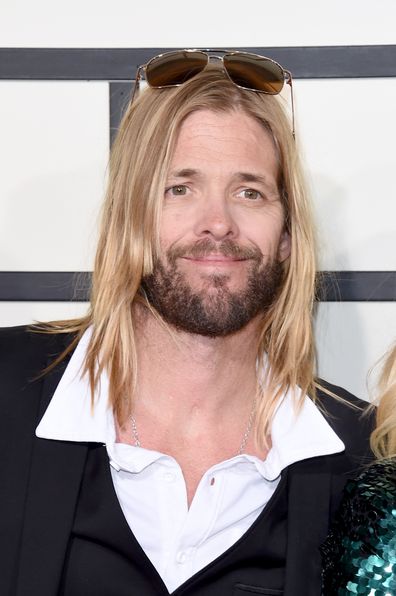 READ MORE: Danish prince says Queen 'harmed' grandkids by stripping titles
Hawkins died on March 25, unexpectedly in Bogotá, Colombia. He was just 50 years old.
The band was on tour in South America and about to perform at a festival in Colombia when Hawkins reportedly complained of chest pains and died soon afterwards.
While no official cause of death has been announced, local medical authorities reported that he had multiple drugs in his system and an enlarged heart.
Hawkins' last show with the band took place on March 20 at Lollapalooza Argentina in Buenos Aires.