Entertainment
James Corden appears unable to name his own staff in resurfaced video amid restaurant controversy
James Corden remains under fire after a video of him unable to name his own employees resurfaced online.
The Late Late Show host made headlines yesterday after Keith McNally, the owner of New York-based restaurant Balthazar, banned the comedian from the eatery for being allegedly "abusive" to staff.
Corden has since "apologised profusely" to McNally, who swiftly lifted the ban, but now the talk-show host's previous antics are being called out on social media.
READ MORE: Why NYC restaurant banned James Corden
In a resurfaced video from 2016 which is once again circulating online, the British comedian was stumped when asked by fellow talk-shot host Jimmy Kimmel to name members of his own TV crew. Surprisingly, Corden appeared unable to do so.
The duo were playing Corden's infamous 'Spill Your Guts or Fill Your Guts' game – a truth or dare game that gives guests the option of eating gross food or answering personal questions – when Kimmel asked the question.
"Name two of the cameramen in this room," Kimmel asked Corden from across the table. 
"That is a great question," Corden laughed before scanning the room. "It's a different crew tonight, actually."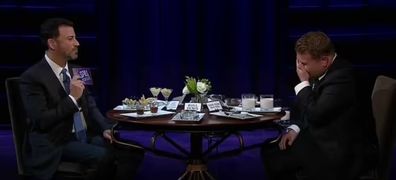 Failing to answer the question and drop some names of crew members, Corden was forced to take a sip of a fish smoothie.
Last year, Corden also felt the wrath of former employees when they came forward with allegations he was mean to them on set.
The claims were made during a Q&A on Reddit, with the former staffers sharing their alleged experiences with the Brit off-camera when he was filming the TV series A League of Their Own. 
READ MORE: Justin Bieber and Hailey Baldwin's relationship timeline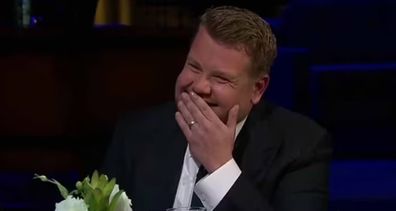 "I saw a league of their own filming live, threw multiple tantrums over minor things at the production staff, with him being incredibly rude to them, which made the other regulars seem very awkward like it was usual, between each take the other celebs would be chatting amongst themselves – bantering about, James was glued to his phone," one user alleged.
"At the end of the filming people got up to go get pictures with James and he massively kicked off shouting at people to go away and to go back to their seats and the few he did let have pictures with he was moody," they continued. 
"Seeing him like that made me realise everything you see of his on TV is a complete persona."
READ MORE: How lawyer's speech saved Harry Potter star
It was restaurant owner Keith McNally who opened the floodgates of criticism for Corden. In an Instagram post shared yesterday, McNally alleged Corden had been "abusive" to his staff on various occasions at his restaurant Balthazar this past year. 
"James Corden is a hugely gifted comedian, but a tiny Cretin of a man. And the most abusive customer to my Balthazar servers since the restaurant opened 25 years ago," McNally began in his first post. "I don't often 86 a customer, to today I 86'd Corden. It did not make me laugh."
McNally then recounted his restaurant managers' experience with Corden in which he wanted free drinks after allegedly finding a hair in his main course, while also allegedly throwing a tantrum over an egg-yolk omelette. After the post went viral, McNally said he received a call from Corden to apologise. 
"James Corden just called me and apologised profusely," McNally wrote on Instagram seven hours after he penned his initial post. "Having f—ed up myself more than most people, I strongly believe in second chances. So if James Corden lets me host his Late Late Show for 9 months, I'll immediately rescind his ban from Balthazar. No, of course not."
"But….anyone magnanimous enough to apologize to a deadbeat layabout like me (and my staff) doesn't deserve to be banned from anywhere. Especially Balthazar. So Come Back to the 5 & Dime, Jimmy Corden, Jimmy Corden. All is Forgiven. xx"
For a daily dose of 9Honey, subscribe to our newsletter here.