Entertainment
George Clooney praises Australians after filming latest movie in Queensland
George Clooney has spoken out about "brave" Aussies after filming in Queensland late last year.
The actor, along with Julia Roberts and the whole Ticket to Paradise cast were required to quarantine for two weeks before filming could begin in the Sunshine State.
While the Oscar-winner admitted there was "some inconveniences", he was more than happy to do it – hitting back at Americans in the process.
READ MORE: Why Star Trek veteran George Takei has zero plans to retire at age 85
"I think it's important to also remember that what we got to do in [making the movie], compared to what everyone else was going through is nothing, you know what I mean," Clooney said during a press conference in London.
"The people of Australia, the citizens of Australia really put their head down and got through this, they really took a big sacrifice.
READ MORE: Ryan Reynolds teases Hugh Jackman's return as Wolverine for Deadpool 3
"And had we, in the United States, done that we would have had 900,000 more people alive today. So what they did was incredibly brave and very hard on their economy.
"So for us coming in, that's nothing, we just sort of got to step in and we had some inconveniences but they went through a long, hard slog. So we felt very honoured to be around and be with people who were dealing with things very seriously."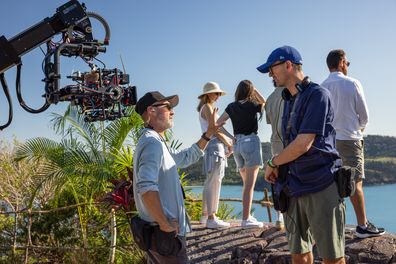 Despite a COVID-19 case on-set closing down production for a couple of weeks, it was a sentiment Roberts agreed with, simply saying "yeah" to back up her friend and co-star.
Something else the pair agreed on was joking about how dangerous it felt filming in Australia.
"Everything's huge there," Clooney told 9Honey Celebrity during the press conference, with Roberts adding: "Everything's trying to kill you!"
"Oh, there's a frog there… no, don't touch it, it will kill you" Clooney said, later adding: "You had this world's smallest jellyfish 'you go in the water, they'll kill you'.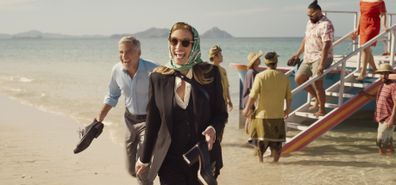 "Yeah, a seashell. 'No, that's actually something that will kill you," Roberts added.
But in the rom-com the duo, who play a divorced couple trying to sabotage their young daughter's impulsive nuptials after getting engaged on holiday in Bali, spent quite a bit of time in the water during filming.
"Yeah, ticket to paradise if you know what I'm saying," Clooney said, raising his eye-brows mockingly.
Roberts jumping in saying "[more like] ticket to the hospital".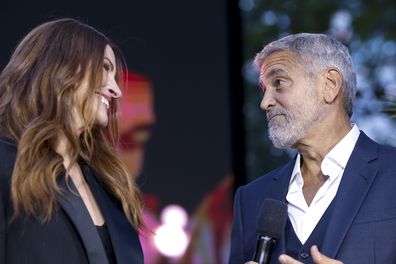 The pair's comedic timing was just as obvious in their press efforts as the movie, having first come together on screen in Oceans 11 over 20 years ago.
They've since gone on to work together five times with their deep friendship as obvious off-screen as on.
Roberts says it's their mutual love of making others laugh that works in their favour and helps them know when they've captured the magic on-screen.
"I think George and I are both really motivated by making people laugh and it was our great joy whenever we would do something where we could hear all laughing across the set, at the monitor, and we thought 'OK, yeah, that's great, we're gonna move on now'," Roberts said during the press conference.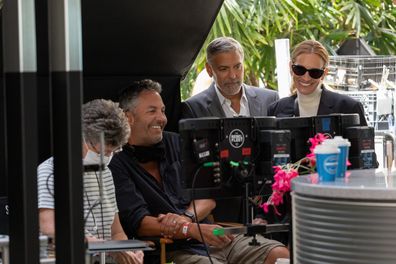 Speaking of the Queensland set and the production "bubble" during COVID-19 times, Roberts said it was nice to have time to get to really know her co-stars who include Billie Lourd, Kaitlyn Dever and Emily In Paris' Lucas Bravo.
"To work in an environment like this was really joyful," Roberts explained.
"To be on an island with no place to run, we got to spend really sweet time all together, getting to know one another and just sharing that space in a really unique way, which was, you know, something that isn't always afforded when you're kind of going home to your regular life every day after work."
Ticket to Paradise is in Australian cinemas now.
For a daily dose of 9Honey, subscribe to our newsletter here

File source