Canada
Windsorites 'thrilled' to see Free Press marathon back over the bridge Sunday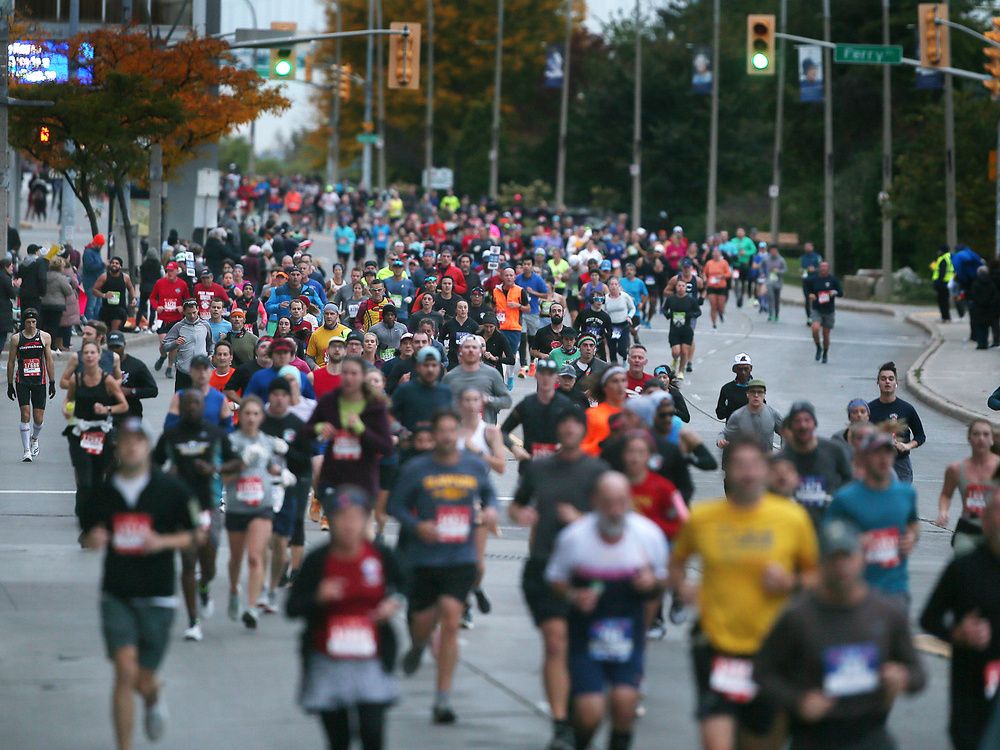 Article content
Runners in the Detroit Free Press Marathon received a warm welcome in Windsor early Sunday morning as the marathon made its return to Canada after a two-year hiatus.
Article content
Thousands of runners made the trek across the Ambassador Bridge for a run along Riverside Drive before crossing back into Detroit via the Detroit-Windsor Tunnel.
Article content
It was a sight for sore eyes, said Windsorites lining the route.
"This is amazing, this is great," said Essex residents Andrea and Todd Grimes, cheering on their daughter Celina running the half-marathon for the first time Sunday. The Grimes came prepared with coffee, lawn chairs and blankets — but also noisemakers and a giant banner for when their daughter passed their spot on Riverside Drive.
Another group of friends who know each other from Windsor's running community were stationed on the sidelines to cheer on their fellow marathoners.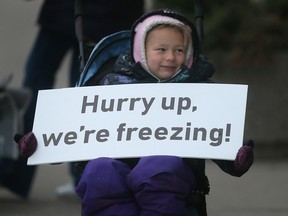 "I'm almost in tears, I love this," said Windsorite Dawn King of seeing the runners back in Canada this year.
Article content
This year upwards of 18,000 runners signed up to participate in the 45th iteration of the Detroit Free Press Marathon and its various events, including the full and half marathons, a U.S.-only half-marathon, marathon relay and five-kilometre run.
Kelly Steele, captain of the relay station at the 10 kilometre mark for the marathon Sunday and a marathon runner herself, said Windsor was certainly showing runners the love.
"The runners were super excited to be able to run back through Canada," said Steele, who also coaches runners.
"I always say to them, for 16 weeks you're training hard and you train by yourself … and then all of a sudden, race day really is your day. You get to be a rock star, all these people are cheering you on and when you come across the finish line, I don't think there's any better feeling."
Article content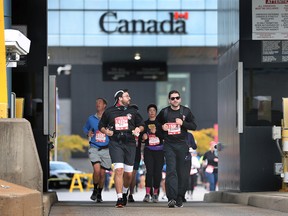 The Ambassador Bridge, Detroit-Windsor Tunnel and a section of Riverside Drive were closed for several hours Sunday morning while runners made their way along the immensely popular route, which affords runners a fantastic view of the Detroit and Windsor skylines from the bridge as the sun rises. The mile run back through the tunnel to Detroit is also the only underwater mile in a marathon in the world — and a challenge for runners, Steele said, because it's "quite a hill."
This was the first year Windsor welcomed back the marathon after a two-year pause on the international crossing portion of the race during the COVID-19 pandemic.
Bethany Mattiuz-King is a runner who last ran the Free Press half marathon in 2019. Sitting out this year due to an injury, she said she was cheering for several friends Sunday — but it wasn't just her friends getting the benefits of enthusiastic encouragement.
Article content
Her cheers ranged from "looking good, looking strong," to "welcome back to Canada," to "remember, you paid money to do this!" — anything to bring a smile, Mattiuz-King said.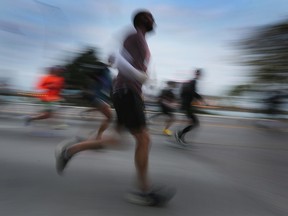 "I try to see the looks on people's faces," she said, judging whether they need encouragement or a chuckle. She said she also makes sure to call out first-time marathoners, who wear green bibs.
Mattiuz-King said she planned to be out on Riverside Drive cheering people on until the last runner passed, noting that runners near the back of the pack could be tired and needing extra encouragement as crowds thinned once other runners had passed.
"I'm so thrilled to see them back in Canada," she said. "I know how much it means to have someone to cheer for you."
Ryan Corby of Novi, Mich. finished the marathon first with a time of 2:24:28 while Mary Beasley of Gardena, Calif. finished first in the women's marathon with a time of 2:42:25.