Canada
Windsor candidates face hate speech; campaign signs vandalized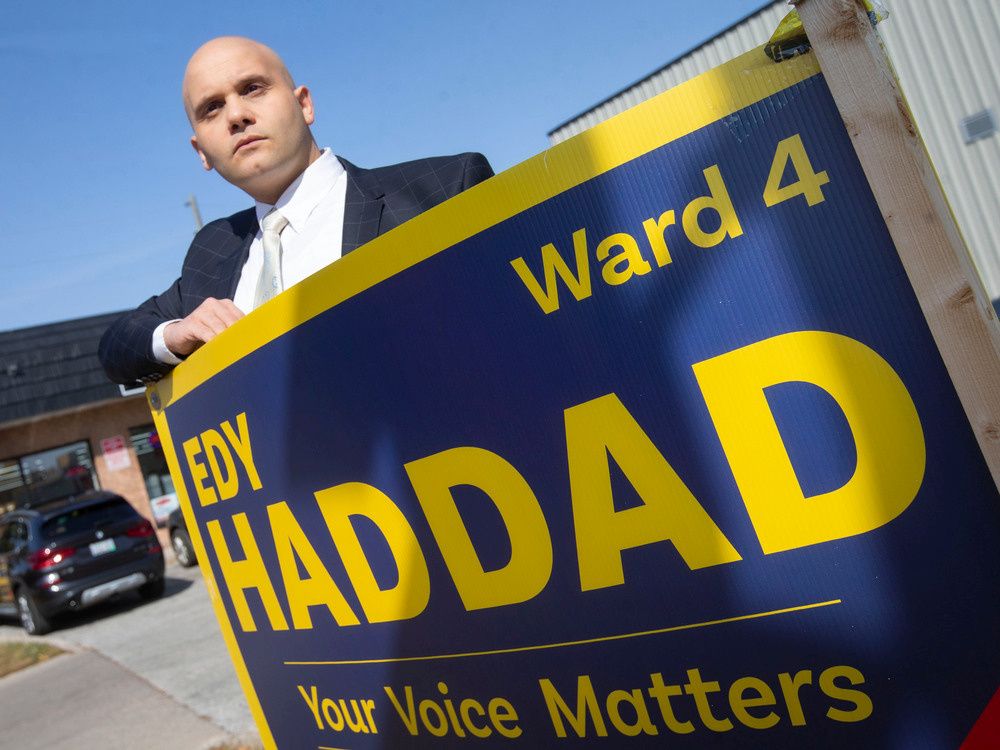 Article content
Candidates in Windsor's ward races are speaking out against damage to their election signs and hateful messages they've received on the campaign trail.
Article content
Ward 4 candidate Edy Haddad said nearly a hundred of his signs have been sliced into pieces in recent weeks. To make matters worse, his car was broken into, and the signs stored inside were destroyed.
Article content
Perhaps most concerning have been the "very threatening" homophobic and xenophobic messages and nighttime phone calls he's received.
"I don't know who's doing this or why, but it has to stop and it is scary," Haddad told the Star. He's reported the vandalism to police.
"I want to make it very clear that knocking on doors has been probably one of the best experiences of my life. Talking to people, they've been so friendly, they've shared great ideas. This is not something that I've witnessed from the people.
"I'm the youngest person running in Ward 4, and I'm the only person that's a minority running in Ward 4. It's very difficult being that person in general and having to deal with those barriers. But at the same time, what I don't want to do is scare other people from being part of the democratic process."
Article content
Ward 7 candidate Sydney Brouillard-Coyle, who uses the non-binary pronouns ney/nim/nir, took to Facebook last week to describe the prejudicial comments ney has received on social media and while door knocking.
Brouillard-Coyle, 22, has been told ney is "unnatural" and "going to hell," and that ney is "too immature and should try again in 20 years." Ney has also been accused of being a "groomer" and "mentally ill," Brouillard-Coyle wrote.
At least one of Brouillard-Coyle's signs has been defaced. Another has been snapped in half, and at least two have been stolen.
During a candidates meeting, a participant was ordered to leave after making homophobic and transphobic remarks. Brouillard-Coyle left immediately after the meeting finished out of concern for nir safety.
Article content
"I don't share this to gain sympathy. I do this to inspire action," Brouillard-Coyle wrote. "Prejudice is still very much a reality within Windsor, and the more visible that we are, the more expressive people become."
Brouillard-Coyle told the Star it's "unfortunate" that some people "don't recognize the hard work that I and many of the candidates are putting into this campaign." Ney called the vandalism and prejudicial language "a sign that some people aren't ready for change, ready for the ideas and platform I'm proposing."
Allies — people who support gender equality and the LGBTQ community — are needed "now more than ever," ney said.
"There are a lot of people who like to believe that this type of action and these behaviours don't exist anymore, that we have such an inclusive society. There has been a lot of progress … but we need more people to stand up against these types of acts of prejudice."
Article content
Several of Ward 4 candidate Patrick Sutherland's campaign signs have also been stolen. While he now chalks the thefts up to "rebellious" teenagers acting out, he said discovering his signs missing was unpleasant.
"Personally, I was quite hurt," he said. "We pay for them, we put a lot of time and work into it. It's hurting the people that are expressing their own democratic views, and it's hurting democracy as a whole."
Election day is Oct. 24.