Canada
Victoria filmmaker's long, lone efforts tracking down Second World War veterans to be archived at Canadian War Museum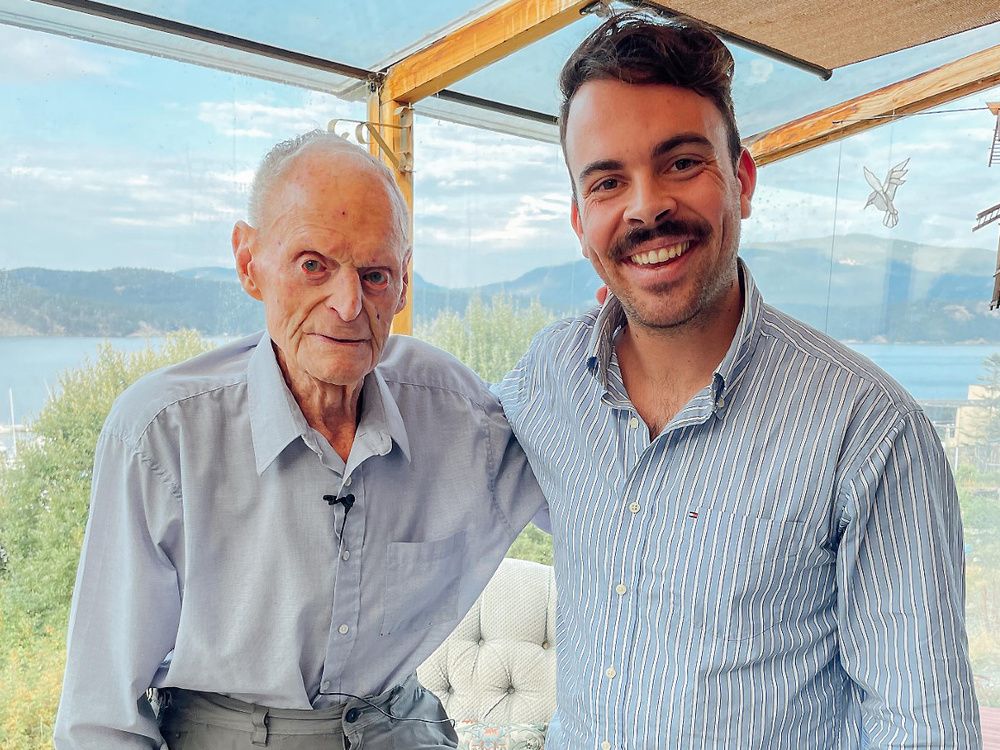 Eric Brunt's end result will also be a feature-length documentary
Article content
It's like having hundreds of children and trying to name your favourite.
Article content
Eric Brunt, a documentary filmmaker from Victoria, is on his second round of interviews with Second World War veterans and, at an average age of 97 among those still alive, he is racing against the clock. In fact, of the 475 veterans he's interviewed since his project began in 2019, 235 — that he's aware of — have since died.
Article content
According to the latest Veterans Affairs Canada estimate, there were about 20,300 Second World War veterans alive as of March, 2021.
"It's getting harder, yeah," Brunt said of finding remaining Second World War vets. "But they are still out there, for sure."
On Wednesday, for example, he is interviewing a 104-year-old Second World War vet.
As far as having a favourite, it's an impossible question to answer.
Article content
Listening to Brunt talk about his work over the phone from Victoria leaves the impression every single one of the interviews is his favourite. Each is a unique tale, ordinary men and women describing extraordinary events in simple, matter-of-fact language.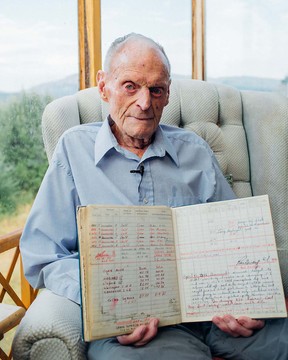 So he was more than happy to recite with relish his most recent interview, with bomber pilot Donald "Doc" Payne in Cowichan.
"The guy was shot down and lived on a raft with his crewmates for 10 days before they were rescued," Payne began.
It was Friday the 13th of April, 1945, and after being strafed Payne managed to land his plane and crew of six on the Baltic Sea. Payne and the co-pilot were ejected on impact. The remaining crew got a life raft inflated and Payne swam to it, his co-pilot didn't make it.
Article content
There was nothing where the rations should have been, the six men had just chocolate bars and water-purification tablets.
"Doc's nose is broken, he has blood all over his face," Brunt continued. "His legs are shot up.
"And eventually, a German fishing boat finds them, picks them up, takes them as prisoners of war and thankfully the war is over in another, I think, three weeks. So they're not prisoners for very long, but that in itself, like, it's just the way that Doc tells it."
As if he was recalling a stroll in the mall the previous week.
"I'm totally way more lively telling this story than Doc. It's just like, 'Yeah, this is what we did, yeah.' And I'm asking questions like, 'Oh, were you scared? Like, did you think you're gonna die?
Article content
"And he's like, 'No, we just thought we'd be rescued and it just was a matter of time."
Payne's story goes on, about the sadness at the destruction of war as he visited Hamburg as a postwar occupier.
"What he told me is that what keeps him sometimes up at night is having to go and bomb those cities," Brunt said. "Going in and the city would already be on fire, essentially having to drop your load and you're in a position where this is something that you have to do like you don't have any choice in the matter."
Payne and the hundreds of other veterans tracked down by Brunt will all have their edited interviews enshrined at the Canadian War Museum in Ottawa as part of the National Archives, and the raw video will be available to researchers.
And the filmmaker has teamed with Montreal-based Viveka Melki, the director, producer and distributor behind Melki Films, to make the Eric Brunt Collection, a documentary scheduled to premiere in 2024. The trailer is available on YouTube.
Article content
When the filmmaker took on the project four years ago, he was inspired by his grandfather Clifford Brunt, who died at 95 never having spoken much about his wartime experience.
The grandson, who was 25 at the time, thought it might take him four or five months to travel between Victoria and St. John, NL, to collect his tales.
He can laugh at his naiveté now.
Part two of the tour has financial backing from the War Museum and Melki, so his second cross-country journey will involve a bit more comfort than sleeping in his converted postal van.
When Brunt last spoke with Postmedia, in 2019, 60 veterans had died since he'd interviewed them. Now that that figure has almost quadrupled, it's taken its toll on the 29-year-old.
"I've kept in touch with them for four years and still call them and they call me or I'm in touch with their children," Brunt said. "It was especially hard to process when they first started passing away, and that part of it is still difficult.
"But I find a bit of comfort in the fact that their stories were recorded. There's footage of each of them now, and that will continue to be passed on either through their families or through the war museum."
If you know of a Second World War veteran Brunt has not spoken with, you can contact him at [email protected].