Canada
Vaughn Palmer: B.C.'s next attorney general will have their hands full dealing with problems of violence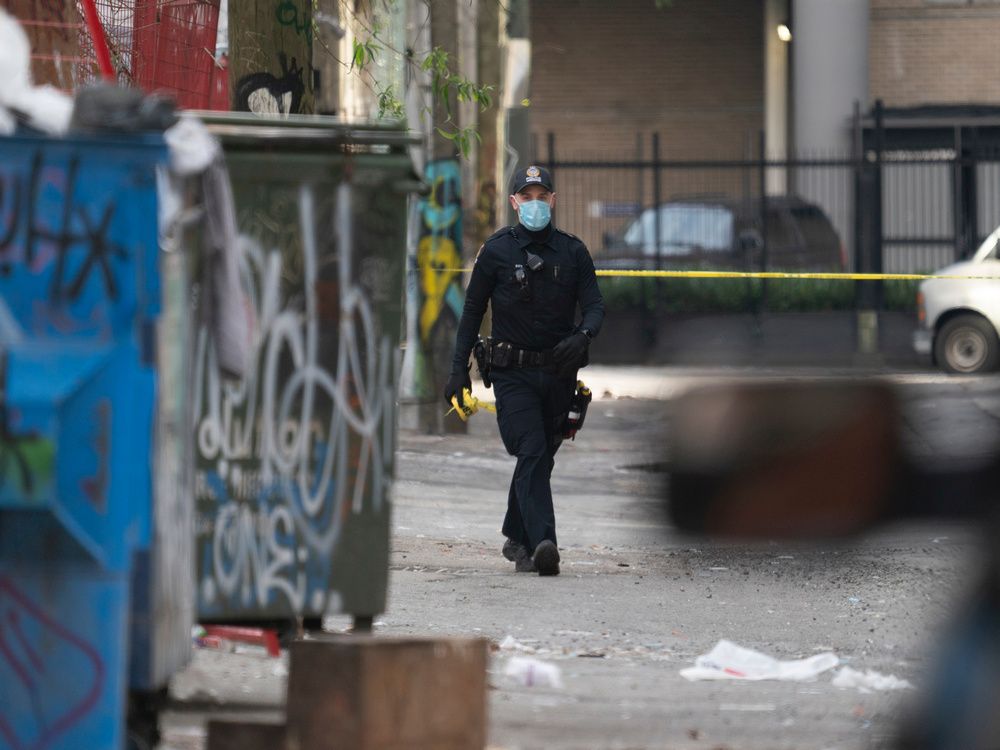 Report into repeat offenders and random stranger violence in B.C. shows the need for greater accountability
Article content
VICTORIA — The New Democrats waited until Saturday morning on a long weekend before releasing the full report of the recent investigation into repeat offenders and random stranger violence in B.C.
Article content
No wonder they held off, hoping for minimal media coverage.
Article content
Again and again, reading through the 150-page report from researchers Doug LePard and Amanda Butler, one comes across first-hand confirmation that contradicts provincial government efforts to minimize the problems of violence.
From Vancouver's Downtown Eastside: "Stakeholders have described the street homelessness problem in Vancouver's DTES as the worst it has ever been. An outreach worker we spoke to described the DTES as 'completely lawless.'"
From the probation service: "We are seeing people be released into community on bail that definitely pose a significant public safety risk. I am talking about machete attacks, attempted murders. When they do have conditions, the conditions do not even remotely align with what we need to do to supervise them to keep the public safe."
Article content
From civic leaders in Terrace: "The stats don't tell the truth — crime isn't going down, it's the worst it's ever been. People aren't reporting because there's no point because they're out so fast. We had a stabbing last year, and the person was released within 24 hours."
From Oak Bay: "About once a month we get a call from hospital to pick up this guy who hates police, stops his medications, becomes paranoid, carries a machete, lives in a high-risk building. It's a big issue for us to do it safely. We do surveillance for days because we want to apprehend him away from his residence, so we'll wait till he goes shopping. Then we take (him) to hospital. Then we repeat a month later."
While the Oak Bay offender was subject to a mental health warrant, LePard and Butler found that the repeat offender problem is by no means confined to the mentally ill.
Article content
"There was consensus among police that most repeat criminals committing more sophisticated property crimes, such as working in pairs and using a vehicle, are not known to have severe mental illness, although they may have substance use needs.
"Some of them are so entrenched in a criminal lifestyle that they have no interest in receiving services, for example, for substance use."
The authors challenged the government-led tendency to minimize the problem of repeat offenders and random violence because crime rates are down significantly overall.
"We emphatically disagree," they write.
"Looking only at macro crime patterns can obscure upward trends in specific offence types in focused areas such as those that were the focus of concerns raised by the B.C. Urban Mayors' Caucus and other stakeholders.
Article content
"There is a significant problem with street crime and disorder, including an increase in violence and aggression, and it is deserving of attention."
The authors found a disturbing pattern when Crown counsel handle cases where offenders breach conditions.
"Police note that the only effective strategy they have to manage offenders in the community is by enforcing bail and probation conditions and seeking detention when conditions are breached.
"However, they report it is well known to people involved in repeat crime that they are less likely to be detained pending trial and that Crown counsel are resistant to approving breach of bail conditions charges unless in addition to a substantive charge, resulting in an emboldening effect."
Article content
The report says "there must be consequences for repeat offenders" even if incarceration is not rehabilitative.
"The most important outcome of seeking detention — especially when bail conditions are breached — may mitigate the prevalent attitude among the most challenging offenders that they can commit crime without fear of consequences.
The report also identified an apparent contradiction in government responses on the availability of Crown counsel resources to deal with street crime and repeat offenders.
On the one hand the ministry of the attorney general says that "Crown counsel resources are at historically high levels while the number of reports to Crown counsel submitted by police are at historically low levels."
Article content
Yet when the authors circulated a draft recommendation calling for the appointment of dedicated Crown counsel to handle repeat offenders, the prosecution service fired back that it "would have to stop doing some work that we are currently doing or hire more Crown counsel."
"It is difficult to square these two assertions," say the authors with dry understatement.
Several submissions to the review suggested that Crown counsel might have a better understanding of the impact of releasing repeat offenders were they to consult the affected community.
"Nevertheless, the prosecution service strongly asserted that such a public consultation mechanism would interfere with its independence."
On prosecutorial independence, the report quoted former judge and attorney general Wally Oppal. "It does not mean that the crown under our system is unaccountable. Too many prosecutors think that. We are all a part of the criminal justice system, and we are accountable to the public particularly in areas of policy."
The report makes a good case for greater accountability.
But the direction has to come from the top, starting with the next premier and whomever is appointed attorney general.
File source