Canada
Vancouver election: Where mayor-elect Ken Sim and his ABC party stand on 12 key issues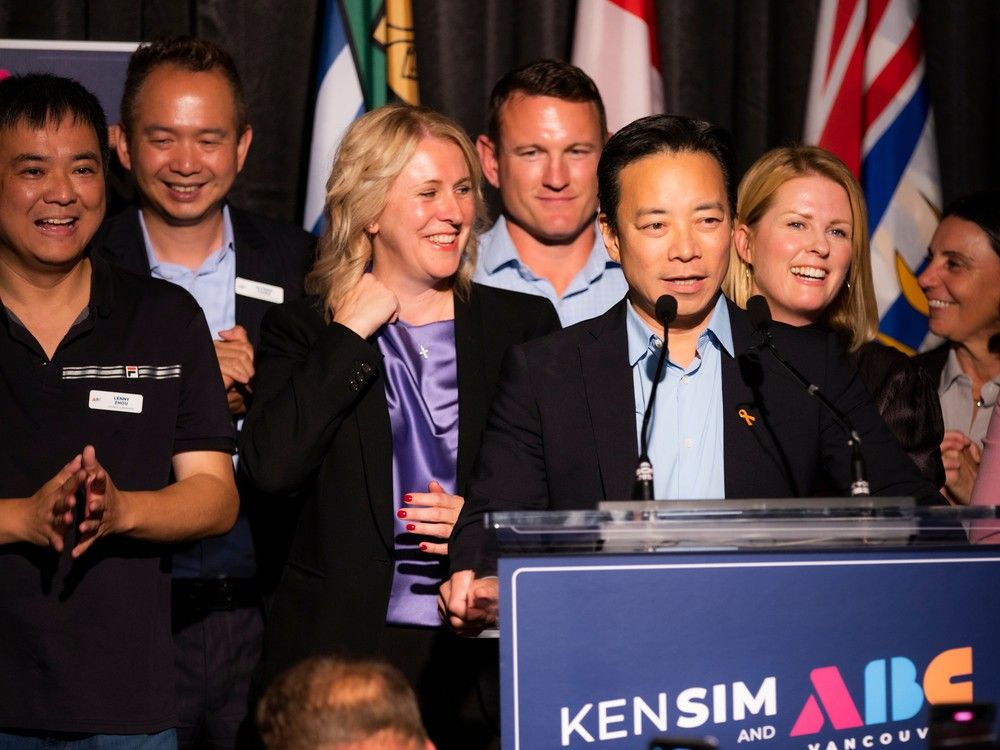 Here's a look at the promises that Vancouver mayor-elect Ken Sim and his ABC party made on 12 issues before winning Saturday's municipal election
Article content
Ken Sim will be the new mayor of Vancouver and his ABC party has won seven seats on city council and five seats on the school board. So, where do Sim and Co. stand on some of the key issues in Vancouver?
Article content
Before the election, we asked 10 of the parties running candidates in the Vancouver election where they stood on 12 different topics, ranging from the Broadway project to crime and safety. Here's a look at the promises Sim and the ABC party made:
Article content
1. Economic recovery
Do you have plans for promoting local businesses and economic activity coming out of the COVID-19 pandemic? What is city hall's role there?
An ABC majority on council is committed to reducing business permit waiting times from 8.2 months to three weeks, and would address the growing burden of taxes on businesses by opposing any proposed taxes on driving or on empty storefronts. We will also work to enhance tourism by revitalizing the Granville Entertainment District and creating a night mayor position to advocate for the nighttime economy.
Article content
2. Crime and public safety
How would you describe crime and public safety in Vancouver? Getting worse? Not a top priority right now? Do you have any plans for change in this area? What changes, if any, would you make to the Vancouver Police Department's budget?
Vancouver is in a public safety crisis, which has only got worse over the past four years. The VPD has been underfunded for several years. Short-term, the fastest way to address street disorder is by enhancing both front-line police and mental health services. That's why ABC plans to hire 100 new police officers and 100 mental health nurses.
3. Broadway plan
What is your position on the plan that council approved in June? If you oppose the plan, why? And would you try to repeal the plan if elected? If you support the Broadway Plan overall, are there any aspects you would like to improve or change in the future if elected?
Article content
ABC believes in increasing density along mass transit lines while ensuring the number of parks, schools, and community centres keeps pace with increased development. We support the obligations to increase housing density and affordability along the Broadway corridor as agreed to in the Broadway subway funding agreements. ABC feels it is critical rental units are protected and incentives provided to deliver more affordable rental units across our city.
4. Taxes
Do you have any proposals regarding existing taxes, such as increasing, reducing or eliminating the empty homes tax? Ideas for new taxes? Vancouver's property tax increases over the past four years have totalled 25 percentage points — have those increases been reasonable? Too high? Too low? If you would support trimming the budget, which areas would you cut?
Article content
Property tax increases over the past four years have had significant impacts on rental affordability, business viability and home security, without producing a commensurate increase in services. An ABC majority would produce public line-item budgets so that outsiders can understand the financial health of the city. ABC is opposed to the idea of a "road tax" on driving in Downtown Vancouver and an empty store tax.
5. Rental housing
The most recent annual update on Vancouver's 10-year housing strategy shows that at the halfway point, the city had approved 43 per cent of its target of 20,000 purpose-built market rental homes by 2027. Is that target appropriate? Too high? Or too low? Would you do anything to speed up or increase construction of purpose-built rental housing?
Article content
An ABC majority will focus on speeding up permits to increase the supply of market, non-market, and supportive housing. We will aim to reduce permit waiting times for home renovations and construction of all kinds of housing, including townhouses, single-family homes, and highrises and large-scale projects. ABC will also work to expand the number of co-op homes, and improve the quality of supportive housing.
6. Drugs and addiction
What should the city do to reduce deaths from drug overdoses and poisonings, or is that the responsibility of senior governments? What about our current strategy is working or not working? What is your position on safe supply?
An ABC majority will work to establish a free, low-barrier, 24-hour recovery centre for those struggling with drug addiction. ABC will work with the provincial government and Canadian Mental Health Association to establish peer-assisted care teams. ABC will support all Vancouver Coastal and Providence Health Authority-led initiatives that enhance the safety of the drug supply to address the drug poisoning crisis.
Article content
7. Vancouver plan
The Vancouver plan approved in July contemplates multiplexes and apartments in lower-density areas — is the plan's vision appropriate? What kind of building types should be allowed in the lowest density areas, the residential side streets currently zoned for only detached houses and duplexes?
ABC councillors voted in support of the Vancouver plan, and ABC is committed to developing an official community plan during our first four-year mandate. We see significant opportunities for more laneway homes, duplexes, townhouses, low-rise and mid-rise apartments throughout the city, but it may not be appropriate in absolutely every single neighbourhood to have six-storey buildings. ABC does not believe in a one-size-fits-all solution for every neighbourhood.
Article content
8. Environment
What do you think about city hall raising money for climate measures while also changing consumer behaviour through fees for things like disposable coffee cups and transport pricing? Or the climate emergency parking program, which the current council narrowly defeated? What else should the city be doing in terms of the climate emergency?
ABC Vancouver has a 10-point plan for climate change and sustainability, including exploring a tax credit for Vancouverites who don't use a car. An ABC majority would work with senior governments to reduce the number of motorized pleasure watercraft in Vancouver waters in favour of wind and non-motorized pleasure craft. ABC opposes the "climate emergency parking program" that would have punished renters for not having garages to park in.
Article content
9. Schools
Would you support bringing back the police liaison officer program in schools? Any other key proposals for schools?
An ABC-led school board would reinstate the school liaison officer program, as well as restore honours classes at schools. ABC believes in more individualized learning and supports the delivery of additional programs covering topics like financial literacy, coding, and sustainability. ABC is committed to fully funding music and fine arts programs in Vancouver elementary and secondary schools.
10. Supportive housing
What do you think of the idea of the city approving more large-scale, deeply affordable, low-barrier social housing developments in different residential neighbourhoods, like the buildings approved this summer at 2091 West 8th Ave in Kitsilano, and 1410 Knight St. in Kensington-Cedar Cottage?
Article content
An ABC majority will develop an overarching 20-year social and supportive housing plan for the city in partnership with B.C. Housing and other housing partners within two years. ABC will shift the city's social and supportive housing strategy to focus on the delivery of quality, livable housing units, instead of the existing quantity-first approach, and ensure that a robust, appropriate continuum of care is enshrined in every project.
11. Parks and public spaces
What would you do to improve Vancouver's parks, public spaces and plazas? Do you support the current bike lane through Stanley Park or support changing it back to the previous configuration?
ABC will reopen vehicle access to the parking lots from Beach Avenue, and direct staff to open a permanent bike lane in spring 2023 to allow both vehicle and bike traffic throughout Stanley Park. An ABC park board majority will fix collapsing park board infrastructure through an 'emergency restoration fund,' support responsible alcohol consumption in all parks with adequate facilities, and ask Vancouver's auditor general to review park board finances.
Article content
12. Transportation
What should Vancouver's top priorities be on transportation?
Transportation priorities for an ABC majority would include: building SkyTrain all the way to UBC and pushing for a second east-west line to be delivered in the next seven years, a new rapid bus line serving the River District, expansion of HandyDart, an accessibility audit of all city-owned assets, and promoting the "15-minute city," where basic services and amenities can be accessed by walking.
---
More news, fewer ads: Our in-depth journalism is possible thanks to the support of our subscribers. For just $3.50 per week, you can get unlimited, ad-lite access to The Vancouver Sun, The Province, National Post and 13 other Canadian news sites. Support us by subscribing today: The Vancouver Sun | The Province.
File source