Canada
Vancouver Election 2022: Familiar faces from 2018 running for mayor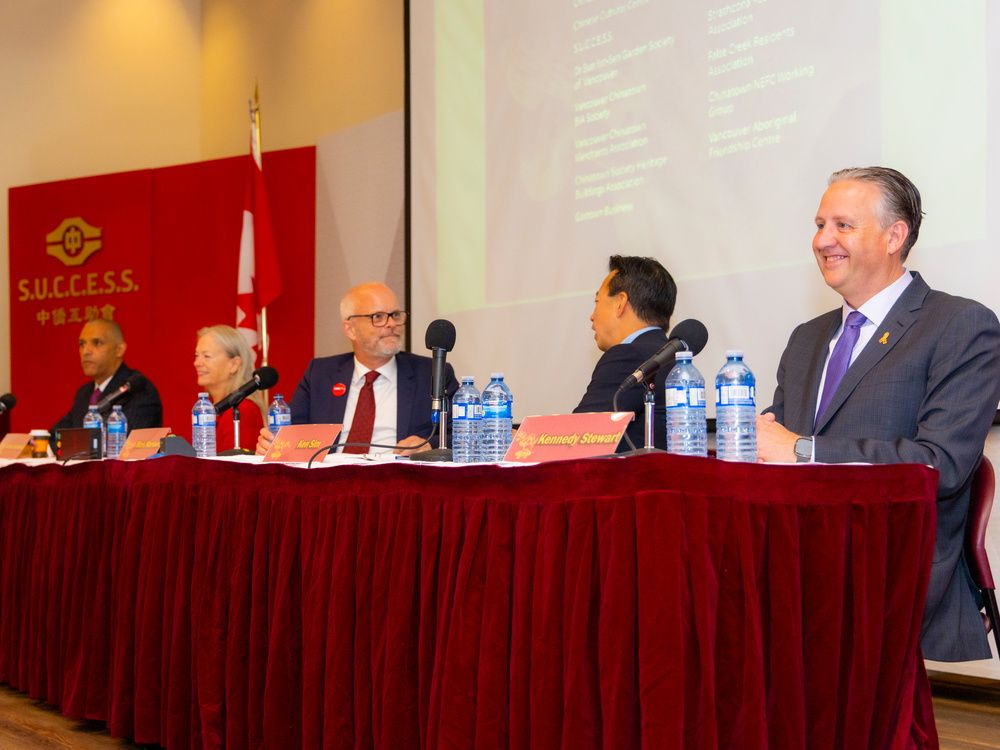 It's election day in Vancouver as residents vote for a mayor and council to lead them for the next four years. Follow this post for results.
Article content
It's election day in Vancouver as residents head out to the polls to choose a mayor and council to lead them for the next four years.
Article content
For information on how to vote in Vancouver, click here. And here is a list of candidates running for mayor and council. If you are still deciding who to vote for, check out our handy guide outlining 12 hot topics in Vancouver and where nine different parties stand on each one. And you can read more about what's at stake in this year's election below.
Article content
Follow our live-blog throughout the day and night for the latest election news from around B.C., and we'll keep this post updated tonight with Vancouver election results and reaction.
---
It wasn't until well past midnight on election night in 2018 when final results came in for Vancouver's mayoral race, with Kennedy Stewart edging out the Non-Partisan Association's Ken Sim in a nail-biter, with a margin of fewer than 1,000 votes.
Article content
This year's race brings a rematch of Sim and Stewart, both with new parties. Stewart, a former NDP member of Parliament, ran and won in 2018 as Vancouver's first independent mayor in a generation, and is now seeking re-election with a new party he started called Forward Together, along with a slate of six council candidates.
Sim, a business owner, announced in 2020 he wanted to take another shot at the mayor's office — but this time against the NPA. Instead, Sim is running with a new party called ABC Vancouver, which has slates of candidates seeking majorities on council, park board and school board.
Coun. Colleen Hardwick also ran with the NPA in 2018, and was elected to council, and has since quit the party to start her own new group, called TEAM for a Livable Vancouver, and run as their mayoral nominee, with a slate of council, park and school board candidates.
Article content
The NPA was a dominant force in Vancouver politics for several decades, but has not held the Vancouver mayor's seat or a council majority since 2008. Their 2018 showing was their strongest in a decade, with the party seeing five candidates elected to council, along with three to the school board and two to park board.
But in the four years since then, the party has been battered by a wave of public defections. Nine of the 10 politicians elected in 2018 under the NPA banner have since quit the party, with many of them running this year for other parties. The only sitting NPA politician seeking re-election this year with the party is Coun. Melissa De Genova. The NPA announced former West Vancouver police officer Fred Harding as their mayoral candidate in late August, weeks after their previous nominee John Coupar abruptly resigned. Harding ran for mayor in 2018 with a party called Vancouver 1st, finishing sixth.
Article content
Former B.C. Liberal and federal Liberal strategist Mark Marissen is the mayoral candidate for Progress Vancouver, another new party also running a council slate. Marissen also worked behind the scenes in Vancouver's 2018 election, running the campaign of Yes Vancouver and its mayoral candidate Hector Bremner, who finished fifth.
Three other parties with incumbent councillors are running more council candidates this year, but no mayoral candidate: the Greens, OneCity and COPE. Vision Vancouver, which held a majority on council for a decade starting in 2008 before being wiped off council in 2018, is also running council candidates, and the new party VOTE Socialist is running a single council candidate.