Canada
'Tragic and horrific': Burnaby RCMP officer fatally stabbed at homeless camp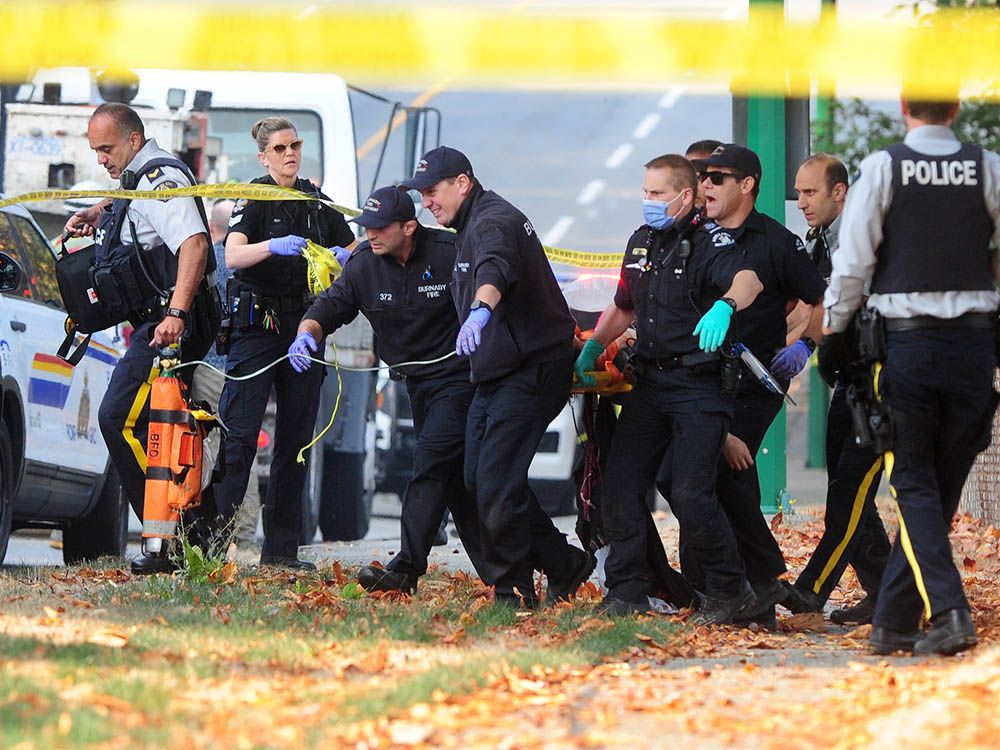 Article content
An RCMP officer has been fatally stabbed in Burnaby.
Article content
B.C. Public Safety Minister Mike Farnworth said he was informed this afternoon that a female Burnaby RCMP officer was killed while on duty, calling it "absolutely tragic and horrific."
Article content
Police were called to an "unfolding incident" on Canada Way between Boundary Road and Willingdon Avenue on Tuesday morning. Two people were taken to hospital.
Sources told Postmedia the Burnaby officer was stabbed and killed while assisting bylaw officers at a homeless camp in the area. A suspect was also shot and killed.
A huge police presence remained at the scene Tuesday afternoon, but "there does not appear to be any ongoing risk to the public," said Burnaby RCMP.
Police tape has Broadview Park cordoned off. The stabbing itself appears to have occurred near the intersection of Curle Avenue and Canada Way.
Article content
The Independent Investigations Office of B.C. confirmed it has been deployed to the incident.
"This is an absolutely tragic and horrific situation," said Farnworth, who was overcome with emotion as he spoke from the legislature. "Every day we ask thousands of men and women in uniform in this province to do their duties, keeping our community safe, keeping the public safe, knowing full well that it's an extremely dangerous job.
"This is the worst news anyone wants to hear. My heart goes out to the family, the friends and the officers in the police departments of Burnaby and across the province who every day put their life on the line to keep all of us and our communities safe."
Former attorney general and B.C. NDP leadership front-runner David Eby also issued a statement on Twitter saying: "My heart goes out to this officer and her family following this senseless killing. Every British Columbian should know their loved ones will return home from work safely every day. I'm thinking of all the heroes who put their lives on the line to keep the rest of us safe."