Canada
Toronto Argonauts welcome return of dynamic receiver Cam Phillips following pre-game groin injury in Hamilton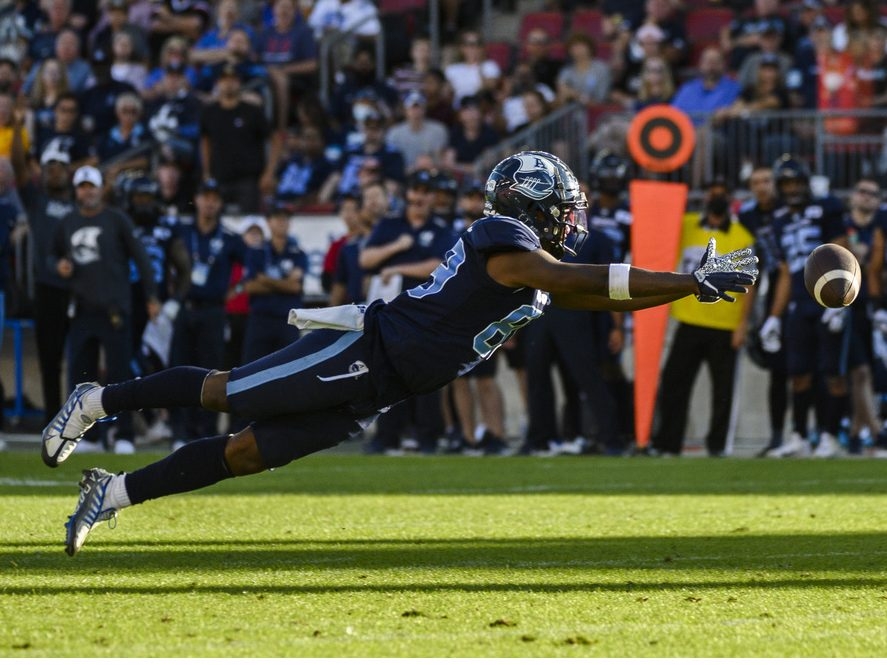 Article content
Cam Phillips decided to wear a new look when he reported to practice for the first time following an injury stint that kept the emerging receiver out of the lineup.
Article content
His trademark speed, ability to make down-field plays, crisp route running, some of the attributes that separated Phillips from his peers were on full display. In a break from his football tradition, Phillips added a colourful visor, a powder blue, gold pattern that resembles the NFL's L.A. Chargers.
Article content
"They've been saying I play for the Toronto Chargers,'' quipped Phillips. "I'm just trying to have fun because this isn't really a job to me. If I can bring positive energy to the team, I'll do my best."
A bolt of lightning would be an exaggeration in describing the impact Phillips has had this week during practice and the potential gains he's capable of producing when he officially makes his return this Saturday night in Calgary.
Article content
Nonetheless, he gives the offence a jolt.
Phillips got his first taste of the CFL last season when he joined the Argos. He appeared in one game, Toronto's season finale against visiting Edmonton when the Argos had already secured first place in the East.
His brief exposure allowed Phillips to fully embrace the game when he joined the team at training camp this season.
Slowly but surely, he was featured in the offence and Phillips' game began to expand to the point where an argument could be made that he evolved into the Argos' best pass catcher. Then came a groin injury he suffered in Hamilton early last month during the pre-game warmups.
Phillips' pre-game routine involves breathing exercises, visualization and simple relaxation.
Article content
There was nothing out of the ordinary when he showed up with the rest of his teammates at Tim Hortons Field.
"You're trying to get warm and it was a big game being in Hamilton,'' said Phillips. "Just trying to keep your emotions in check and letting the game not being bigger than what it is."
He then began to run routes like Phillips normally does before each kickoff.
"It was just a bad angle I came out of and I decided to shut it down,'' he added. "I felt it."
He knew something amiss had happened to his groin. It marked the first time Phillips was shelved before kickoff.
As it turned out, his replacement, Mac product Tommy Nield, would hurt his ankle as Toronto's receiving unit was suddenly depleted. Phillips returns to a group that is suddenly deep.
Article content
Needless to say, Phillips will be much more cautious when he arrives at McMahon Stadium to play the host Stamps this week.
"Pre-game will be different,'' he said.
Looking back at his setback, Phillips said he immediately felt frustrated knowing he could not play in such a big game. He then began to find comfort.
"It allowed me to take on a different role,'' added Phillips. "And there was no drop-off because we've been winning."
The Argos have won four straight to improve to 8-5 on the season.
When he last suited up for the Argos, Phillips hauled in four passes for 85 yards and one TD in a win over the Ticats. The time away allowed Phillips to hone in on the mental aspect of the game.
At 26 years old, Phillips is in his prime years. The game has slowed down allowing Phillips to play freely.
Article content
It was just prior to the Argos' recent bye week when Phillips began to envision being back on the field and producing.
The energy level surrounding the Argos is quite good, which is to be expected when four successive wins have been posted.
"It's just great to be part of this,'' said Phillips of being back. "I feel we have something special going on."
Just how special remains to be seen.
RECOMMENDED VIDEO
Beating the likes of Hamilton and Ottawa, the two worst teams in the East is one thing, especially when both the Ticats and Redblacks were dealing with obvious quarterback issues.
Beating a fundamentally sound and QB-proven Stamps team is quite different.
An Argos win gives the club legitimacy.
HOME FEELING
Corey Mace, Toronto's rookie defensive co-ordinator, returns to Calgary for the first time.
Article content
He played for the Stamps and began his coaching career with the organization. His in-laws are from Calgary.
"I have family there and no doubt it will be nice to see family,'' said Mace. "Other than BMO, McMahon is a place I'm very familiar with. We'll see when we get there, but let's go and win a game."
During his time as player and coach, Mace won Grey Cups and witnessed the winning culture the Stamps built and continue to build.
"That's where the learning came from,'' said Mace of Calgary. "Nothing but respect. As far as the city goes, my family and I were very involved in the community. Great people. My wife is from Calgary and we'll always have roots in Calgary. It will be good to see family."
Mace is excited at the progress the Argos have made this season as the club takes aim of playing host to the East final.
Article content
Football wise, Mace's unit will have to scheme up against Jake Maier, who replaced Bo Levi Mitchell at halftime of Calgary's visit to Toronto and has never looked back.
Calgary extended Maier this week, a clear indication Maier has supplanted Mitchell as its franchise quarterback.
"He's obviously a talented guy,'' said Mace of Maier. "Jake's a great guy, works hard and he's a competitor. We have to make sure we come with our A game in that sense and the guys here know that.
"The guys are looking forward to it. It's going to be a good challenge for us, but it will be a good challenge for them as well."
File source