Canada
Spitfires rally for victory to once again frustrate Firebirds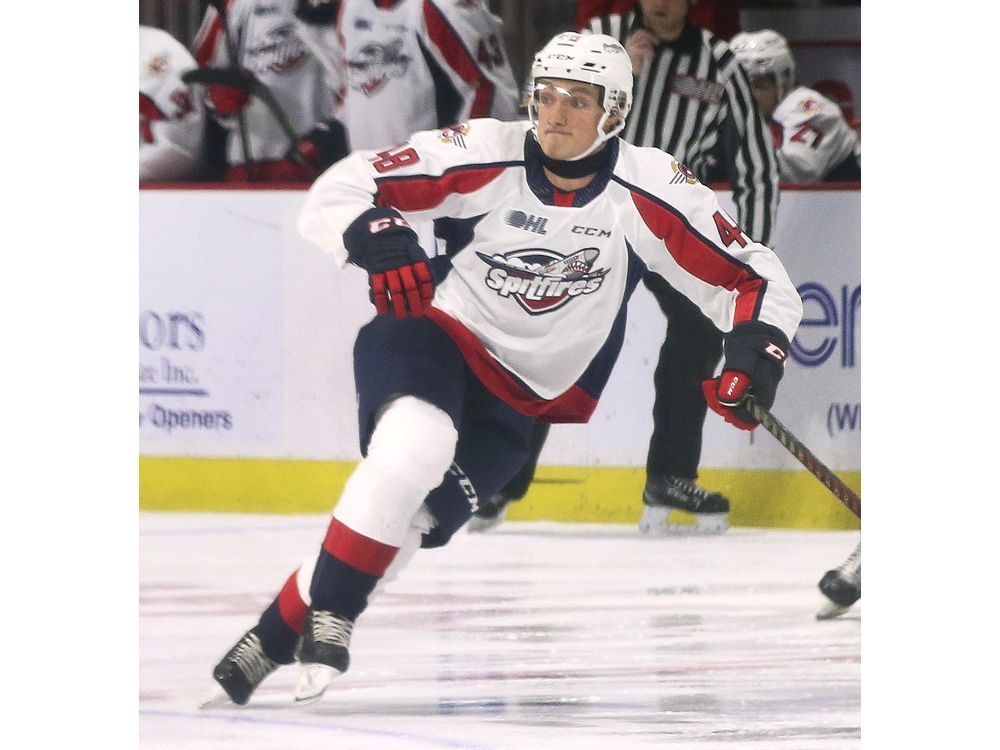 Article content
The Windsor Spitfires continue to be a source of frustration for the Flint Firebirds.
Article content
The Spitfires chased the Firebirds down to finish first in the West Division last season and then rallied from a 3-2 series deficit to claim the Western Conference title in seven games.
Article content
In the first regular-season meeting between the two teams since last year's Western Conference final, the Spitfires erased an early two-goal Flint lead and went on to earn a 6-5 victory on Saturday before a crowd of 2,507 at Dort Financial Center.
With the win against the Firebirds (5-5-0-0), the Spitfires (5-0-3-0) extended the team's point streak to start the season to eight games and moved back into sole possession of first place in the West Division.
Colton Smith had Windsor on the board just 37 seconds into the game, but Gavin Hayes, Ethan Hay and Amadeus Lombardi countered to put the Firebirds up 3-1 before the game was barely eight minutes old.
Article content
Special teams pulled the Spitfires back into things as Oliver Peer scored a short-handed goal and Alex Christopoulos and rookie Liam Greentree, with his first Ontario Hockey League goal, scored power-play goals to put Windsor up 4-3 after 20. The two power-play goals by the Spitfires matched the team's total in 24 chances over the first seven games of the season.
Matthew Maggio extended the Spitfires' lead to 5-3 early in the second period and chased Firebirds' starting goalie Will Cranley, who faced 20 shots.
Hayes scores his second of the game to get the Firebirds to within a goal, but Christopoulos added his second of the game with just 19 seconds left in the second period to restore Windsor's two-goal cushion.
Article content
Flint outshot the Spitfires 29-14 over the final two periods and 37-32 overall. The Spitfires also killed off three periods in the final 12 minutes of the game, which included a two-man Flint advantage for 46 seconds in the final five minutes.
Braeden Kressler made it a one-goal game less than four minutes into the final period, but the Firebirds could not produce the equalizer.
Windsor returns to action on Sunday against the Niagara IceDogs at the WFCU Centre. Game time is 4:05 p.m.
twitter.com/winstarparker
Game Summary
Saturday Result
Spitfires 6 Firebirds 5
Windsor 4 2 0 – 6
Flint 3 1 1 – 5
First period: 1. Windsor, Smith 3 (Peer, Cristoforo), :37, 2. Flint, Hayes 4 (Othmann, Kuzmin) 2:15, 3. Flint, Hay 4 (Giroux, Piercey) 4:23, 4. Flint, Lombardi 5 (Bradshaw, Kuzmin) 8:16, 5. Windsor, Peer 4 (unassisted) 12:39 (sh), 6. Windsor, Christopoulos 6 (Maggio, Abraham) 14:45 (pp), 7. Windsor, Greentree 1 (Cristoforo, Miedema) 17:55 (pp). Penalties: Pitre F (high sticking) 9:59, Renwick W (hooking) 11:26, Slavicek F (blindsiding major, game misconduct) 14:11, D'Amato F (cross checking ) 16:00, Renwick W (slashing) 19:04.
Article content
Second period: 8. Windsor, Maggio 5 (T.Johnston) 3:20, 9. Flint, Hayes 5 (Othmann, Lombardi) 7:28 (pp), 10. Windsor, Christopoulos 7 (Abraham, Smith) 19:41. Penalties: Spellacy W (interference) 5:28, Giroux F (head check major, game misconduct) 8:01, Othmann F (slashing) 12:06, Smith W (too many men) 13:31, Ride W (roughing) 14:24.
Third period: 11. Flint, Kressler 2 (Kuzmin, Hayes) 3:50 (sh). Penalties: Lombardi F (head check) 3:07, Kressler F (cross checking) 4:28, Gee F (hooking) 6:25, Abraham W (hooking) 8:12, O'Flaherty W (slashing) 15:38, Renwick W (delay of game) 16:52.
Game stats – SOG – Windsor 18  7 7 – 32 Flint 8 14 15 – 37 Goal (shots-saves) – Windsor: Onuska (W,4-0-3-0) (37-32). Flint: Cranley (20-15), Day (3:20 of second period) (L,1-2-0-0) (12-11). Power play (goals-chances) – Windsor 2-10. Flint 1-8. Referees: Blake Beer (28) and Chris Ferreira (14). Linesmen: Kyle Flood (66) and Kurtis Pare (70). Att.: 2,507 at Dort Financial Center.
Check out our sports section for the latest news and analysis. Care for a wager? Head to our sports betting section for news and odds.