Canada
Province must provide funding to alleviate Windsor-Essex ambulance crisis, says paramedics union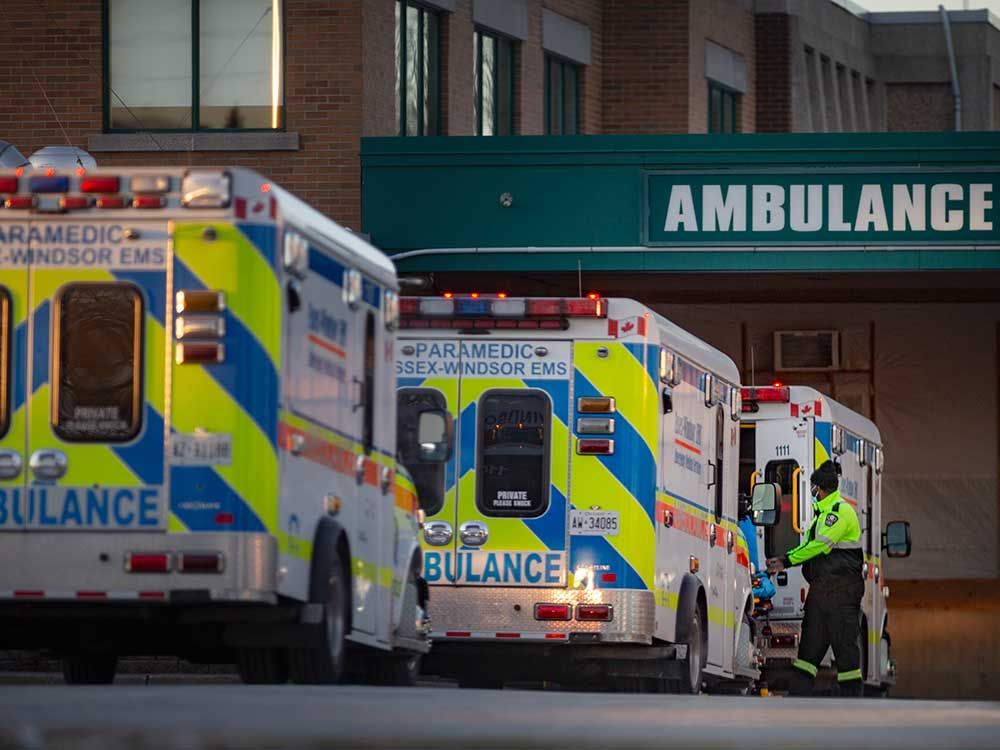 Article content
It's going to take provincial funding to address the ongoing emergency of ambulances being unavailable to respond to 911 calls, says the union representing Windsor-Essex paramedics.
Article content
"There are three primary solutions: More paramedics, more hospital staff, and more hospital capacity," said James Jovanovic, president of Canadian Union of Public Employees Local 2974 — which represents the almost 300 paramedics of Essex-Windsor EMS.
Article content
"The truth is, we have been underfunding health care in this province for a long time. It's time to prioritize investments in our system over short-term savings. The people of this province deserve better."
Jovanovic's comments came on Tuesday — the day after the County of Essex declared a local emergency due to a major surge of occurrences when there are no ambulances available anywhere in the region.
The "Code Black" statuses are the consequence of ambulances being delayed in offloading patients at overwhelmed hospital emergency departments.
Article content
The number of "Code Black" incidents in Windsor-Essex in October is already 323 per cent higher than it was in September.
Jovanovic said CUPE Local 2974 is encouraged that the County of Essex has acknowledged the problem and the fact that local paramedics are struggling. "Now it's time for action, and the province must play a lead role in supporting paramedics."
Along with the persistent offloading delays, chronic understaffing is one of the factors contributing to the issue, Jovanovic said.
Jovanovic noted that Ontario has "the worst hospital capacity per-capita across Canada," as well as "the lowest per-capita health-care funding" in the country since 2008.
Article content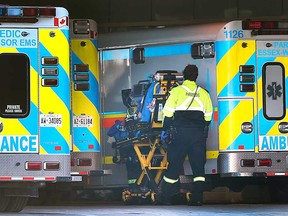 Meanwhile, Windsor Regional Hospital responded to the County of Essex emergency declaration by pointing out that local hospital occupancy levels are exceeding 100 per cent.
As of 9:45 a.m. Monday, Windsor Regional Hospital's Met Campus was at 107 per cent capacity for medical and surgical patients, and the Ouellette Campus was at 106 per cent.
At that same time frame, Windsor Regional Hospital had 44 patients who'd been admitted to an emergency department but were waiting for an inpatient bed to become available (20 at Met Campus, 22 at Ouellette Campus).
In a statement, WRH said frontline staff "are doing their best to address high patient volumes."
"In the meantime, patients and families should continue to anticipate longer than normal wait times for non-emergency cases."
Article content
While those with critical or life-threatening issues will be prioritized, the hospital asks those not experiencing medical emergencies to consider alternatives to an ER — such as consulting with a family physician, visiting an urgent care or walk-in clinic, or calling Health Connect Ontario at 811 to speak to registered nurse.
Article content
Erie Shores HealthCare also pointed out on Monday that its current number of COVID-19 patients is double what it was a week ago — and the Leamington-based hospital is already dealing with shortages in nurses and beds.
A spokesperson for Sylvia Jones — Ontario's minister of Health — said the minister is continuing to collaborate with the Ontario Health, local paramedic services, hospital leadership, and other community partners on short-term and long-term strategies for the problem of ambulance availability.
According to the spokesperson, the ministry has been "in constant contact" with regional stakeholders, including Essex-Windsor EMS, over the past year.
"Minister Jones also plans on meeting with (Essex County Warden) Gary McNamara  and Essex-Windsor EMS Chief Bruce Krauter as soon as possible to discuss how the province can assist with this matter," the spokesperson stated.
Article content
But the issue is expected to get worse locally before it gets any better.
Windsor Regional Hospital noted that it is anticipating "additional patient volumes as flu season and any resurgence in COVID-19 cases arise this fall."
County Warden McNamara expressed similar worries on Monday.
"We haven't even hit the flu season yet. And with the COVID new wave… We're seeing numbers going up," McNamara warned. "I'm really concerned about that."
"I think the rationale is to try to be ahead of that issue, so that we have at least the means to deliver solid, efficient, and safe service to each and every resident in Windsor-Essex."