Canada
Province doubles community transition teams for offenders but B.C. Liberals say crime out of control under NDP government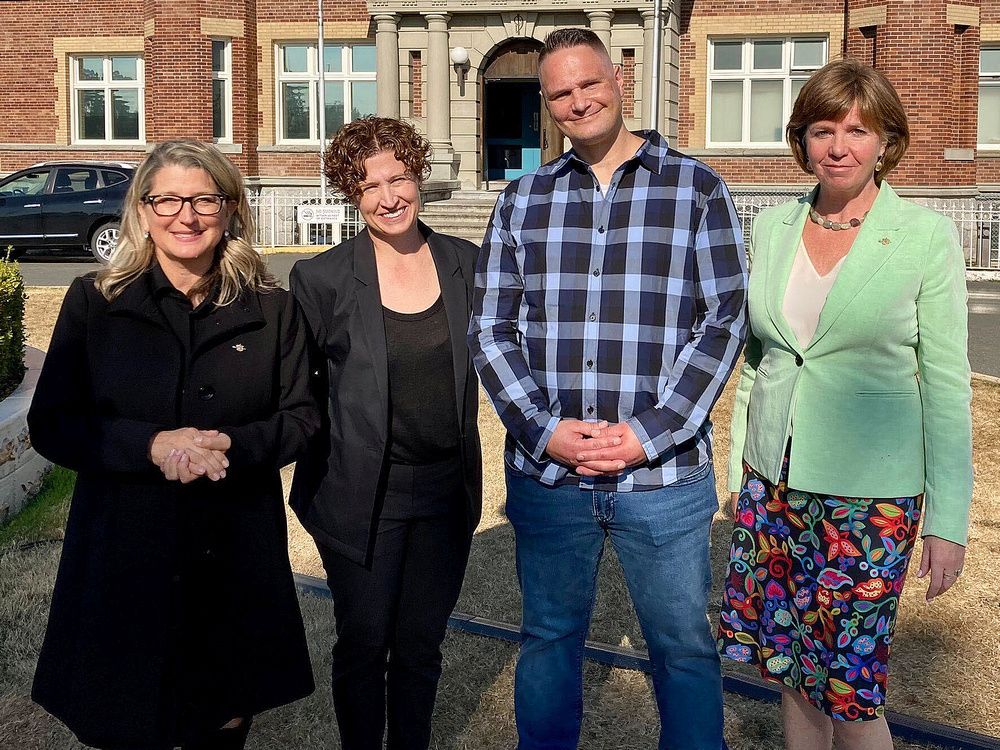 Doug LePard and Amanda Butler's report validated concerns by local politicians that violent crime is going up.
Article content
After 20 years struggling with drug and alcohol addiction and cycling in-and-out of jail, Steve Pelland's release from the Surrey Pretrial Services Centre two years ago was different.
Article content
This time, he was matched with a social worker, concurrent disorders counsellor and a peer support worker through the province's community transition teams that support offenders after their incarceration.
Article content
The support workers were waiting outside the correctional centre when Pelland was released and drove him straight to the Phoenix Drug and Alcohol Recovery centre where he got sober over the next 90 days and has remained sober since.
Pelland, now employed as a peer support worker on Surrey's community transition team, welcomed news Monday that the B.C. government is doubling the number of teams from five to 10 to ensure that people leaving all 10 provincial correctional centres can get the same kind of support that the 41-year-old did.
Article content
During an announcement outside the Vancouver Island Regional Correctional Centre in Victoria, B.C. Mental Health and Addictions Minister Sheila Malcolmson said the government will also increase the teams' capacity by adding new health-care and support workers. Offenders will have 90 days instead of 30 to access the supports.
The actions, Malcolmson said, are in line with the recommendations made in the prolific offender report by Doug LePard, a former Vancouver police deputy chief and ex-chief of the Transit Police, and Amanda Butler, a Simon Fraser University criminologist, which focused on increasing mental-health supports and diverting people away from the criminal justice system to stop the cycle of crime.
Article content
However, the NDP government is under fire for releasing the full 170-page report on Saturday — 10 days after the executive summary was released on Sept. 21 — which critics say was an attempt to bury some of the disturbing anecdotes of communities under "siege" because of crime and vandalism. Those anecdotes include an outreach worker in Vancouver's Downtown Eastside describing a completely "lawless" zone and probation officers frustrated at seeing offenders released on bail after violent crimes including machete attacks and attempted murder.
B.C. Liberal Leader Kevin Falcon said the government quietly released the report because it's a "damning indictment of the record of David Eby and the NDP government when it comes to crime and safety in our communities."
Article content
Falcon said during Eby's time as attorney-general — a post Eby stepped down from to run for NDP leader and premier — he repeatedly insisted crime was going down in communities across B.C.
"It's nonsense. That is not what's happening in real communities," Falcon said. "People are really scared and worried and upset."
Falcon cited high profile random attacks that happened in Metro Vancouver this year including a man who threw a glass bottle at a baby in a stroller in June, a man who attacked people with a machete at a Vancouver gas station the same month and a fatal stabbing in Yaletown in July.
LePard and Butler's report validated concerns by local politicians that violent crime is going up, a picture often not reflected in Statistics Canada data because some are so fed up they don't report the crimes.
Article content
Public Safety Minister Mike Farnworth on Monday defended the timing of the full report, saying the government promised to release it before the end of September. It wouldn't be appropriate to release it on National Day for Truth and Reconciliation on Friday, he said, so it was released on the weekend. He didn't explain why it couldn't be released before Friday.
Farnworth said the government acted on three of the 28 recommendations right away, including resurrecting a prolific-offender management program scrapped in 2012. Other recommendations, particularly around mental health, are being considered and could be unveiled as part of next year's budget, he said.
Pelland echoed concerns by LePard and Butler that releasing offenders into the community with no mental-health or addiction supports is setting them up for failure.
"It's definitely very important to have those supports in place before they get released and especially for people that are going to be in-and-out real quick," Pelland said.
File source