Canada
On the Vine: District Wine Village offers one-stop wine tasting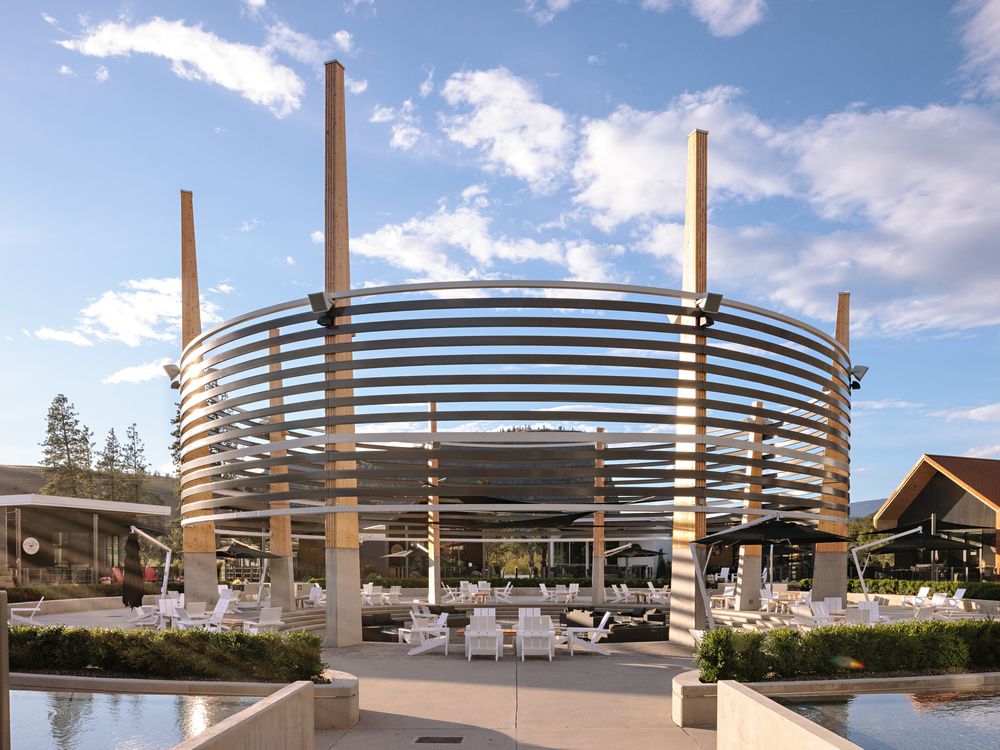 Cluster of small-production wineries near Oliver in its second successful year
Reviews and recommendations are unbiased and products are independently selected. Postmedia may earn an affiliate commission from purchases made through links on this page.
Article content
The District Wine Village, just north of Oliver, is the best thing to happen to Okanagan wine touring in some time. In a single visit, you can walk to as many as 13 wineries and one brewery.
Article content
Winery clusters are common in American wine regions. They had never been done in Canada until the team assembled by Greyback Construction general manager Matt Kenyon convinced the regulators to license small wineries so they could make wine, run tasting rooms and sell the wines from a common site. The District is now in its second highly successful year.
Article content
Greyback, a leading Okanagan builder of wineries, built the village. The site is circular, with the wineries in a ring around an amphitheatre with a capacity for 600 people. Each winery is equipped to produce and cellar at least 2,000 or more cases a year. Some production equipment, such as presses, is shared among the wineries. There are plans for another ring of wineries and even a boutique hotel.
Article content
"The whole concept is about small production," says Michael Daley, the operations director of the village. "You don't have to spend millions to start a winery." It enabled the owners of JoiRyde Winery, former Penticton gym instructors Daphne Scromeda and Stacy Allen, to develop a winery when their previous jobs disappeared during the pandemic.
Daley and his wife, Josie Tyabji, operate Gneiss Wines. Their winemaker is Bertus Albertyn, the former chief winemaker at Burrowing Owl and former owner of Maverick Winery. He also makes wine for Canter Cellars, which is owned by Kenyon. Other veteran winemakers crafting top-flight wine in the village include Gustav Allander, formerly at Foxtrot Winery, and consultant Pascal Madevon, the founding winemaker at Osoyoos Larose Winery.
Article content
The winery boutiques here are a mix of established producers, such as TIME Family of Wines, Nk'Mip Cellars and One Faith Vineyards, and start-ups like Gneiss, Canter Cellars and Uppercase Winery. The village also has a restaurant for visitors.
Three to try
GNEISS VIOGNIER 2021 
This wine is packed with fruit: aromas and flavours of apricot and pineapple set in a rich, creamy texture. 92/100 | ($29.99)
CANTER CELLARS FIELD BLEND 2021 
This is a blend of Auxerrois, Pinot Blanc and Riesling. The dry but fruity wine has aromas and flavours of honeydew melon and apple with a hint of bee's wax. 90/100 | ($26.99)
UPPERCASE MALBEC 2020 
This wine begins with aromas of cherry and blackberry. The palate is rich, with flavours of dark fruit and spice. Ripe tannins give the wine a long finish. 91/100 | ($34.99)
Article content
Canned Wine Winners
At the fourth annual International Canned Wine Competition in California, which attracted 300 wines from 20 countries, Naramata's JoieFarm Winery won gold for two of its canned products: Tiny Bubbles 2021 and Noble Blend 2021. Now one of a dozen B.C. wineries with canned wine, JoieFarm was the Okanagan pioneer of quality wine in 250 ml cans. The format is popular for single servings, picnics and poolside entertaining. "The format of canned wine is a perfect fit for the lifestyle of so many Canadians," JoieFarm winemaker Karl Duda believes.
File source