Canada
NFL Sunday preview: 'Battle of B.C.' pits Chase Claypool vs. Jevon Holland … Straight-up picks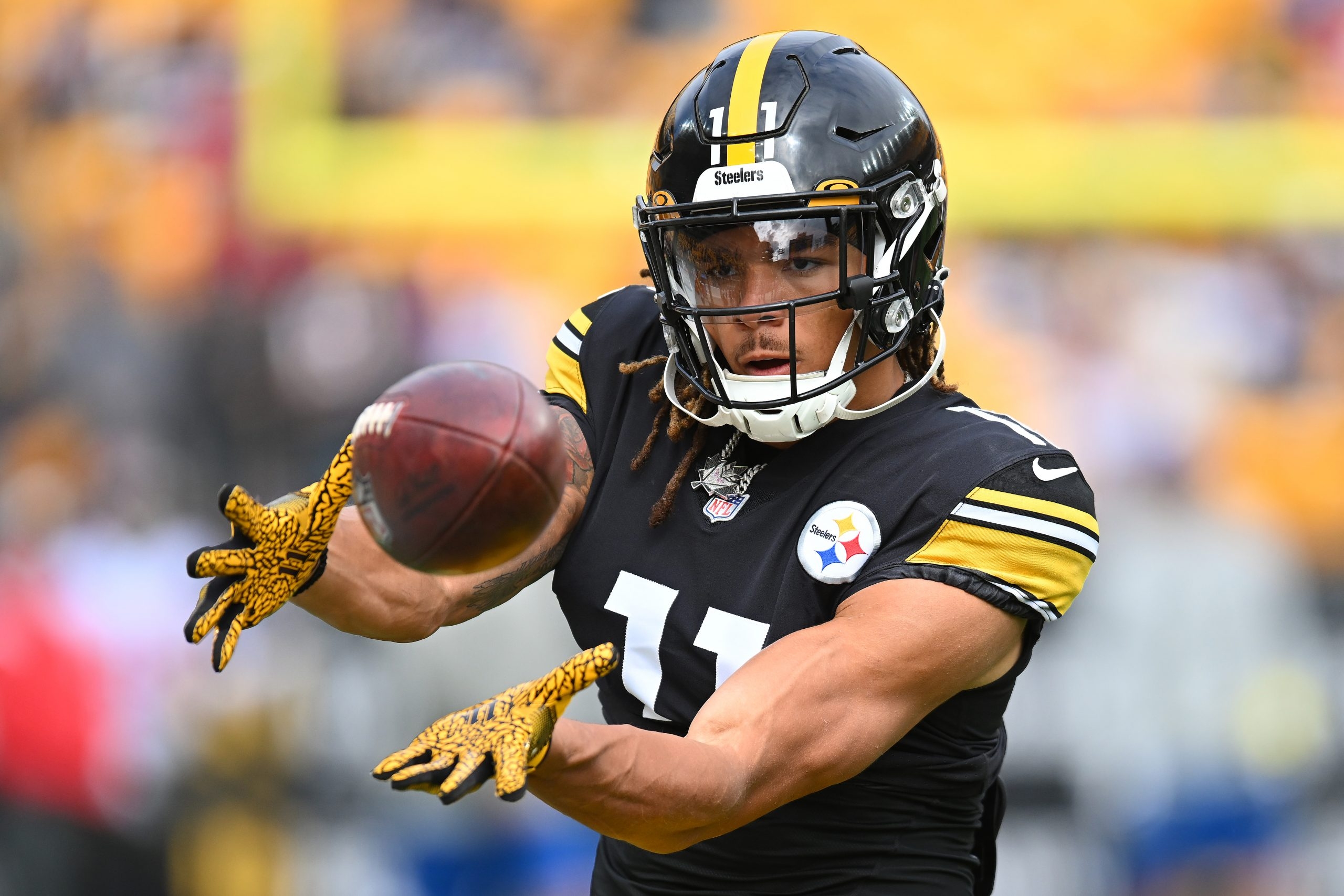 Article content
No one's calling it the Battle of British Columbia. It might come down to it, however.
Article content
The NFL's marquee Sunday-night matchup pits the visiting Pittsburgh Steelers against the Miami Dolphins. One likely head-to-head matchup, at times, would pit Pittsburgh wide receiver Chase Claypool against Miami Dolphins safety Jevon Holland.
Article content
Claypool, in his third NFL season, was born and raised in Abbotsford, B.C.
Article content
Holland, in his second NFL season, was born and raised until age eight in Coquitlam, B.C.
Claypool is coming off his most impactful game since his rookie season. He caught seven passes in Pittsburgh's 20-18 upset win over Tampa Bay last Sunday. One resulted in a touchdown, his first of the year. Five others resulted in a first down, including two tough, crucial third-and-long grabs on the Steelers' time-consuming, victory-securing, game-ending drive.
Article content
"It felt great, but ya gotta stack (good) days," Claypool said this week.
Holland might now be Miami's defensive player. He has missed one defensive play all year, and is now ranked among the league's Top 10 safeties.
He wears No. 8, Claypool No. 11. If you're watching Sunday night, you'll likely see Holland helping out over the top in pass coverage against Claypool.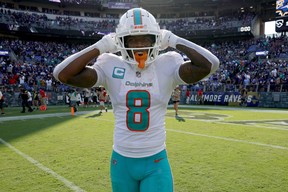 RUSSELL WILSON OUT
The Denver Broncos have ruled out Russell Wilson for Sunday's game against the New York Jets, head coach Nathaniel Hackett said Saturday.
Brett Rypien, nephew of Canadian-born Super Bowl MVP Mark Rypien, will start instead at quarterback for the Broncos.
Wilson had been listed as questionable with a hamstring injury.
Rypien told Postmedia at the 2019 NFL Scouting Combine that, at the time, he was a huge Toronto Maple Leafs fan, because long-time close family friend Mike Babcock then was coaching the Leafs.
Article content
Rypien's first sporting love was hockey, not football. He said he played centre and left wing on a rep team, whose travels often took him from where he was born and raised, in Spokane — in eastern Washington near the Montana border — up to both British Columbia and Alberta.
Rypien's dad and uncle were both born in Calgary but raised in Spokane.
"My uncle and dad are Canadian, so I've always loved Canada," Brett said in 2019.
In four seasons with the Broncos he has had only one previous start, in 2020. This will be his first playing time of the 2022 season, and only second game action over the past two seasons.
In this past Monday night's overtime loss to the Los Angeles Chargers, Wilson connected on his first 10 throws, then was terrible. From the last 17 seconds of the first half until game's end late in overtime, Wilson netted just 11 scrimmage yards — 13 in passing gains and 22 on rushes, offset by 24 negative yards in sacks.
Article content
Denver elevated QB Josh Johnson from the practice squad, to back up Rypien.
MAC JONES 'QUESTIONABLE'
Might Mac Jones return Monday night at QB for the New England Patriots?
When the club's final injury list came out Saturday afternoon, Jones — who has been out battling a high ankle sprain this month — was listed as questionable, not doubtful, or out.
If he can't start, rookie Bailey Zappe will get his third straight start against the visiting Chicago Bears.
EXTRA POINTS
Pittsburgh CB James Pierre (hip, knee) was upgraded from questionable to no injury status, meaning he's expected to play … Green Bay placed WR Randall Cobb (ankle) on IR, and activated WR Sammy Watkins off IR, designating him as questionable for Sunday (hamstring). Also, LT David Bakhtiari (knee) is now questionable, and DL Devonte Wyatt (illness) was added to the injury report as questionable … Tampa Bay downgraded CB Carlton Davis III (hip) to out … Detroit placed WR DJ Chark (ankle) on IR … Cleveland activated LB Deion Jones from IR, a week after acquiring him via trade from Atlanta … Indianapolis elevated two WRs from the practice squad: Dezmon Patmon and Ethan Fernea … Cincinnati activated LB Joe Bachie from IR … Detroit also signed punter Jack Fox to an extension through 2026.
Article content
FIVE BIG QUESTIONS
Can Christian McCaffrey be impactful in 49ers debut? That's presuming he dons his new No. 23 jersey in San Fran's big game against the Chiefs.
Can Tua pick up where he left off? At the moment he was concussed at Cincinnati, the Dolphins were 3-0. Now they're 3-3, facing Pittsburgh in prime time. Miami needs Tagovailoa to resume his elite-level play.
Can the Titans sweep the Colts — again? Tennessee has beaten its AFC South arch-rival four times in a row, including earlier this month in Indy (24-17). Derrick Henry had a hot start in that one. Colts can't start hot to save their lives.
Is the Packers offence really that bad? If Aaron Rodgers and crew struggle at Washington, maybe it's a yes.
Dak's back, but will Dallas miss Cooper Rush? Look, the seventh-year Prescott is a better long-term option at QB than his temp fill-in. But can Prescott learn from Rush's impressive 4-1 performance as starter? Sure he can. Primarily, in being more careful with the football.
Article content
THE BIG NUMBER
86.7
Zach Wilson's fourth-quarter completion percentage (13-of-15) since beginning his season in Week 4. That percentage leads the league, as does his 11.53 yards-per-attempt in the fourth quarter. The Jets are 3-0 since the second-year QB's return.
FUNKY FACTOID
Quarterback Andy Dalton has started, and lost, to the Arizona Cardinals in each of the past four seasons — and, crazily enough, each time with a different team. Namely, Cincinnati in 2019, Dallas in 2020, Chicago in 2021 and New Orleans this past Thursday night. The Cardinals intercepted Dalton nine times in those four games.
QUOTE OF THE WEEK
"Don't (fuss) with me."
— Jerry Jones, Cowboys owner/GM, to Patriots owner Robert Kraft, during Tuesday's owners-only debate over commissioner Roger Goodell's compensation, per ESPN.com, which Jones later did not deny.
Article content
After a horrible week of picking NFL winners, straight up, I looked back to see which of my Week 6 picks, in retrospect, were stupid.
Know what? I'd make all those same picks again except for maybe Cincinnati at New Orleans.
No way I'd pick the Jets to win at the Packers this week, or Pittsburgh to beat Tampa Bay, or Atlanta to smoke San Francisco, etc. — but ya know what? That's what we're getting in 2022 NFL.
All these upset wins, week after week, might just be early indications of a widespread changing-of-the-guard in the league, re the haves and have-nots, in that there's mostly just teams that might play like a 'have' one week, like a 'have not' the next.
Parity. Whoop-dee-do.
This trend of trendlessness might continue for many more weeks, folks. Should we all just flip a coin? Not quite, but go ahead if you're desperate. Used to be that picking scoreboard winners — i.e., not against the spread — was a far less random way of betting on outcomes of NFL games.
Article content
Now? My annual season goal of being right 65% of the time is practically a statistical impossibility, as I'm at 55.3% on the season. This, after going 6-8 (.429) this past week.
Sigh. To Week 7:
New Orleans at Arizona, Thursday
KRYK PICK: Arizona
No team in the NFL was as due as Arizona to win at home. They'd lost eight straight. Saints are a disaster on the road.
Cleveland at Baltimore, Sunday, 1 p.m. EDT
(TSN 3; CTV Toronto; RDS2; via CBS)
KRYK PICK: Baltimore
NFL's leading rusher (Browns RB Nick Chubb) vs. the No. 5 rusher (Ravens QB Lamar Jackson). Look, if Jackson can't outperform Jacoby Brissett, aerially, Baltimore's in trouble.
Tampa Bay at Carolina, Sunday, 1 p.m. EDT
KRYK PICK: Tampa Bay
Panthers defence is decent-to-good so it won't be easy for Bucs to break out this week. Carolina will start PJ Walker at QB backed by Jacob Eason. Baker Mayfield (ankle) is still out.
Article content
Atlanta at Cincinnati, Sunday, 1 p.m. EDT
(CTV Northern Ontario; via FOX)
KRYK PICK: Cincinnati
Falcons QB Marcus Mariota is the NFC offensive player of the week. Given that Mariota is Mariota, stringing two great performances together is highly unlikely. Home-team pick.
Detroit at Dallas, Sunday, 1 p.m. EDT
(CTV BC, Alberta, Saskatchewan, Kitchener, Ottawa, Atlantic; via CBS)
KRYK PICK: Dallas
Coming off their bye week, the 1-4 Lions don't appear to have much of a chance. Dan Campbell is 0-10-1 on the road as head coach, and this Dallas defence is fabulous. Detroit's is awful.
N.Y. Giants at Jacksonville, Sunday, 1 p.m. EDT
(CTV Montreal, Winnipeg; CTV2 Toronto, London/Windsor, Atlantic; via FOX)
KRYK PICK: Jacksonville
Article content
The Jaguars defence is much improved. That ought to be enough to hold New York to its usual meagre scoring output entering the fourth quarter. This time, Jags pull out the W.
Indianapolis at Tennessee, Sunday, 1 p.m. EDT
KRYK PICK: Tennessee
In Week 4 the Titans won authoritatively, if only by a 24-17 score. Colts couldn't stop Derrick Henry, the Titans' only sure road to victory. Matt Ryan might throw 60 times for Indy.
Green Bay at Washington, Sunday, 1 p.m. EDT
(CTV2 BC, Alberta, Ottawa; via FOX)
KRYK PICK: Green Bay
With Carson Wentz out 4-6 weeks (fractured finger) Taylor Heinecke will QB the Commanders. Honestly, he's no worse than Wentz. Regardless, Packers have a lot of face to save.
N.Y. Jets at Denver, Sunday, 4:05 p.m. EDT
Article content
KRYK PICK: New York
Broncos' weekly scoring outputs: 16, 16, 11, 23, nine, 16. Jets' weekly scoring outputs: Nine, 31, 12, 24, 40, 27. Time to start believing what we're seeing. And Russell Wilson is out.
Houston at Las Vegas, Sunday, 4:05 p.m. EDT
KRYK PICK: Las Vegas
Both teams coming off their bye. The Raiders have so much more talent and ought to win this one handily. Perhaps even in a total blowout. But Lovie Smith's team tends to hang around.
Seattle at L.A. Chargers, Sunday, 4:25 p.m. EDT
(TSN 3; CTV BC, Alberta; via FOX)
KRYK PICK: Los Angeles
Didn't L.A. just play Seattle? Oh wait, no, it was only Russell Wilson. And Wilson's QB replacement in Seattle, Geno Smith, is the far better QB right now. Still, take the Bolts.
Article content
Kansas City at San Francisco, Sunday, 4:25 p.m. EDT
(CTV nationally except BC, Alberta, Atlantic; CTV2 Atlantic; RDS2; via FOX)
KRYK PICK: Kansas City
Tempted to take S.F. But their banged-up D was so bad against Atlanta that Marcus Mariota is NFC player of the week. Secondly, who's picking K.C. to lose two in a row? Not me.
Pittsburgh at Miami, Sunday, 8:20 p.m. EDT
(TSN; CTV2; via NBC)
KRYK PICK: Miami
The Dolphins get Tua Tagovailoa back as starting QB. Whether Kenny Pickett (concussion) or Mitchell Trubisky starts at QB, the Steelers likely can't outscore the Dolphins.
Chicago at New England, Monday, 8:15 p.m. EDT
(TSN; via ESPN)
KRYK PICK: New England
Bill Belichick talked up Chicago's offence and big-play acumen in 2022. Must have meant 1922. Rookie QB Bailey Zappe has been good for the Pats. But does Mac Jones return?
BYES THIS WEEK: Buffalo, L.A. Rams, Minnesota, Philadelphia.
SEASON RECORD: 52-42-1 (.553), through Week 6.
Check out our sports section for the latest news and analysis. Care for a wager? Head to our sports betting section for news and odds.
File source