Canada
National Day for Truth and Reconciliation to be marked Friday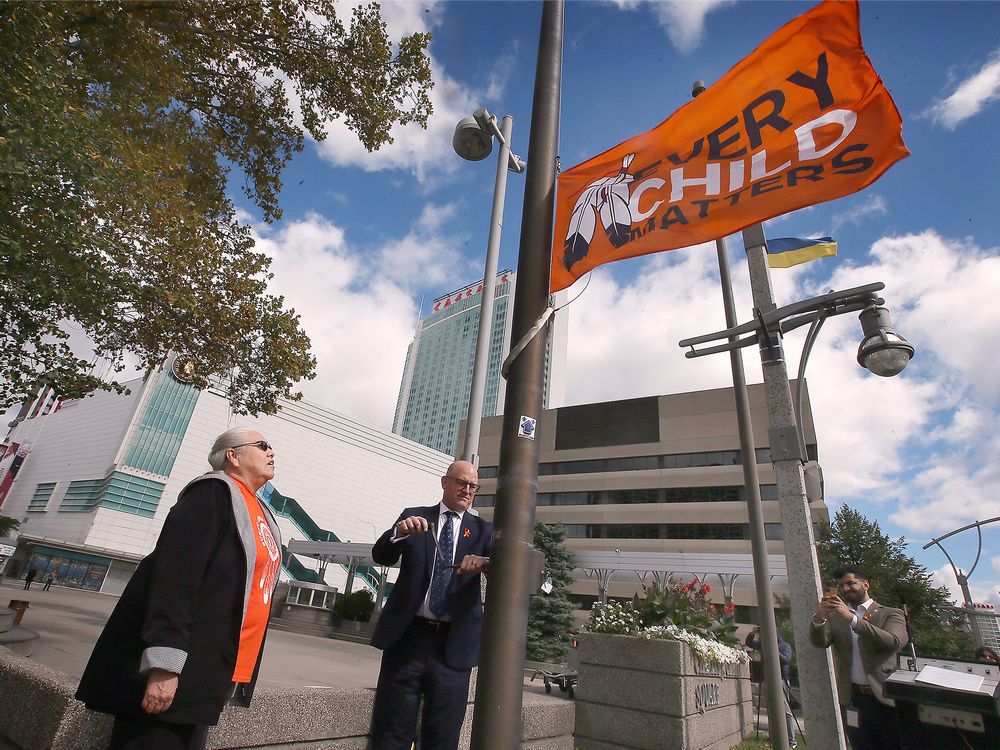 Article content
The beginning of Windsor's weeklong focus on the importance of truth and reconciliation around the treatment of Indigenous peoples was marked by a flag-raising ceremony Tuesday at Charles Clark Square.
Article content
Friday's National Day for Truth and Reconciliation, a day of awareness, remembrance and education honouring survivors of the residential school system, their families and communities coincides with Orange Shirt Day, the vision of Alkali Lake Chief Fred Robbins, a survivor of the boarding schools for Indigenous children funded by the Canadian government's Department of Indian Affairs and administered by Christian churches.
Article content
Orange shirts are worn to honour Phyllis (Jack) Webstad, a six-year-old residential school student who on her first day had her bright new orange shirt, a gift from her grandmother, taken away from her.
Remember our children and learn from the past
The orange shirt has become a symbol of remembrance of all Indigenous children who were removed from their families to attend residential schools, where their language and culture were repressed and where many children experienced abuse.
Article content
Over more than a century, it's estimated 150,000 children were placed in residential schools nationally. By the 1930s, about 30 per cent of Indigenous children were believed to be attending the schools.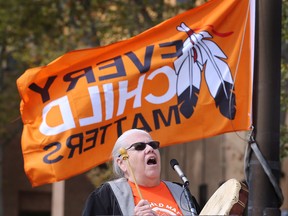 The number of school-related deaths remains unknown due to incomplete records but estimates range from 3,200 to over 30,000.
"National Day for Truth and Reconciliation provides an opportunity to honour First Nations, Inuit and Métis Survivors and their families and communities, while ensuring that public commemoration of their history and the legacy of residential schools remains a vital component of the reconciliation process," said Mayor Drew Dilkens.
City Hall will be illuminated orange from Thursday to Sunday and flags will be lowered to half-mast.
Article content
On Friday, Theresa Sims, a traditional Indigenous knowledge keeper and elder and Windsor's inaugural Indigenous storyteller, will present a special community gathering at the Ojibway Prairie Complex from 10 a.m. to 1 p.m.
"We turn to nature to heal," Sims said. "Come to the forest and heal from the past, so that we can walk together in peace.
"Remember our children and learn from the past."
Sims, who is from the upper Mohawk Turtle Clan of the Six Nations Reserve and has lived in Windsor since 1998 and worked in various capacities for Ska:na Family Learning Centre, will share culture and tradition through songs, drumming and stories.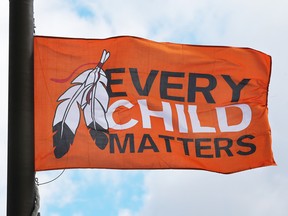 There will also be nature activities, guided walks and traditional foods such as Indian tacos, scone dos, wild rice, corn on the cob, three sisters soup and more.
Article content
Marty Gervais, Windsor's poet laureate emeritus, will share poems from the Walk in the Woods: Portrait of the Ojibway Prairie Complex anthology.
"The City of Windsor stands with Indigenous peoples and invites everyone to join us for a special gathering at Ojibway for an opportunity to learn together, and to share important stories," Dilkens said.
The Ska:na Family Learning Centre is hosting a two-day commemoration Friday and Saturday in Amherstburg.
An official opening will take place at 6 p.m. Friday in the King's Navy Yard Park, followed by drumming, dancing and storytelling.
On Saturday, Indigenous vendors will join in from 10 a.m. to 6 p.m.
Back in Windsor, Museum Windsor will offer free admission to the Chimczuk Museum, 401 Riverside Dr. W., on Friday.
Article content
Visitors can browse the Original Peoples Culture and Legacy Gallery with its exhibit developed in consultation with Walpole Island Heritage Centre, Caldwell First Nation, Turtle Island-Aboriginal Education Centre at the University of Windsor, Can-Am Indian Friendship Centre and other local community organizations.
It features exhibits on creation stories, treaties, residential schools and 60s scoop, language revitalization, missing and murdered women, medicine wheel teachings, and cultural expressions.