Canada
Maple Leafs get contributions from all areas, kick off trip with decisive victory in Winnipeg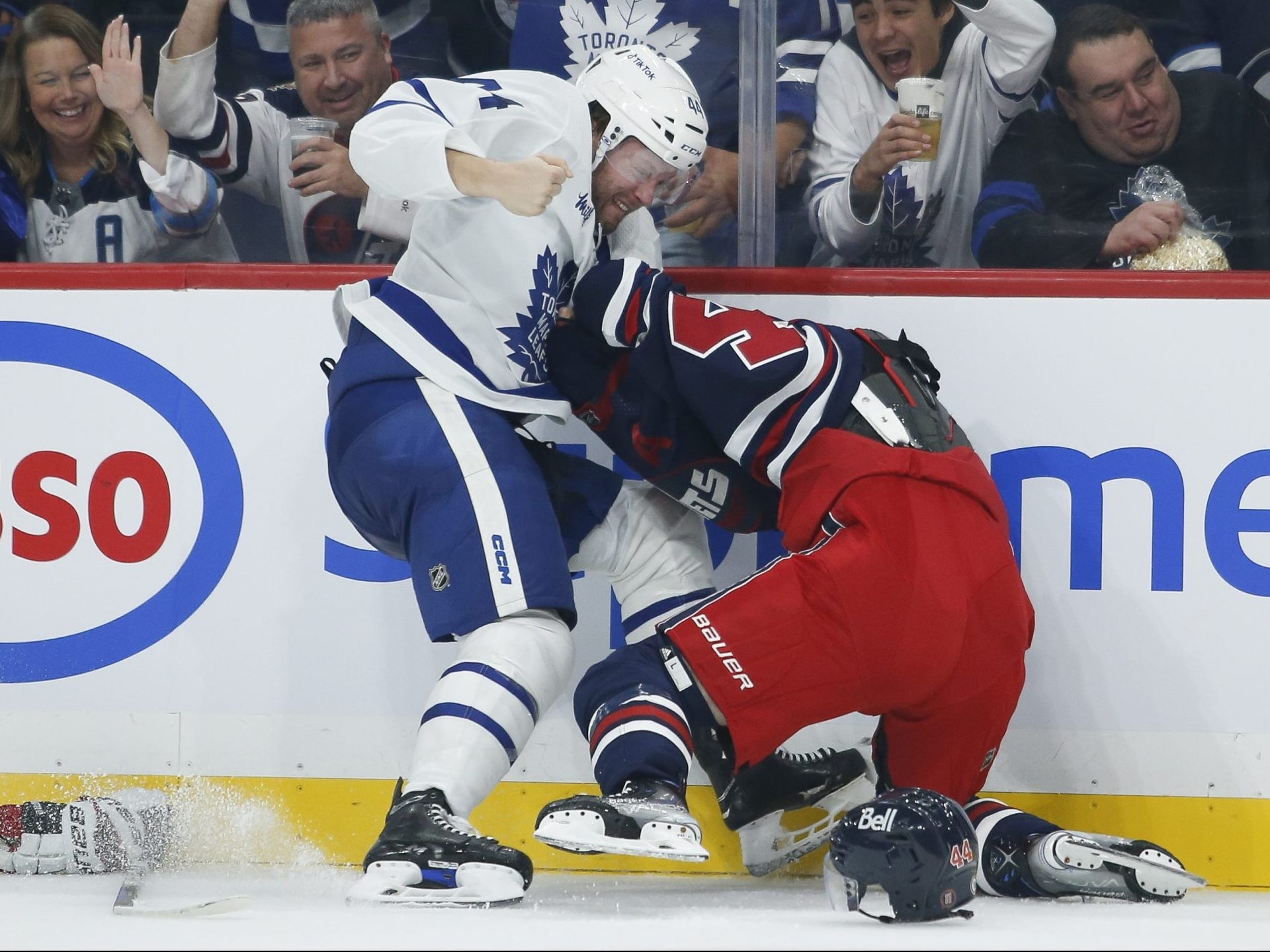 Article content
WINNIPEG — The Maple Leafs got the bonding part of their five-game trip out of the way early.
Article content
Not only did the Leafs beat the Winnipeg Jets on the ice on Saturday night at the Canada Life Centre, they weren't pushed around in the alley, either.
Article content
A 4-1 victory was highlighted by a couple of power-play goals by captain John Tavares, a rare Morgan Rielly fight and another sharp performance by goaltender Ilya Samsonov.
Article content
Coach Sheldon Keefe came off looking good in using bruising forwards Wayne Simmonds and Kyle Clifford, who was recalled earlier in the day from the Toronto Marlies, for the first time this season. They formed a solid fourth line with centre David Kampf and provided a goal, which no one was expecting.
While the game was choppy at times, the Leafs should feel good about themselves as the trip continues on Monday in Las Vegas against the Golden Knights. A week that started with
Article content
Keefe calling out his best players after losing to Arizona, and then walking it back, ended with a couple of victories by a team that already was feeling the heat.
"More than anything, it's just a good way to start your trip," Rielly said. "You want to kick it off on the right foot, get some good energy going as we head out west and I think we did that."
Michael Bunting capped the Leafs' fourth win in six games with an empty-net goal.
Samsonov finished with 30 saves and has won all four of Leafs starts while compiling a .938 save percentage.
Let's recap what was a spicy second period, ending with a 3-1 Leafs lead in front of a crowd that sounded like it had as many Toronto fans as Winnipeg supporters.
There was a terrific pass for a Toronto goal and one of the Leafs didn't hesitate in going after Jets defenceman Josh Morrissey after what was a perceived dirty hit on Nick Robertson.
Article content
The Leafs involved weren't what one might have expected.
The fourth line for the Leafs had jump all night and was rewarded at 14:34 when Simmonds made a fine behind-the-back, through-the-legs feed to Kampf, who popped the puck past Connor Hellebuyck. Clifford also assisted on the play, which put the Leafs up by a goal. There might have been an interference call on Simmonds as the play developed, but referees Graham Skilliter and Corey Syvret didn't see it that way.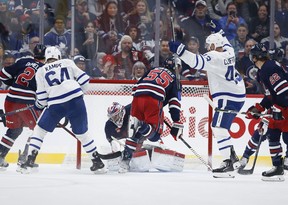 Less than two minutes later, as the Leafs were leaving the zone, Morrissey got a piece of Robertson. Rielly didn't hesitate in dropping the gloves and immediately engaging Morrissey in a fight.
Until then, there had been little animosity between two teams that don't like each other. They meet again once more, on Jan. 19 in Toronto.
Article content
Simmonds with a Mitch Marner-like pass and Rielly going in for a scrap wasn't how Keefe drew it up on his napkin.
"It was awesome (to play)," Simmonds said. "The last two, three weeks have been a long haul for me.
"We have such a great group. From Day 1, I was accepted immediately. When that happens and you have such group camaraderie, for me late in my career, it's something that you cherish.
"It always runs through your mind (that he might not have played for the Leafs again) but for me, I know I still have some juice left in the tank and I know I can still play. Toronto is where I want to be."
Rielly played down coming to the defence of Robertson.
"In the moment, the hit didn't look clean, that's all," Rielly said. "I don't think there has ever been any doubt about our group (in sticking up for each other).
Article content
"Maybe you guys have, but within this locker room there has never been a question of our group being together and having that bond."
Tavares, who has had an extra step since the season started, scored his second following another skirmish that left the Jets a man down. At 18:56, Tavares re-directed an Auston Matthews point shot past Hellebuyck. Matthews finished with three assists and 13 shot attempts. He was credited with four shots on goal.
The Jets' Pierre-Luc Dubois and Tavares scored in the first period.
"I really liked that we scored a big goal (by Kampf) to go up 2-1," said Keefe, who scratched wingers Pierre Engvall and Nicolas Aube-Kubel.
"It got a little hairy for a bit and I loved how we responded and dealt with that. A combination of our guys playing hard and defending the net well and Samsonov being strong, it's a good win to start the trip."
twitter.com/koshtorontosun