Canada
Letters to The Sun, Oct. 4, 2022: Columnist articulates common sense approach to homelessness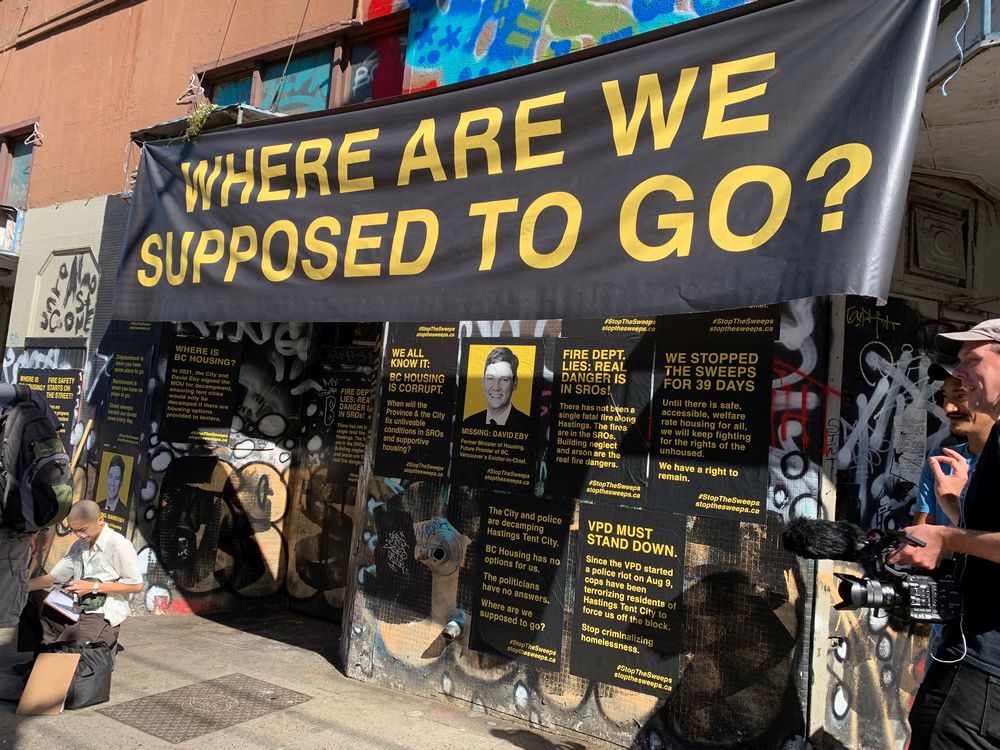 We have spent many millions of hard-earned tax dollars trying complex solutions to no avail.
Article content
Finally, someone is articulating a simple strategy to alleviate the disaster we have in the Downtown Eastside. Sometimes in the midst of political posturing and kicking the can down the road, there comes a breathtakingly simple solution where you bang your forehead and say, "Duh, why didn't I think of this before?" We have spent many millions of hard-earned tax dollars trying complex solutions to no avail. Thank you, Ian Mulgrew, for articulating a common sense approach to this seeming intractable problem.
Article content
B.C. bureaucrats, please look at this win-win solution and deal with this embarrassing blight in our wonderful city.
Roy Prevost, Burnaby
---
As B.C. homeowners, we must applaud and support this innovative suggestion by Mr. Mulgrew to help move the homeless from the streets to a better outcome.
Article content
We hope the government and opposition parties support this type of initiative that could improve these peoples' lives and consequently society as well. If this is done in all urban and suburban areas, our homeless problem could possibly be alleviated and become a model for the rest of Canada.
We are supportive of foregoing our homeowner grant if it is used solely to fund this type of work. David Eby, we will support your leadership efforts and vote for the NDP in future elections if you add this to your platform and follow through if you become leader.
Ron and Soma Moodley, Surrey
Condo insurance should be an election issue
Housing is a hot-button issue in the coming municipal and provincial elections. What is missing in that important discourse is: How do we solve the dumpster fire of condo insurance that is getting more unaffordable year after year? Many homeowners are at a point of desperation as private insurance won't cover them, even at exorbitant premiums. Instead of paying lip service, I'd like different levels of government to undertake initiatives to ensure all condo owners can get affordable insurance by adopting something like the ICBC model.
Article content
This is an integral component in the affordability equation. After all, what good is more supply if you can't afford to stay in those housing units?
Dr. Frederick Kwong, Vancouver
Celebrating how seniors contribute to our communities
October 1 was the International Day of Older Persons and an excellent opportunity to recognize the valuable contributions seniors make every day in communities throughout B.C.
The United Nations had designated this year's theme as "The Resilience and Contributions of Older Women" to highlight the vital role women play in supporting everyone through the aging process. Whether it is caring for a spouse, a friend, a neighbour or a grandchild, women prove that their role as a caregiver knows no expiry date.
Article content
Our communities continue to be enriched by the volunteer efforts of seniors overall and in particular older women. When we look at who is running seniors' centres, the meals on wheels programs, and the hospital auxiliaries across the province, we find it is mostly seniors and mostly women.
A longer life and a smaller income are the hallmarks of B.C.'s senior women, and today let us give thanks and celebrate their resilience and generosity.
Isobel Mackenzie, B.C. Seniors Advocate
How about more 'bang for buck' recipes
I have read multiple articles about people struggling with the current costs for food. Some people have never been taught how to cook, much less to cook cheap, healthy meals. I'm wondering if the food column might step in and provide some simple recipes that provide bang for their nutritional buck.
Article content
Cynthia Heinrichs, Vancouver 
We need to change with the times in how we eat
This paper has been providing meal suggestions that are tasty and affordable. Furthermore, they are usually healthy and nutritious. These are easy to prepare.
However, the media prefers to focus on high inflation and how people cannot afford groceries or go to restaurants. The media also features owners of bars and restaurants stating they are having difficulty turning a profit and hiring staff.
Unfortunately, too many people believed they were entitled to buy whatever was on the menus in the grocery stores. There was a belief that there was a ready supply of vegetables, meat, dairy products, grains for bread and cake, and cookies. Warnings that climate change could have an impact on food production were not heeded.
Article content
It is obvious that people will have to change with the times. Perhaps preparing and eating healthy food will make people begin to think about the genuine struggles of the malnourished, starving children and adults in Africa, Pakistan, and of course North America and our city.
Kathleen Szabo, Vancouver
---
Letters to the editor should be sent to [email protected].
---
More news, fewer ads, faster load time: Get unlimited, ad-lite access to The Vancouver Sun, the Province, National Post and 13 other Canadian news sites for just $14/month or $140/year. Subscribe now through The Vancouver Sun or The Province.
File source