Canada
Improved play on special teams could help Spitfires reach greater heights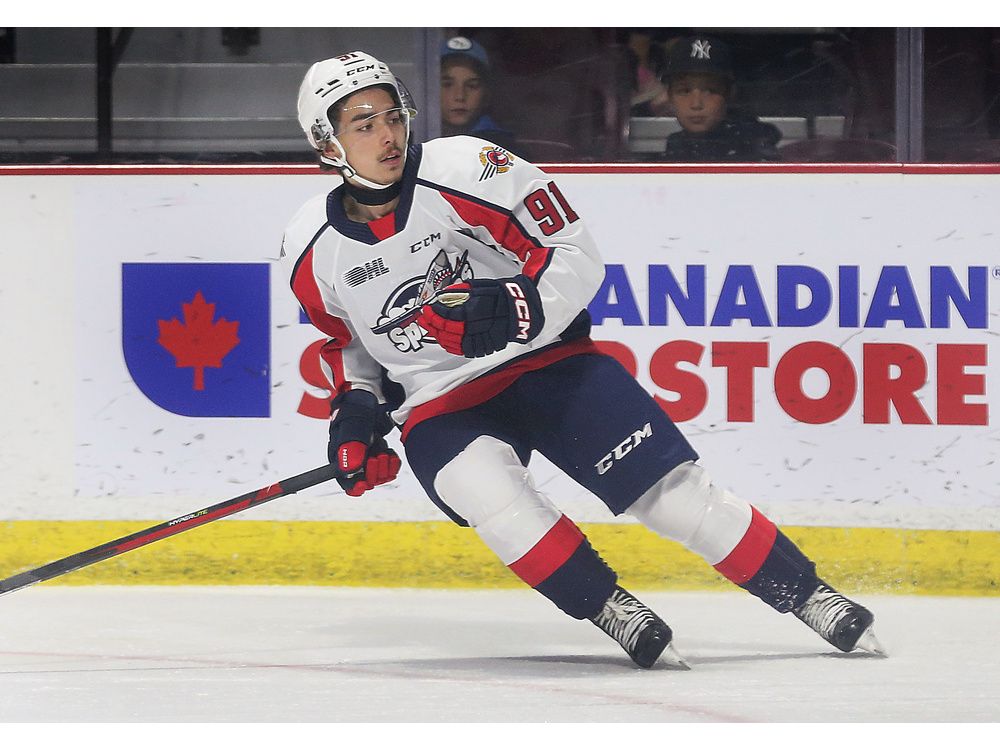 Article content
Special teams could have made this season's start by the Windsor Spitfires even more special.
Article content
The club has still yet to lose in regulation after falling 3-2 in overtime to the Saginaw Spirit on Thursday at the WFCU Centre. Seven games into the season and the Spitfires (4-0-3-0) have at least one point in every game and 11 of a possible 14 points. That equals the start of the 2015-16 club that got out of the game with 11 of 14 points with a 5-1-1-0 record.
Article content
"Again, the message is we're playing some good hockey and, if we continue, we're going to get rewarded," Spitfires' head coach Marc Savard said. "We've got to keep playing the way we are and it will come."
While the Spitfires are earning points, it's been a tight start to the season. Six of the team's seven games have been settled by a single goal and that includes the three overtime losses along with a win in extra time.
Article content
The club could find a little more breathing room if it somehow got its power play on track. Heading into Saturday's game in Flint against the Firebirds, the Spitfires are last in the Ontario Hockey league on the power play with just two goals in 24 chances for an 8.3 per cent efficiency rating.
"It's pretty early," said Spitfires' centre Ryan Abraham, who had a goal and set up rookie A.J. Spellacy for his first OHL goal in Thursday's loss. "We're only seven games in.
"Everyone's just trying to find each other. I think we're getting a lot of good looks, but now it just has to get into the back of the net. I think it's coming and a little more practice and it's going to be good."
Last year, the Spitfires were 17th in the league at one point on the power play and operating at less than 15 per cent a dozen games into the season before ramping things up and finishing third in the league at 26.1 per cent for the season.
Article content
"It feels that way," Savard said when asked if the struggles on special teams seem similar to a year ago. "We're going to have to start reaching for something. We've moved some guys around. We had good looks (on Thursday), but nothing went in. We'll keep working at it."
With players like Wyatt Johnston, Will Cuylle and Louka Henault gone, there are a lot of new faces trying to fill bigger roles with the team on the power play.
"You're one year older and you're getting more minutes," said Abraham, a former first-round pick taking on a bigger role. "We just have to take charge out there."
Savard said the team will continue to work on it as well as the penalty kill, which is in the bottom half of the league at 75 per cent.
Last year, the team's penalty kill was last in the league at one point and under 70 per cent, but rebounded to finish second in the league at 82.6 per cent.
Article content
"We'll keep working at it," said Savard, whose team hosts the Niagara IceDogs on Sunday at the WFCU Centre at 4:05 p.m. "Even our penalty kill last year, we weren't very good on both units and we ended up second and third in the league.
"So, we'll keep working and see where we go from here. You have got to get it in the net and it will get better. "
Savard is hoping newcomer Thomas Johnston could also help in that regard. The 19-year-old winger, who came over in a deal with Ottawa, debuted on the top line Thursday with Jacob Maillet and Matthew Maggio.
"I like him," Savard said. "He hasn't played a lot of minutes and was a little rusty around the net, but he's got skill."
Johnston had a couple of chances to score his first goal for the Spitfires, but was foiled by Saginaw goalie Tristan Lennox, who made 33 saves as Saginaw was outshot 35-17 in the game.
Article content
"It was good with the guys, I just couldn't finish, but we had some great chances," Johnston said. "When you're not getting chances, that's when you start worrying. For, right now, there's no worries because we're getting chances."
Johnston also gives Savard a more veteran option for a lineup that was playing five first-year forwards at times in Spellacy, Liam Greentree, Noah Morneau, Ethan Martin and Jackson McLlwain.
"It's going to help us move some guys around at times, but we have to give him a chance," Savard said of Johnston. "I know what's he's capable of and we're going to give him every opportunity to succeed."
twitter.com/winstarparker
Check out our sports section for the latest news and analysis. Care for a wager? Head to our sports betting section for news and odds.