Canada
Former Spitfires' GM Rychel back in the game after joining Oilers as a pro scout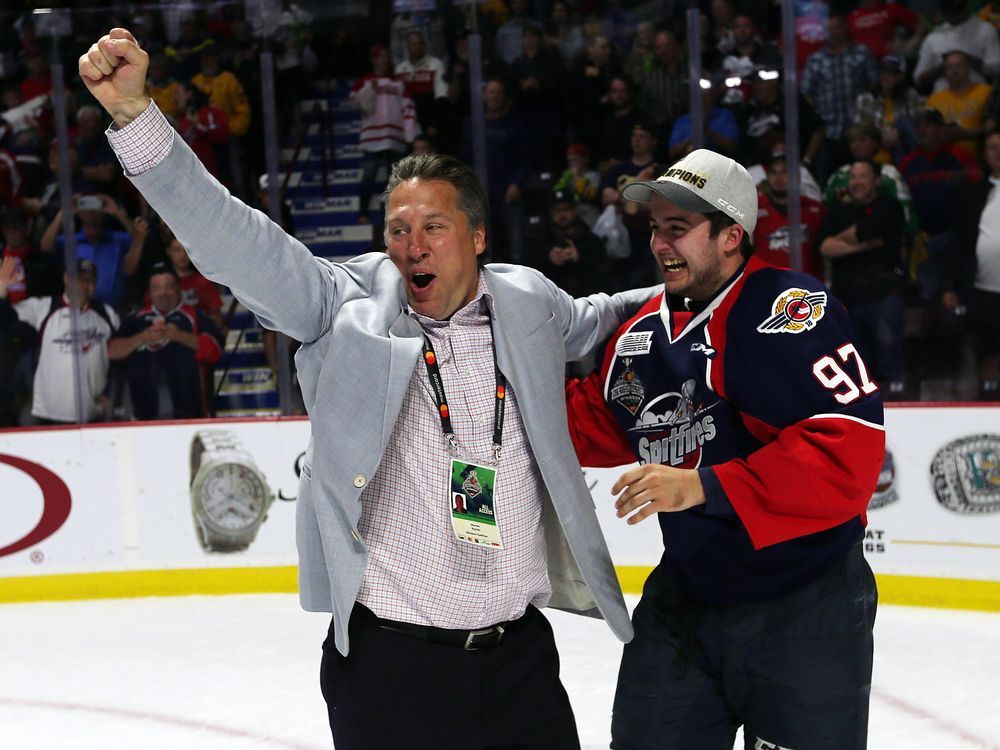 Article content
Former Windsor Spitfires' minority owner and general manager Warren Rychel is back in the game.
Article content
The 55-year-old Rychel, who sold his stake in the team and stepped down as GM in 2019 after more than 13 seasons with the club, has been hired as a professional scout by the NHL's Edmonton Oilers.
Article content
"There's a great bunch of people here in Edmonton," Rychel said. "It's good to get back in the rink and doing what I love and what I'm accustomed to doing."
Rychel spent parts of nine seasons in the NHL with five different teams and won a Stanley Cup with Colorado in 1996.
After retiring as a player, Rychel actually got his start as a professional scout with the Arizona Coyotes.
He then purchased the Spitfires with Bob Boughner and Peter Dobrich in 2006 and was the architect of the only three Memorial Cup championship teams in franchise history. Only three general managers in Canadian Hockey League history have accomplished that feat.
Article content
"Being able to run the team in Windsor was outstanding and it was good for me and will help me in this job," Rychel said. "I've missed it 100 per cent."
After leaving the Spitfires, Rychel briefly served as head coach of the Barrie Colts in 2019-20, but was let go after 41 games and he slipped quietly away from the rinks.
"I was in Barrie and I haven't been doing too much since," Rychel said. "Part time here (in the Windsor area) and part time in Florida golfing with buddies. Just back and forth and taking it easy."
One of those buddies was former Spitfire Keith Gretzky, who is Edmonton's assistant general manager. The two were supposed to play together in the American Hockey League in 1992-93 in San Diego, but Rychel made the Los Angeles Kings' roster.
Article content
They stayed in touch and two years ago Rychel was approached to do a little pro scouting work for the club in Florida watching the Panthers and Tampa Bay Lightning.
"It was just the two teams," Rychel said. "I've known Keith and worked with Brad Holland, who is also an assistant GM, and got to know them.
"I'm back in the loop and I feel privileged. These jobs are hard to come by and it's great to get a chance to work with one of the greatest general managers ever in Ken Holland. That's just an honour."
Rychel knows the job of a professional scout has changed since his days with the Coyotes.
"Back from 2001-05 I was a pro scout (with the Coyotes) and it's pretty much the same thing, but the difference now is that there is a lot of analytics and videos as the game's evolved," Rychel said.
Article content
"A lot of different ways to look at things, but in many ways it's the same. You still have to put the eye test to players, find them and see where they fit on individual rosters."
And while he still might stop in to see the Spitfires play, the new job is focused mainly on NHL and AHL teams.
"I basically watch the NHL and AHL, but once in a while I'll pop in and I still follow the (Spitfires)," Rychel said. "I'll watch all the other NHL teams and their prospects in the AHL. 
"Just getting a book on every team's prospect and ready for trade deadlines and free agency and how it might impact the salary cap."
Being away from the game for a few years has only made Rychel realize how much he missed being around the game.
"That's where I belong," Rychel said. "I'm a guy that's been in rink since I was eight-years-old and can't get enough being in the rink. 
"It's been my whole life. It's good to be part o team and working for a great organization like the Oilers and with someone like Ken Holland. It's been my whole life and it's good to be back in."
twitter.com/winstarparker
Check out our sports section for the latest news and analysis. Care for a wager? Head to our sports betting section for news and odds.