Canada
Former Grace hospital site to become $100M Global Village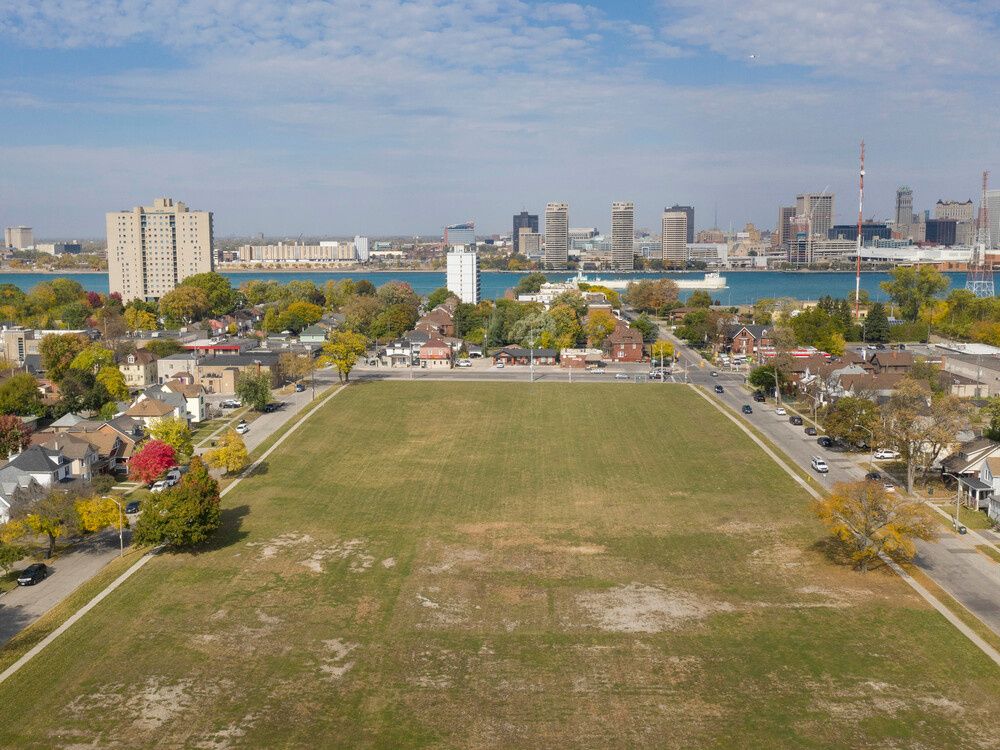 Article content
A $100-million Global Village with student housing, retail spaces, on-site health care and more is planned for a summer 2025 opening on the former Grace hospital site.
Article content
Fairmount Properties founder Randy Ruttenberg visited Windsor on Wednesday to share plans for the 416,000-square-foot project at Crawford Avenue and University Avenue West — land west of the downtown that has sat vacant for nearly a decade.
Article content
The developer has signed an affiliation agreement with St. Clair College and the University of Windsor to co-market 500 housing units for international students that will be built on the site alongside shops, restaurants, a grocery store, and a large amenity and events space.
Fairmount has also signed a letter of intent with an unnamed "major operator" of health-care practice groups, which will lease 14,000 square feet of space in the Global Village and service both those living on the property and in the broader community.
Article content
"This is not a simple strip retail project or freestanding apartment building," said Ruttenberg. "The Global Village is a complex, multi-faceted mixed-use district which requires significantly more planning and effort on the front end."
Concept drawings of the project show street-level retail and restaurants with outdoor seating, and with a double-sided inner-facing "very European" retail corridor that can be closed down for events and programming. Also on the ground floor will be amenity spaces.
"We're really hoping to celebrate the international demographic in Windsor, to bring the entire community in to celebrate that," he said.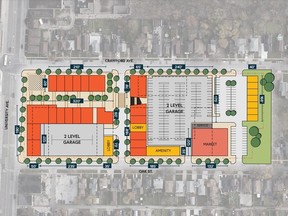 On the upper level will be residential units for international students, as well as market-rate units for non-students and roughly 11 units for medical offices. Parking garages will also be on-site.
Article content
To the east, there will be townhouses to transition the space and more closely match the existing homes in the area.
Ohio-based Fairmount Properties was announced in July 2020 as the winning developer in response to a municipal request for expressions of interest on the high-profile west-end property launched in May 2019.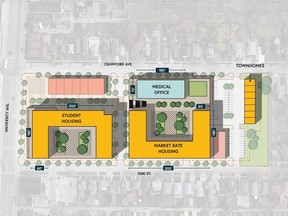 At the time, the company said it would begin work on the site within the year. The pandemic delayed the project, but Ruttenberg said his team was able to use that time productively and perform additional community consultation. To date, Fairmount has spoken with more than 700 individuals about the project.
"This is exactly the kind of development that Windsor needs to see more of," said Windsor Mayor Drew Dilkens. "At city hall, we need to do our part to be open for business and welcome new partners like Fairmount Properties to our community."
Ruttenberg expects work on the site to begin within the next 12 months.
The site at Crawford Avenue and University Avenue West was formerly the location of the Salvation Army Grace Hospital, which opened in 1920.
The historic hospital served the community for more than eight decades before closing in 2004.
The building then lay unused and deteriorating for nine years. Demolition was completed in 2013, leaving a large vacant lot.