Canada
Finding the right mix high on coach Nick Nurse's list for Raptors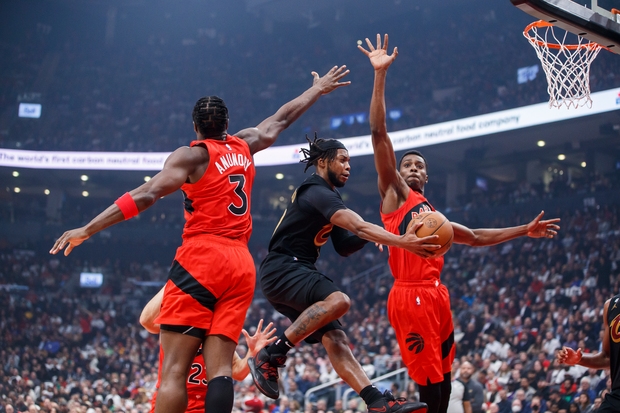 Article content
Unlike a year ago, Nick Nurse had a pretty good idea what he was going to get from his Raptors as they opened the season last night.
Article content
But that didn't mean there weren't a few questions he still needs answering.
Article content
"At this time of year, it's figuring out exactly who fits together and what fits together," Nurse said on Wednesday. "I think it's a bit of an experiment. I always throw out 20 games (when) we'll probably be tinkering around with some things. Some of it will be good, some of it we'll learn a lot. There will be some learning lessons, for sure. I think that's important for this team. What are the groups that are going to look (good) together going to be? That's going to take a little time to figure out."
Article content
Nurse did not waste any time getting right to that tinkering.
A minute into the second quarter he had already subbed in five of his reserves, mixing and matching lineups looking for something he liked.
Article content
Nurse said even changing his starting five crossed his mind at one point heading into the season opener.
"Yes, fairly serious, I guess," he said of the consideration.  "We think about it here and there. I think probably more of the telltale sign will be how quickly I'm subbing. It may be we are moving pieces a little earlier than traditionally. I could see that being a factor."
And that is exactly how it played out Wednesday night against the visiting Cleveland Cavaliers.
LOCKING DOWN
The Raptors front office took care of some paperwork ahead of the season opener last night exercising the third-year options on Scotti Barnes and the four-year team option on Precious Achiuwa and Malachi Flynn.
All three players are now signed through the 2023-24 season.
Article content
Outside of maybe Flynn, extensions were givens.
Flynn is entering his third year with the team and while he has yet to lock down a definitive spot in the rotation, he has had enough moments and showed enough development to have that option picked up.
AS EXPECTED
The Raptors came into this one a little short-handed without the services of Otto Porter Jr. (hamstring), Chris Boucher (hamstring) and Khem Birch (knee).
The Cavs came in with a decision to be made on who would start with the quartet of Darius Garland, Donovan Mitchell, Jarrett Allen and Evan Mobley.
It came down to one of Isaac Okoro or Caris LeVert and JB Bickerstaff and his coaching staff optioned for the experience and two-way game of LeVert over the youth and defensive stalwart Okoro.
Article content
SOME ODDS
Here's one betting line Nurse would prefer the Vegas oddsmakers get right.
Notoriously poor at setting wins when it comes to Toronto, at least one oddsmaker has Nurse as a real long shot to be one of the first coaches fired this season.
Only Michael Malone in Denver, Monty Williams in Phoenix, Erik Spoelstra in Miami, Taylor Jenkins in Memphis, Gregg Popovich in San Antonio and, of course, Steve Kerr in Golden State have less of a chance of being fired first this season according to oddsmakers at BetOnline.
Brooklyn's Steve Nash, arguably the greatest basketball player to ever come out of this country, is the odds-on favourite to be fired at 5-1.
OG Anunoby makes the list of first player to request a trade, also via BetOnline at 12-1 behind a number of others, including Kevin Durant (5-2 and the favourite), Russell Westbrook (3-1) and interestingly (wink wink) Canada's own Shai Gilgeous-Alexander in Oklahoma City.
Article content
Gilgeous-Alexander is probably looking at another year of tanking in OKC with franchise-changer Victor Wembanyama up for grabs in the draft.
THAT NEW GUY
TBecause of some preseason injury issues, the Cavaliers never really got a look at newcomer Donovan Mitchell and Darius Garland in the backcourt together in actual game situations.
It wasn't ideal but then Cleveland head coach J.B. Bickerstaff wasn't expecting much of an issue in any event.
"It's no change for us to be honest," he said. "We pride ourselves as a group in creating the type of environment where everyone can be the best versions of themselves. That is no different when you add a guy like Donovan to the group. We don't go out and change based on individuals. We try to make sure all 15 or 17, if you include the two-ways, feel the same way about being in Cleveland. We try to foster an experience where people want to stay, and people want to come.
Article content
"So that is no different when you add Donovan," Bickerstaff added. "Give Donovan and Darius credit up front for the type of human beings they are because they want to make it work. There is no butting of heads, there is no ego grabbing for who is top dog. All they want to do is compete at a high level together and win as much as we possibly can. Because of their personalities we haven't had to do a whole lot different to make it work."
Bickerstaff and his staff didn't get much of a look at their on-court chemistry in Game 1 of the season either.
Garland had to be helped off the floor just before the end of the first half and did not return after taking a finger in his left eye just in front of the Raptors' bench.
File source