Canada
Developer clears last legal hurdle to Plaza of Nations project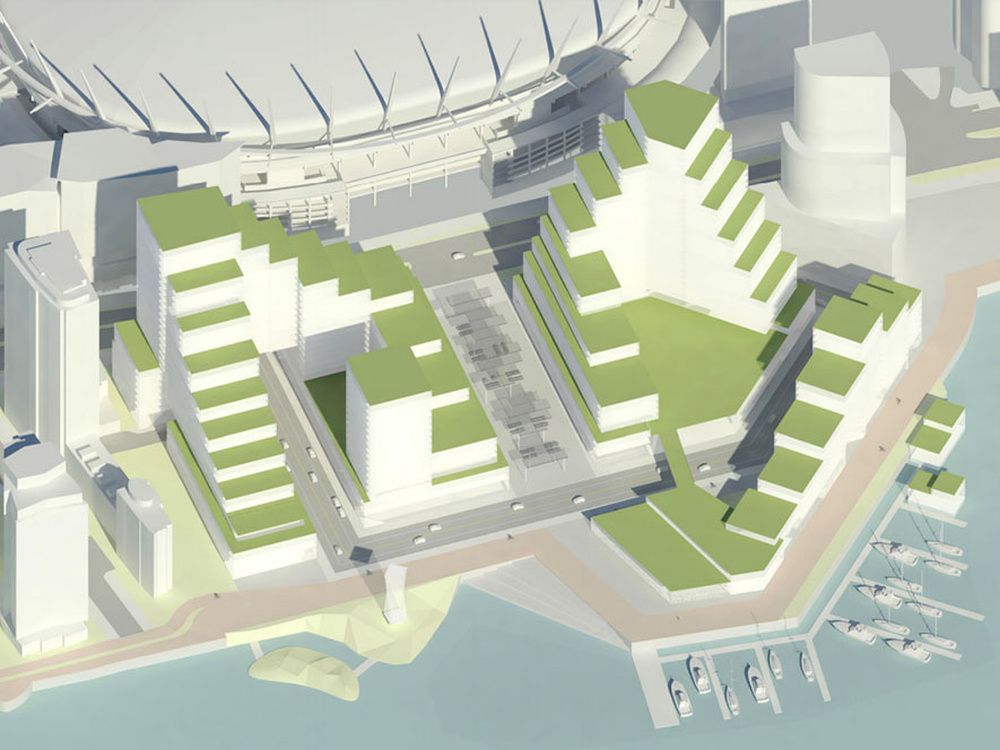 Canadian Metropolitan Properties holds the conditional development permit for the first 28-storey building in the central plaza of the old Expo 86 site.
Article content
Canadian Metropolitan Properties Corp. has a conditional development permit to proceed with a 28-storey mixed use building as the first stage of redeveloping Vancouver's Plaza of Nations now that the company has cleared the last legal hurdle for the proposal.
Article content
The City of Vancouver's development board approved the permit for 750 Pacific Blvd. on June 27, subject to fine-tuning of the design for a terraced tower, ahead of the Supreme Court of Canada's decision Aug. 18 to not hear an appeal of the legal dispute between Canadian Metropolitan and rival Concord Pacific over control of the site.
Article content
Canadian Metropolitan is now clear to start on its corner of Vancouver's ambitious 20-year Northeast False Creek Plan, which calls for removal of the Georgia and Dunsmuir viaducts to reconnect the Downtown Eastside with False Creek and communities to the south.
The key architect on the development, Walter Francl at Francl Architecture, on Tuesday, declined to comment on the first phase of the project. A top executive with Canadian Metropolitan didn't return Postmedia News calls.
Article content
However, Canadian Metropolitan's owner, Singaporean billionaire Oei Hong Leong, said he wanted to "build something iconic for Vancouver" to give back to "this city I love," following last Thursday's decision.
Oei bought the four-hectare property for $40 million in 1989 from Concord founder Li Ka-shing, and spearheaded the concept to turn the former hub for nightlife at Expo 86 into a major development with 1,400 units of housing, including social housing, a skating rink, a daycare and a concert hall.
Rezoning for the Plaza of Nations' site, now renamed Expo Gardens, was approved in 2018 by the previous city council said Coun. Pete Fry, but its concept remains consistent with expectations that the city set in its 2018 Northeast False Creek Plan.
Article content
"I haven't really dug into the minutiae of this, but obviously it's delivering a lot of public benefits," Fry said. "And I think stuff that has been articulated in the Northeast False Creek Plan, but that's a win and meeting some of the expectations of residents around there."
However, Fry said he wonders if the softening of Canadian real estate markets, which has slowed housing starts, will affect the timing of the development.
This first building, to the west end of the Expo Gardens, will be a five-level terraced building with rooftop gardens rising from a base of 4.8 metres at the waterfront to a maximum height of 85 m with commercial space and at least 171 units of social housing along with 648 market condos.
In the meantime, Concord Pacific is continuing work on a rezoning proposal for its adjacent four hectare corner of Northeast False Creek, which is now a parking lot across the street from Rogers Arena that occasionally serves as a venue for Cirque du Soleil' big-tent performances.
Article content
"We've put our hand up" to city council, said Concord Pacific director Peter Udzenija, about the company's intent to submit a new application for the site, which the company had envisioned as a events and entertainment district beneath its high-density residential buildings.
"The market has to pay for (development), but I think at this point, we're just pushing it forward, because we were in the queue before (Vision Vancouver left office)," Udzenija, said, and implementing the Northeast False Creek Plan will be a long and complex process.
The $1 billion feud over the Plaza of Nations started in 2015 when Concord Pacific argued Oei had backed out of an agreement to jointly develop the site. In 2019, a B.C. Supreme Court judge sided with Oei's position, a decision that was upheld this past January by the B.C. Court of Appeal, which found that the deal lacked "essential terms" that would have made it an enforceable contract.