Canada
Deputy PM Freeland tells auto industry it has a generational opportunity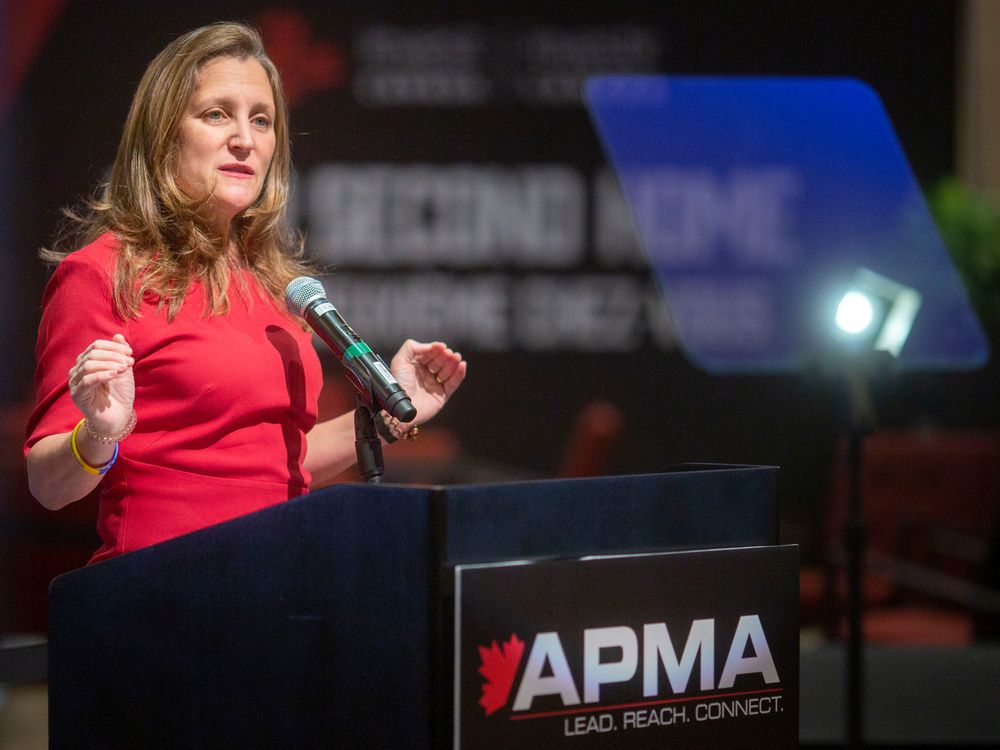 Article content
Deputy Prime Minister Chrystia Freeland told the Automotive Parts Manufacturers' Association's annual conference Wednesday the lingering economic malaise from the COVID-19 pandemic and the geopolitical turmoil created by the Russian invasion of Ukraine has created unique circumstances that present opportunities for Canadian industry.
Article content
Building on her friend shoring speech last week urging democracies to integrate their economies more deeply, Freeland said Canada has the triple threat of critical minerals and materials, talent and political stability to stand as safe haven for investment.
Article content
The auto industry accounts for about 20 per cent of trade between Canada and the U.S. and the majority of it is centered in Southwestern Ontario.
"I'm incredibly excited about the opportunities that lie ahead for the industry and Canada's autoworkers," Freeland said.
We all flourish by being connected to other countries
The world's democracies must make a conscious effort to build our supply chains through each other's economies. Where democracies must be strategically vulnerable, we must be vulnerable to each other.
Article content
"Our government believes this shift represents a generational economic opportunity for Canada and Canadian workers."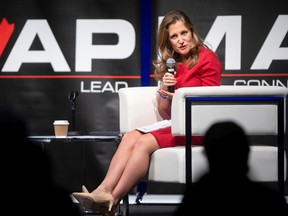 Freeland focused many of her remarks on the U.S tweaking the recently passed Inflation Reduction Act, which allowed Canadian produced automotive content to be eligible for U.S. electric vehicle rebates.
Beating back the 'seduction of protectionism' in the U.S. will prove a major boost to the Canadian automotive industry Freeland predicted.
"I'm not naïve about the deep protectionist forces in the U.S.," Freeland said.
"It's important to realize all the challenges globally Canada feels, the U.S. feels too. We all flourish by being connected to other countries."
With both European and U.S. governments looking to protect themselves from unfriendly trade partners and supply chain fragility, Freeland said Canada is extremely well positioned to help.
Article content
From feeding the world to mining critical minerals and metals to industrial capacity, Canada offers a buffet of choice in a stable political environment.
"Canada has what the global economy needs," Freeland said.
"We have the natural resources to power the global green transition — the most significant economic transformation since the Industrial Revolution — to support our allies with their energy security as that transition continues to pick up speed.
"We are the democratic opportunity that has all of these in the greatest abundance. Our allies and their most important companies are already looking at how they can shift their strategic economic dependence from dictatorships to democracies."
Freeland added Canada needed to look to the predicament Europe has created for itself by its dependence on Russian energy.
Article content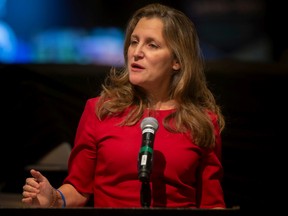 It's a mistake that has resulted in a steady stream of agreements in recent months with European nations or companies looking for safe, guaranteed access to the critical elements required by their modern economies.
"Hydrogen, critical minerals, EVs — these are examples of friend shoring in action," Freeland said.
"As this shift accelerates in the months and years to come, Canada will be ready with a clean electricity grid, strong labour and environmental standards, with robust institutions, commitment to the rule of law and with our triple A credit rating.
"In short, with the safety and stability and values that our allies and their leading businesses and investors are looking for."
However, Freeland said both government and the private sector must act aggressively to capitalize on the opportunities.
Article content
Freeland said the federal government will have more say on that in its upcoming fall economic update.
"What Canadian workers need is a government with a real muscular policy," Freeland said.
"We have a historic opportunity in front of us to build an economy that will deliver great jobs and prosperity for generations to come.
"It's a once in a generation opportunity for Canada. We have to seize it."
[email protected]
twitter.com/winstarwaddell