Canada
Daphne Bramham: Openness and public debate goes a long way to increasing citizens' understanding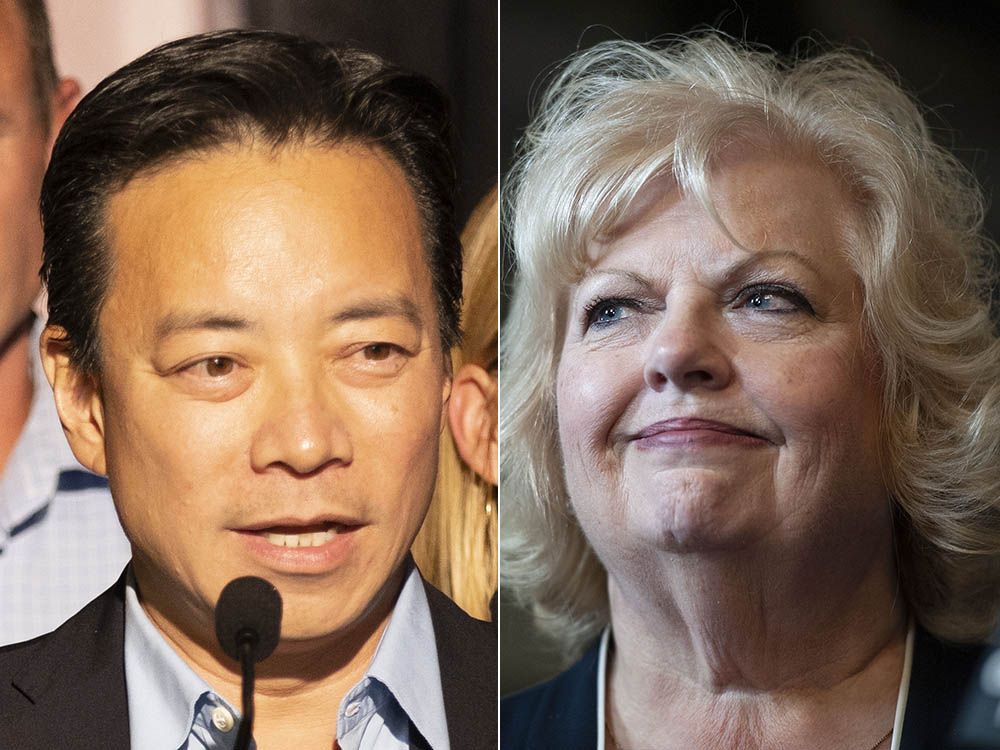 Opinion: With sweeping change hitting municipal halls across B.C., a little advice for politicians' first days: Look, listen and learn before you leap
Article content
Two days before the civic election, Vancouver Mayor Kennedy Stewart released a plan for his first 50 days in office.
Article content
Confidence? More like hubris since Stewart — along with many other incumbents across B.C. — will be spending the time between now and Nov. 7 cleaning out his office.
Article content
Ken Sim, the city's mayor-elect, took up the theme on election night as he and his ABC team took the majority of seats on city council, and the school and park boards. He talked about immediately "requisitioning" 100 police officers and 100 psychiatric nurses.
Only a few hours earlier, Surrey mayor-elect Brenda Locke had — coincidentally and possibly serendipitously for Sim — talked immediately about starting the transition back to the RCMP and getting rid of 350 officers and civilians already hired by Surrey's nascent police force.
Even though it's still two weeks before she is sworn in, Locke told CTV on Monday that she's already told city staff to inform the Surrey Police Service to quit spending money.
Article content
Across the province, eager newcomers who replaced more than three dozen incumbent mayors are talking about the immediate changes they plan to make.
Still giddy with election adrenalin, of course, they want to make their mark quickly and, for more than a century, North American politicians and the media have used the first 50 or 100 days as a benchmark to judge how successful new governments might be.
Perhaps it's time to let this tradition die.
At a news conference Monday, the first question Sim was asked was whether he was going to fire anybody.
It was followed by questions about when the first of the new police officers and nurses would be on the job, and would the 2023 draft budget be ready by December. (By law, it must passed by mid-March.)
Article content
Sim, an accountant, did what he could to dampen expectations and fears. He has no plans to fire anyone. The first of the police and nurses would be hired within the next year. No, the budget draft won't be done by December because he and his councillors want to consult widely. And, yes, property tax increases aren't sustainable and can't continue at the same rate.
Governing is complicated. Rather than demanding that new governments act quickly, we might better urge them to not do anything stupid before they know the facts.
Just look at Liz Truss, Britain's beleaguered prime minister. Within days of her swearing in, her radical tax cuts tanked the economy, forcing her to fire her finance minister and reverse what had been an essential part of her winning platform. Over the weekend, a cheeky tabloid set the timer on which would last longer — Truss or a limp head of lettuce.
Article content
"Look, listen and learn," Andy Yan, head of the City Program at Simon Fraser University, advises the newly elected. "If they do that in the first 50 days, it could be the most valuable 50 days of the 1,300 or so days of their term."
Before acting, he urged mayors, councillors and trustees to gain an understanding of how well core services are being delivered, get a full accounting of the city's finances and familiarize themselves with the economic and demographic forecasts.
If they have the best interests of their communities at the forefront, the stark reality of the state of their municipality may force a rethink, especially the finances.
For a decade before COVID-19, property taxes across Metro Vancouver municipalities increased at rates higher than both population growth and inflation, according to a Business Council of B.C. report released earlier this month. This "steeply rising burden on households and businesses, and escalating constraint on private-sector economic activity" is magnified because unlike federal and provincial taxes, property taxes are paid with after-tax income.
Article content
Vancouver exercised "the least fiscal restraint" of any municipality in the province, has the largest debt burden and between 2009 and 2019 added $1,400 a year to the average household's costs.
Even before money was spent on replacing the RCMP, Surrey's municipal spending was above the Metro average, having increased by 20.3 per cent.
For mayors and councils who want to signal change to the discontented voters who elected them, here's a suggestion. Start with a little sunshine. Be transparent about how decisions are made — even in Surrey or perhaps especially right now in Surrey.
Locke reiterated her confidence Monday that halting the police transition was the right thing to do. But so far neither she nor the Surrey Police Board can say how much it might cost — only that $63.7 million has already been spent.
Article content
In Vancouver, releasing reports, recommendations and agreements related to the four mega-sporting events that have been discussed and agreed to in secret by the previous mayor and council would be a cheap and easy first step.
While nothing is known about the cost of hosting the 2023 Laver Cup and the 2025 Invictus Games, Toronto city council reports indicate hosting five World Cup soccer games will cost somewhere in the neighbourhood of $100 million.
It's too late to cancel now. Still those costs could have substantial impacts on city budgets in the coming years.
But they pale compared with what the city might potentially spend on the 2030 Winter Olympics that have been conservatively estimated to cost $4 billion.
Article content
A final decision on whether to bid must be made in early 2023. A decision to continue pursuing a bid was approved in July by Stewart and the majority of councillors who included the three ABC incumbents. And it was made against the advice of city staff, who determined that there was no way to even estimate how deep a money pit it would be because so little information was available in July.
There have never been good reasons to withhold from the public this kind of information, from sunk costs on policing to promised spending for Games.
Transparency won't insulate mayors and councils from criticism. But openness and public debate goes a long way to increasing citizens' understanding of why those choices are made. They might not always agree, but they might forgive you.
---
More news, fewer ads: Our in-depth journalism is possible thanks to the support of our subscribers. For just $3.50 per week, you can get unlimited, ad-lite access to The Vancouver Sun, The Province, National Post and 13 other Canadian news sites. Support us by subscribing today: The Vancouver Sun | The Province.

File source