Canada
Daphne Bramham: Historic Vancouver election changes big-city politics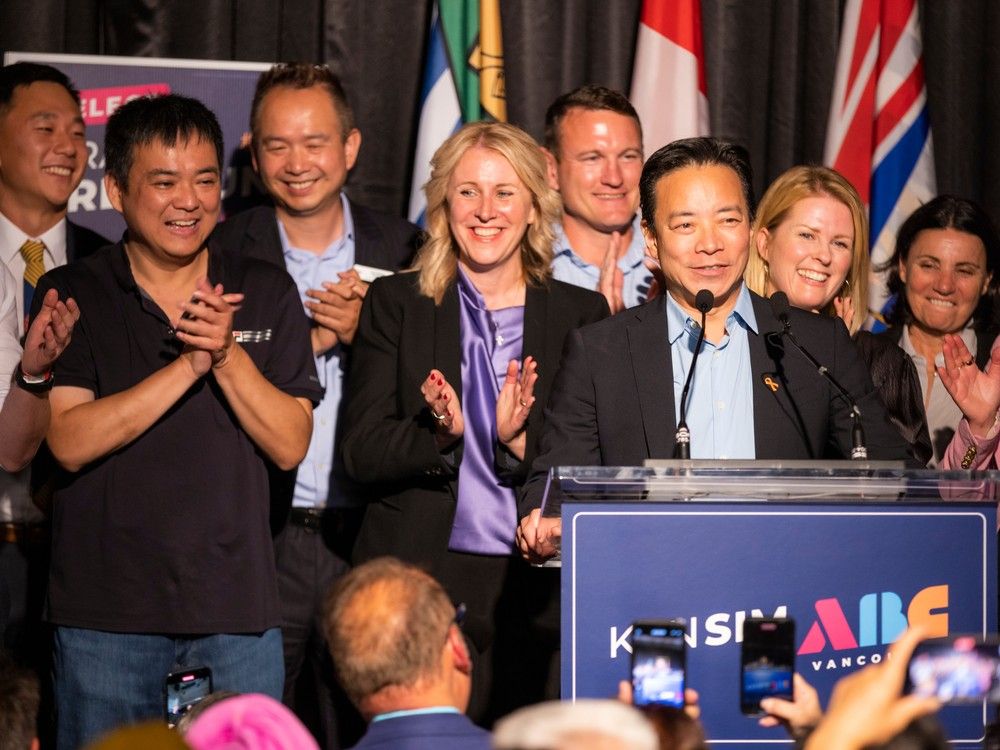 Ken Sim's election comes amid rising anti-Asian attacks in a city where Chinese-Canadians comprise half the population
Article content
It was a historic election Saturday when Ken Sim swept into power in Vancouver with more than 50 per cent of the vote.
Article content
He will be Vancouver's first Chinese-Canadian mayor, ending an unbroken line of white, male — mainly Anglo-Saxon — mayors dating to 1886 that's included three Campbells and, most recently, Kennedy Stewart.
Article content
Sim's election comes amid rising anti-Asian attacks in a city where Chinese-Canadians comprise a substantial portion of the population and the survival of Canada's largest, historic Chinatown is being challenged by chaos spilling over from the Downtown Eastside at the epicentre of Canada's opioid overdose crisis.
The son of Hong Kong immigrants who arrived here with $3,200 in Canada's centennial year, 1967, Sim was born and raised in Vancouver.
"The history of the moment isn't lost on me," Sim said Saturday night.
Article content
He noted that the exclusionary Chinese head tax wasn't abolished until 1923 and acknowledged the Chinese-Canadian politicians of all different parties who had helped break down the barriers.
Some of Sim's success in receiving the most ever votes by a Vancouver mayor can be credited to his outreach to Chinese-Canadian voters.
That said, there are more than enough pressing and prosaic concerns far removed from geopolitics to keep the political novice and his ABC Vancouver's majority on council, school and park boards busy after their Nov. 5 swearing in.
Sim's historic win marks another inflection point in Vancouver's political history. The once-powerful NPA, COPE and Vision parties are gone, obliterated. Greens and OneCity are barely there and Stewart's nascent Forward Together will almost certainly disappear.
Article content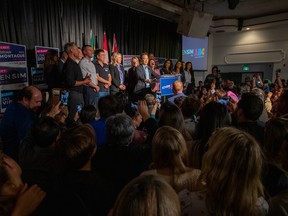 It was all part of a juggernaut of change that swept across British Columbia. Dozens of incumbent mayors and councillors were tossed out including Surrey's Doug McCallum, where a deeply divided electorate gave Brenda Locke a slim victory.
The rancorous race centred on McCallum's 2018 promise to replace the RCMP with a city police force and Locke's vow to undo the transition despite the city having spent $63.7 million and having hired 350 officers and civilian staff.
With 20 of 87 provincial ridings located in the two largest cities, it could portent perilous times ahead for the B.C. New Democrats, who are currently mired in a messy leadership process that has exposed presumptive front-runner David Eby's rather tone-deaf approach to what he assumed would be a coronation.
Article content
The impression that Eby, along with other Vancouver NDP MLAs and national leader Jagmeet Singh, may be out-of-touch was only strengthened by his full-throated endorsement of Stewart.
The Vancouver result doesn't bode well either for Eby's potential challenger, Anjali Appadurai.
She and high-profile supporters Naomi Klein and Avi Lewis aligned themselves with OneCity.
Unwinding the half-built Surrey police force could also result in some interesting political spectacle at the provincial level. The B.C. Liberals are hammering away at public safety issues with former RCMP officer Eleanore Sturko taking a leading role. Of Surrey's nine MLAs, seven are NDP including Jinny Sims, who was one of Locke's unsuccessful challengers.
Article content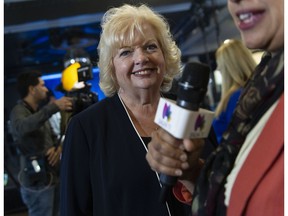 There was another historic milestone reached during the 2022 municipal vote in many municipalities. Voter turnout hit even lower lows despite some pollsters and analysts predicting/believing/hoping that a strong desire for change would drive electors to vote by mail or go to the polls.
It didn't happen. Vancouver's attempts to boost voting with more opportunities to vote by mail, more days of advance polling, the ability to vote at any polling station with appropriate identification and the addition of candidates' names in Chinese characters did nothing to stop the slide.
In the end, only the brave and determined navigated the lengthy and jumbled lists of candidates. Nearly 65 per cent of eligible electors didn't cast ballots. Surrey turnout was little better.
Article content
The same was true in Victoria. In Saanich, nearly 70 per cent of voters didn't bother. Worse still is neighbouring Langford where only 23.6 per cent voted, although that was a marked improvement from 18.5 per cent in 2018.
A paradox of recent elections in Vancouver and Surrey is that as voter interest declines, candidate numbers have increased. It raises the question of whether having too many candidates and too many parties causes voter confusion and a reluctance to vote.
But if that's true, what solutions are there that would ensure voters continue to have an array of choices without making it so difficult to run that there's a shortage of candidates.
Already, there are municipalities where people don't want to run. Mayors in 37 municipalities — including Burnaby, the province's third largest city — were acclaimed this year. There are also uncounted numbers of councillors and school trustees who ran unopposed.
Article content
A ward system might help or maybe regional government. Maybe the spending limits are so low that voters aren't getting the information they need, but then why are so many candidates running? Maybe a solution is dropping the age limit so that the voting habit is instilled in youth while they're still in high school.
This all requires careful analysis. But one thing is clear. For the sake of democracy, thoughtful reform is needed.
---
More news, fewer ads: Our in-depth journalism is possible thanks to the support of our subscribers. For just $3.50 per week, you can get unlimited, ad-lite access to The Vancouver Sun, The Province, National Post and 13 other Canadian news sites. Support us by subscribing today: The Vancouver Sun | The Province.

File source