Canada
COVID update for week of Oct. 20-26: Latest B.C. numbers to be released today | Nearly 100 inmates at Mission Institution positive for virus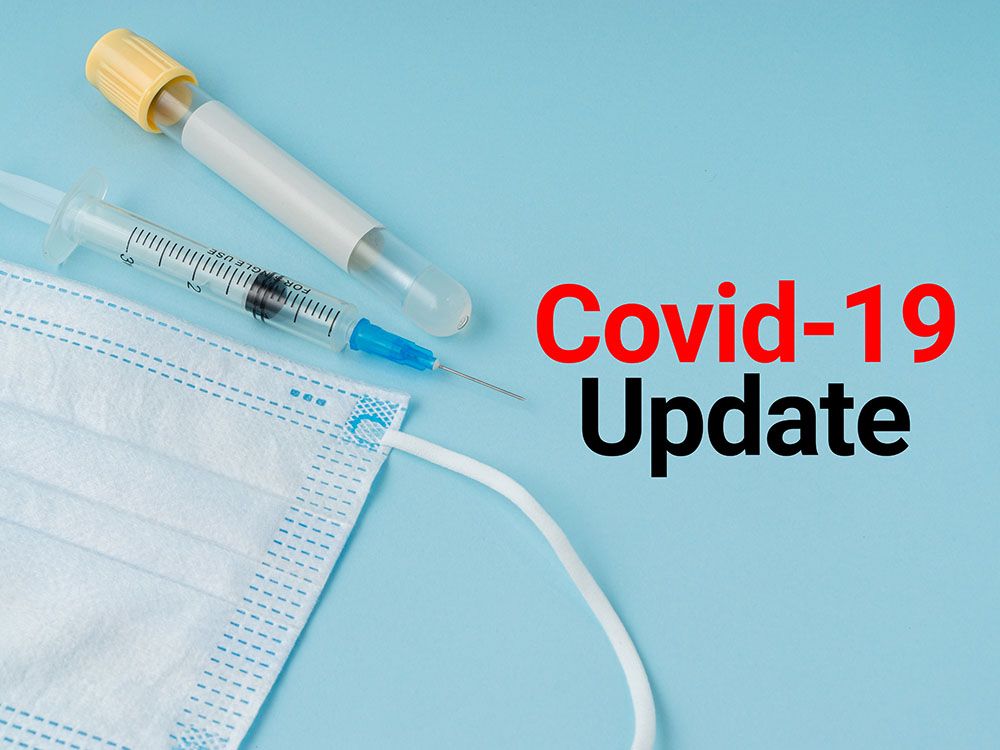 Here's your update with everything you need to know this week on the COVID situation in B.C. and around the world.
Article content
Here's your update with everything you need to know about the COVID situation in B.C. and around the world for the week of Oct. 20-26. This page will be updated with the latest COVID news and related research developments daily throughout the week, so be sure to check back often.
Article content
You can also get the latest COVID-19 news delivered to your inbox weeknights at 7 p.m. by subscribing to our newsletter here.
Article content
---
Here are the latest weekly B.C. figures given on Oct. 13 for the week of Oct. 2-8:
• Hospitalized cases: 365
• Intensive care: 19
• New cases: 697 over seven days ending Oct. 8
• Total number of confirmed cases: 386,293
• Total deaths over seven days ending Oct. 1: 25 (total 4,370)
Read the full report here | Next update: Oct. 20
---
LATEST NEWS
B.C. to release latest COVID-19 hospitalizations, deaths today
The B.C. CDC will release its weekly look at the COVID-19 situation in B.C., with the latest hospitalization count, ICU numbers, deaths and new cases. The report is released around 1 p.m. every Thursday. Watch this space for updates.
Article content
'Brutal' Australian COVID lockdowns hurt vulnerable, review says
Australia's handling of the Covid-19 pandemic disproportionately affected marginalized and disadvantaged groups, according to an independent review, which found "brutal" lockdowns exacerbated existing inequalities in the country.
The Fault Lines report, released in Sydney on Thursday and partly funded by mining billionaire Andrew Forrest's philanthropic foundation, found vulnerable groups such as the elderly and low-income workers "bore the brunt of the pandemic."
Australia enacted some of the world's strictest measures during the pandemic, including closing its international and domestic borders. Melbourne endured six lockdowns, while last year's outbreak of the delta variant sent Sydney into a three-month lockdown, with some of the harshest restrictions targeting the city's poorer suburbs. The country has now lifted almost all pandemic-era measures.
Article content
"Lockdowns, overall, created a universal feeling that the pandemic was being policed rather than managed," the report said.
Many lockdowns were "avoidable," caused by failures in hotel quarantine, contact tracing and a sluggish vaccine rollout, the report said. "Lockdowns, especially when targeted at a particular location, brought a deep sense of inequity among those who were most restricted."
The panel — which was led by Peter Shergold, chancellor of Western Sydney University and one of the country's most senior bureaucrats during John Howard's time as prime minister — also criticized insufficient transparency around decision making, and lack of regard for vulnerable groups when designing and implementing policies.
Article content
— Bloomberg
Falling demand for COVID boosters puts price hikes on the table
With most Americans delaying or skipping new COVID-19 booster shots, analysts and investors are now predicting far fewer will be given each year, pushing the number of shots well below annual flu vaccinations.
With fewer shots needed, vaccine makers including Pfizer Inc, partner BioNTech SE, rival Moderna Inc and Novavax Inc could have to hike prices as much as three times current levels if they hope to meet Wall Street revenue forecasts for the shots for 2023 and beyond, several analysts said.
Last year, many on Wall Street were estimating the number of COVID-19 shots would be in line with the annual flu vaccine, which is the vaccine market leader with more than 160 million shots per year in the United States and 600 million shots globally.
Article content
— Reuters
An alarming nationwide survey led by University of Utah health scientists has revealed that four of 10 Americans admit they weren't truthful about contracting COVID-19 or complying with the public health precautions during the height of the global pandemic.
The most common reasons behind the lies were the desire to feel normal and to demonstrate personal freedom.
The authors say the study, published JAMA Network , should raise concern since misrepresentation and the failure to follow key health and safety measures could intensify this fall's COVID-19 resurgence and potentially affect the spread of other infectious diseases.
"COVID-19 safety measures can certainly be burdensome, but they work," Andrea Gurmankin Levy, professor of social sciences at Middlesex Community College in Connecticut, said in a news release on the investigation into COVID-19 misrepresentation . "When people are dishonest about their COVID-19 status or what precautions they are taking, it can increase the spread of disease in their community. For some people, particularly before we had COVID vaccines, that can mean death."
Article content
Read the full story here.
COVID-19 outbreak among 97 inmates at Mission Institution
Nearly 100 inmates of Mission Institution have tested positive for COVID-19.
The prison in eastern Fraser Valley — which has a capacity of 324 inmates in its medium-security section — announced the outbreak among at least 97 inmates on Wednesday.
The Correctional Service of Canada says it is closely monitoring the situation and putting in place measures to minimize the spread of the virus in the jail.
The positive results came from both rapid and PCR tests among staff and inmates.
"This is an evolving situation and we continue to apply and reinforce infection prevention and control measures to prevent and contain the spread of COVID-19," said the service in the notice.
Article content
Staff are wearing PPE and inmates are provided medical masks and encouraged to wear them when they're not in their cells. Ramped-up cleaning and disinfection is also under way, said the correctional service.
Inmates began being offered vaccines in January 2021, and boosters are also on offer. Everyone entering Mission Institution is screened, and scheduled visits may be affected by the outbreak.
— Joseph Ruttle
The chair of the committee overseeing Ottawa's police says there was "constant" infighting within the force that hampered its ability to deal with the Freedom Convoy protests and undermined Chief Peter Sloly's authority.
Article content
The infighting within the Ottawa Police Service got so bad that it caused an operation to take down a blockade in the core of downtown to be called off even though 400 officers were ready to move in, Diane Deans told the Public Order Emergency Commission on Wednesday.
But Deans, who is also a city councillor, also testified that in the days leading up to the convoy's arrival in Ottawa on Jan. 29, Sloly reassured city councillors that protesters would only stay for the weekend despite receiving intelligence from provincial police that they planned on staying longer.
The commission's mandate is to determine if the federal government met the legal threshold to invoke the exceptional powers contained in the Emergencies Act in February to end the protest against COVID public health measures.
Article content
Read the full story here.
The national public health agency is preparing for "worst-case scenario" COVID-19 variants that can evade immunity, Canada's top doctor told members of Parliament Tuesday, as early signs point to a fall resurgence of the virus.
At the House of Commons health committee, Chief Public Health Officer Dr. Theresa Tam said the Public Health Agency of Canada is keeping a particularly careful eye on the evolution of Omicron variants, which are the most common subvariants in the country, along with any new mutations.
"We haven't detected any very extraordinary appearances as yet, but that is a scenario that we're planning ahead for," Tam said during her virtual appearance at the committee.
Article content
Read the full story here.
— The Canadian Press
An Ontario court has upheld the suspension of a doctor who allegedly gave a COVID vaccine exemption to a patient at high risk from the virus, casting aside an argument that the province's medical regulator impeded her freedom of expression.
Dr. Crystal Luchkiw of Barrie also suggested on a podcast the pandemic was a government-created hoax, failed to implement public-health rules in her office and obstructed investigators from the College of Physicians and Surgeons, the Divisional Court decision said.
She is the latest in a string of physicians across Canada censured by their governing bodies for issuing allegedly unwarranted vaccine exemptions, promoting COVID disinformation or otherwise eschewing accepted science around the pandemic.
Article content
Read the full story here.
— National Post
COVID-19 cases and hospitalizations are on the rise, the flu season is on the horizon and many other respiratory viruses are circulating again, Ontario's top doctor said Thursday as he warned the coming months could be tough.
Chief Medical Officer of Health Dr. Kieran Moore urged people to get their COVID-19 and flu shots when eligible — the latter being available for the general public Nov. 1 — and said he's hoping for the highest level of uptake possible because the flu vaccine is normally quite effective at reducing the risk of hospitalization.
"We really need it this year of all years because it's going to be a complicated year, as we try to get back to normal living with all respiratory viruses this fall and winter," he said in an interview Thursday.
Article content
Early this year, the Ontario government — in consultation with Moore — eased and then removed restrictions such as gathering and capacity limits, proof of vaccination requirements and mask mandates, except in long-term care homes. This fall and winter are set to be the first since the beginning of the pandemic without those public health measures in place.
Read the full story here.
— The Canadian Press
---
What are B.C.'s current public health measures?
MASKS: Masks are not required in public indoor settings though individual businesses and event organizers can choose to require them.
Masks are also encouraged but not required on board public transit and B.C. Ferries, though they are still required in federally regulated travel spaces such as trains, airports and airplanes, and in health-care settings.
Article content
GATHERINGS AND EVENTS: There are currently no restrictions on gatherings and events such as personal gatherings, weddings, funerals, worship services, exercise and fitness activities, and swimming pools.
There are also no restrictions or capacity limits on restaurants, pubs, bars and nightclubs; and no restrictions on sport activities.
CARE HOMES: There are no capacity restrictions on visitors to long-term care and seniors' assisted living facilities, however, visitors must show proof of vaccination before visiting. Exemptions are available for children under the age of 12, those with a medical exemption, and visitors attending for compassionate visits related to end-of-life.
Visitors to seniors' homes are also required to take a rapid antigen test before visiting the facility or be tested on arrival. Exemptions to testing are available for those attending for compassionate visits or end-of-life care.
Article content
---
How do I get vaccinated in B.C.?
Everyone who is living in B.C. and eligible for a vaccine can receive one by following these steps:
• Get registered online at gov.bc.ca/getvaccinated to book an appointment in your community.
• Or, if you prefer, you can get registered and then visit a drop-in clinic in your health authority.
• The system will alert you when it is time to go for your second dose.
• The same system will also alert you when it is time for your booster dose.
---
Where can I get a COVID-19 test?
TESTING CENTRES: B.C.'s COVID-19 test collection centres are currently only testing those with symptoms who are hospitalized, pregnant, considered high risk or live/work with those who are high risk. You can find a testing centre using the B.C. Centre for Disease Control's testing centre map.
Article content
If you have mild symptoms, you do not need a test and should stay home until your fever is gone. Those without symptoms do not need a test.
TAKE-HOME RAPID ANTIGEN TESTS: Eligible British Columbians over the age of 18 with a personal health number can visit a pharmacy to receive a free take-home test kit containing five COVID-19 rapid antigen tests.
---
More news, fewer ads: Our in-depth journalism is possible thanks to the support of our subscribers. For just $3.50 per week, you can get unlimited, ad-lite access to The Vancouver Sun, The Province, National Post and 13 other Canadian news sites. Support us by subscribing today: The Vancouver Sun | The Province.
File source