Canada
COVID-19 update for Oct. 7-10: Health Canada approves Pfizer-BioNTech BA.4/BA.5 Omicron vaccine | Hospitalizations steady at 369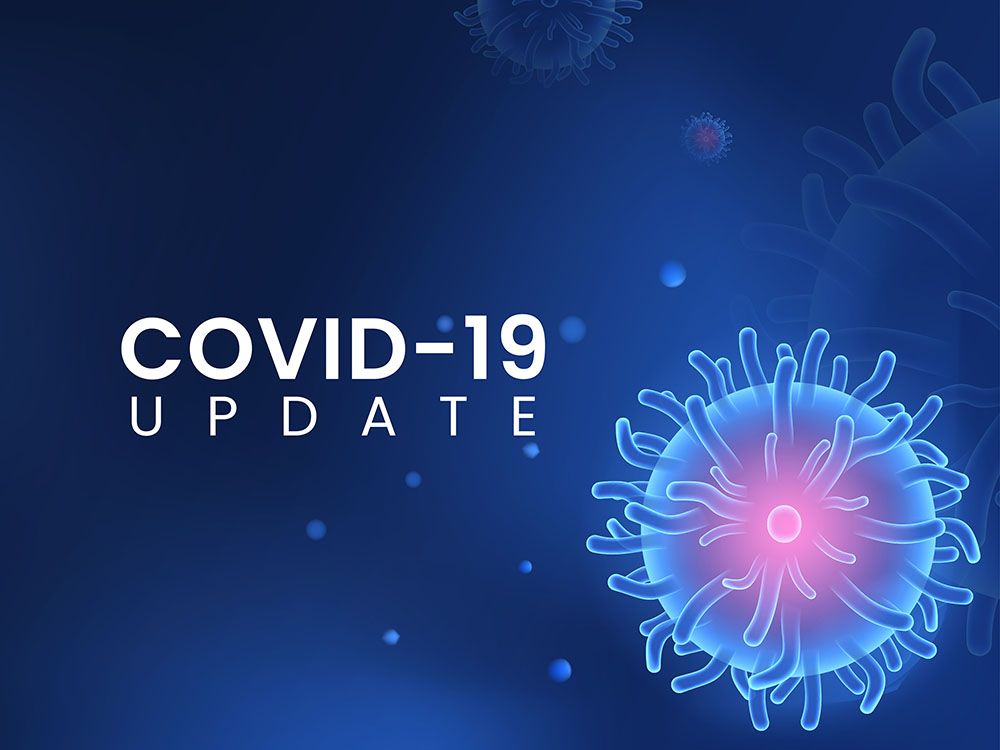 Here's your daily update with everything you need to know on the coronavirus situation in B.C. and around the world.
Article content
Here's your update with everything you need to know on the COVID-19 situation in B.C. and around the world for Oct. 7-10, 2022.
Article content
We'll provide summaries of what's going on right here so you can get the latest news at a glance. This page will be updated regularly every day this week, with developments added as they happen, so be sure to check back often.
Article content
You can also get the latest COVID-19 news delivered to your inbox weeknights at 7 p.m. by subscribing to our newsletter here.
---
Here are the latest weekly B.C. figures given on Oct. 6 for the week of Sept. 25-Oct. 1:
• Hospitalized cases: 369
• Intensive care: 29
• New cases: 697 over seven days ending Oct. 1
• Total number of confirmed cases: 385,599
• Total deaths over seven days ending Oct. 1: 19 (total 4,321)
Read the full report here | Next update: Oct. 13
---
Headlines at a glance
• Nearly four million people in the U.S. got updated COVID shots last week: CDC
• Germany to burn almost 800 million unused masks
• Hong Kong cements PCR testing centres within 15-minute walk, an indication it plans to entrench testing requirements
• B.C. reports 369 people are in hospital with COVID-19
• American Express ends vaccine requirement for office workers
• Ringo Starr cancels shows in Abbotsford, Penticton after catching COVID
• A University of Calgary found that incidences of family violence increased globally during the pandemic
• 'COVID is not over': Quebecers urged to remain vigilant as cold months arrive
• U.K. begins COVID inquiry after more than 166,000 deaths
• Prairie premieres, governors push for longer hours at Canada-U.S. border crossings
• COVID-19 increase in U.K. a bad sign for Canada
Article content
---
Latest News
Health Canada approves Pfizer-BioNTech BA.4/BA.5 Omicron vaccine
Health Canada says Canadians ages 12 and up can now be given the Pfizer-BioNTech COVID-19 booster vaccine that targets the BA.4 and BA.5 strains of the Omicron variant.
Health Minister Jean-Yves Duclos and Health Canada officials are scheduled to discuss the approval in detail later today.
The authorization says the vaccine can be given three to six months after a second dose of the primary vaccine series, or the most recent booster shot.
It is the second combination vaccine green-lighted by Health Canada's vaccine review team, but the first that targets the virus strains that are now most common in Canada.
The Moderna combination shot approved five weeks ago targets the original virus and the first Omicron variant, while the Pfizer shot authorized today targets the BA.4 and BA.5 strains.
Article content
Health Canada says 88 per cent of the COVID-19 cases identified in mid-September were BA.5 and nine per cent were BA.4.
— The Canadian Press
Nearly 4 million Americans received updated COVID boosters last week: CDC
Around 3.9 million people in the United States received updated COVID-19 booster shots over the past week, the Centers for Disease Control and Prevention said on Thursday.
The CDC said a total of 11.5 million Americans had received the shot as of Oct. 5, the first five weeks the booster has been available. This is up from the 7.6 million people who received the shot as of Sept. 28.
The 11.5-million figure represents only 5.3% of the 215.5 million people in the United States aged 12 or older who are eligible to receive the shots because they have completed their primary vaccination series.
Article content
The shots are being administered at a slower pace than last year, when the United States initially authorized COVID boosters just for older and immunocompromised people. Around 20 million people received their third shot in the first five weeks of that vaccination campaign.
A recent survey conducted by the nonprofit Kaiser Family Foundation found that nearly two-thirds of adults in the United States do not plan to get updated COVID-19 booster shots soon.
— Reuters
 Germany to burn almost 800 million unused COVID masks
Germany is set to burn almost 800 million unused face masks purchased in the first months of the pandemic because they have passed their sell-by date.
Initial calls for tenders have been issued for candidates to "thermally dispose" of about 730 million surgical and 60 million FFP-2 expired medical face covers, the health ministry's press service said on Friday, confirming an earlier report by Der Spiegel magazine. In addition, about 20% of masks procured since March 2020 were deemed to have quality defects, the ministry said.
Article content
Germany spent €6 billion ($5.9 billion) on face covers at the start of the pandemic, according to Spiegel. Former Health Minister Jens Spahn was criticized at the time for excessive procurement and for using personal connections to buy masks, steps he defended by citing major supply shortages and a desperation to obtain protective coverings swiftly.
— Bloomberg
 Hong Kong cements COVID tests with centres just a 15-minute walk
Hong Kong will make COVID PCR tests available within walking distance for about five million people, and slash prices, in a move that indicates it's entrenching testing requirements on residents permanently like in mainland China.
The city will convert some of its mobile stations into community testing centers, meaning there'll be a network of 85 facilities spread across the financial hub, the government said in a statement Thursday. About 70% of the population will be able to reach one of the locations within a 15-minute walk from their home, it said.
Article content
The price of the tests will also drop from late this month. A PCR test that gives results within 24 hours will cost HK$150 ($19), down from HK$240 currently. Members of the public can also opt for a speedier 12-hour result collection for HK$240.
The move to cement testing in the city underscores the balance authorities are attempting to strike between re-opening with a world that's living with the virus, while not straying too far from the zero-tolerance approach deployed in mainland China. The world's second-biggest economy has built a network of tens of thousands of testing booths across its most important cities to meet a goal of having residents always a 15-minute walk away from a swabbing point.
The signal that Covid testing is here to stay likely weighs on optimism that Hong Kong would do away with some of the remaining virus curbs as it seeks to revive its global standing. Officials have recently scrapped mandatory hotel quarantine and pre-departure PCR tests, but travellers still face movement curbs for three days after they arrive and a strict testing regimen.
Article content
— Bloomberg
Hospitalizations with COVID-19 steady at 369
On Thursday, 369 people in B.C. hospitals tested positive for COVID-19, said the B.C. Centre for Disease Control.
The figure has remained steady since last Wednesday when 367 patients had COVID-19, a surge of 20 per cent from the previous week.
Health officials had warned of a rise in hospitalizations in the fall and winter due to COVID-19, influenza and other respiratory illnesses.
In its latest update, the BCCDC said there were 697 cases reported in Sept. 25 to Oct. 1, a slight increase compared to the 636 the previous week. This number is an undercount because of limited availability of PCR testing. It does not include rapid test results, which are more widely-used.
Article content
Hospital admissions (185), critical care admissions (28), and deaths (19) are stable or lower than the previous week, said the agency.
There have been nearly 28,600 hospital admissions with COVID-19 in B.C. and 385,599 cases since the pandemic began. To date, there have been 4,321 deaths.
The province switched to a weekly reporting system in April. For a primer on how to interpret data in the BCCDC weekly reports, click here.
— Cheryl Chan
American Express Co. is ending a requirement that employees need to be vaccinated against Covid-19 to enter offices as virus cases decline globally.
The decision, which takes effect Nov. 1, applies to offices across the US, Canada, Australia and New Zealand, according to an internal memo to staff seen by Bloomberg. Staffers also will no longer have to be vaccinated to attend company-sponsored in-person events.
Article content
Bloomberg
Ringo Starr has cancelled shows in North America, including two in B.C., after the former Beatles drummer tested positive for COVID-19.
The 82-year-old cancelled performances Sunday at the Four Winds Casino in New Buffalo, Michigan, and Mystic Lake Casino in Prior Lake, Minnesota, citing illness.
On Monday a spokesperson confirmed that Starr and his All-Starr band would be cancelling five more shows after the former Beatle caught coronavirus.
The cancelled shows include Oct. 8 at the Abbotsford Centre and Oct. 9 at the South Okanagan Events Centre. Shows in Winnipeg, Saskatoon and Lethbridge were also cancelled.
The rest of his tour will remain on hold while Starr recovers.
Article content
— The Associated Press
A study by researchers at the University of Calgary found that incidences of family violence increased globally during the pandemic.
A rapid review of literature done by a research team at the university's Faculty of Nursing and Cumming School of Medicine found the rise in family violence may have occurred due to the restrictions that increased risks, such as mental-health concerns, isolation, economic vulnerability, loneliness and job loss.
"We wanted to examine the occurrence of family violence, identify factors associated with family violence and identify relevant recommendations from COVID-19 literature published up to one year after the pandemic was announced," said Dr. Nicole Letourneau, a professor and lead investigator with the Faculty of Nursing and Cumming School of Medicine.
Article content
Read the full story here.
— Stephanie Babych, Calgary Herald
Though the summer months might have offered a reprieve, Quebecers should not underestimate the threat COVID-19 still poses, public health experts are warning.
After a dip in recent months, pandemic indicators are once again rising in Quebec as the province enters its first fall and winter without any public health measures in effect.
Declining since late July, hospitalizations due to COVID-19 have now jumped by more than 200 patients in the last three weeks. The average number of cases reported by the provincial Health Ministry is also climbing.
"Even if some think it's mission accomplished and we're turning the page, the page has not been turned yet," said Benoit Barbeau, a virologist at the Université du Québec à Montréal. "The virus is still quite present and is spreading."
Article content
Read the full story here.
— Jesse Feith, Montreal Gazette
U.K. COVID inquiry begins, vowing to expose any culpable conduct
LONDON — A public inquiry into Britain's response to and handling of the COVID-19 pandemic got underway on Tuesday, with a promise it would get to the truth, and expose any wrongdoing or culpable conduct.
Britain has recorded almost 20 million COVID infections and more than 166,000 deaths — the seventh highest fatality total globally — and former Prime Minister Boris Johnson and his ministers have faced criticism for their handling of the crisis.
Last year, Johnson ordered the inquiry to look into the preparedness of the country as well as the public health and economic response.
The investigation is being led by former judge Heather Hallett, who held a minute's silence at the beginning of the hearing in memory of those who died.
Article content
"The inquiry will analyze our state of readiness for the pandemic and the response to it … and to determine whether that level of loss about which we've just been reflecting was inevitable, or whether things could have been done better," she said.
She said she was determined the inquiry would not "drag on for decades" and her aim was to produce timely reports and recommendations "before another disaster strikes."
— Reuters
WASHINGTON — Canada's Prairie premiers and two U.S. governors want their respective countries to restore pre-pandemic operating hours at entry points along their shared land border.
The group of provincial and state leaders have written to Prime Minister Justin Trudeau and President Joe Biden to argue that curtailed hours at border crossings are hurting the economy.
Article content
The letter is signed by Alberta Premier Jason Kenney, Saskatchewan Premier Scott Moe and Manitoba Premier Heather Stefanson, as well as Montana Gov. Greg Gianforte and North Dakota Gov. Doug Burgum.
It says travellers and businesses are being forced to go out of their way to find entry points with longer hours, driving up fuel and labour costs.
The leaders say that's also hurting smaller border communities along the Canada-U.S. border that depend on international traffic for their economic livelihoods.
The letter does not mention that the U.S. still requires visiting foreign nationals to be vaccinated against COVID-19, a requirement Canada lifted over the weekend.
Read the full story here.
 — The Canadian Press
Article content
Reports from the U.K. suggest another COVID-19 wave has begun.
Canadians should take note as what happens with the pandemic in the U.K. is usually reflected here within several weeks.
Ontario entered a seventh wave in July that was driven by the Omicron BA.5 subvariant, according to Ontario Chief Medical Officer Dr. Kieran Moore. The wave began about a month after public health measures such as masking were ended.
Without regular testing, it was difficult to get hard data, but wastewater surveillance showed rising numbers and the science table noted higher COVID hospitalizations this past summer than at any time in the summer of 2021.
If the U.K. can be considered a precursor to what Canadians will face, a difficult fall is on the horizon. Cases started rising in the U.K. in mid-September.
Article content
New variants are said to be able to evade the immunity built up by vaccinations and infections.
The Daily Mail reported that a drop in testing combined with the inadequate surveillance of new immune-evasive subvariants will create a "perfect storm" for another wave. After hospitalizations rose by 37% in the past week alone, U.K. health experts began calling for mask-wearing and urging COVID vaccinations, according to the Guardian.
— Postmedia News
A new paper from scientists at the Public Health Agency of Canada, co-authored by Chief Public Health Officer, Dr. Theresa Tam, estimates that with absolutely no public health measures and no vaccines, 800,000 people would have died from COVID-19 in Canada.
Article content
The paper was published in the Canada Communicable Disease Report, a peer-reviewed medical journal published by PHAC. The article, which appeared in the July/August edition, presents a series of several counterfactual scenarios, from an approach with no public health measures or vaccines to scenarios where public health measures, like lockdowns and masks, were simply lifted earlier.
According to the paper, which had several authors including Tam, the worst-case scenario would have seen 34 million Canadians get the virus had it been allowed to run free. Two million of those people would have ended up in hospital and 800,000 would have died.
The paper used information up to April of this year, by which point 150,000 people had been hospitalized and 38,783 had died, a number which rose over the summer and now sits at just over 45,000 deaths.
Article content
Read the full story here.
— Ryan Tumilty, Postmedia News
---
What are B.C.'s current public health measures?
MASKS: Masks are not required in public indoor settings though individual businesses and event organizers can choose to require them.Masks are also encouraged but not required on board public transit and B.C. Ferries, though they are still required in federally regulated travel space.
GATHERINGS AND EVENTS: There are currently no restrictions on gatherings and events such as personal gatherings, weddings, funerals, worship services, exercise and fitness activities, and swimming pools.There are also no restrictions or capacity limits on restaurants, pubs, bars and nightclubs; and no restrictions on sport activities.
Article content
CARE HOMES: There are no capacity restrictions on visitors to long-term care and seniors' assisted living facilities, however, visitors must show proof of vaccination before visiting.
Exemptions are available for children under the age of 12, those with a medical exemption, and visitors attending for compassionate visits related to end-of-life. Visitors to seniors' homes are also required to take a rapid antigen test before visiting the facility or be tested on arrival. Exemptions to testing are available for those attending for compassionate visits or end-of-life care.
---
How do I get vaccinated in B.C.?
Everyone who is living in B.C. and eligible for a vaccine can receive one by following these steps:
• Get registered online at gov.bc.ca/getvaccinated to book an appointment in your community.
• Or, if you prefer, you can get registered and then visit a drop-in clinic in your health authority.
• The system will alert you when it is time to go for your second dose.
• The same system will also alert you when it is time for your booster dose.
Article content
---
Where can I get a COVID-19 test?
TESTING CENTRES: B.C.'s COVID-19 test collection centres are currently only testing those with symptoms who are hospitalized, pregnant, considered high risk or live/work with those who are high risk. You can find a testing centre using the B.C. Centre for Disease Control's testing centre map.
If you have mild symptoms, you do not need a test and should stay home until your fever is gone. Those without symptoms do not need a test.
TAKE-HOME RAPID ANTIGEN TESTS: Eligible British Columbians over the age of 18 with a personal health number can visit a pharmacy to receive a free take-home test kit containing five COVID-19 rapid antigen tests.
---
More news, fewer ads: Our in-depth journalism is possible thanks to the support of our subscribers. For just $3.50 per week, you can get unlimited, ad-lite access to The Vancouver Sun, The Province, National Post and 13 other Canadian news sites. Support us by subscribing today: The Vancouver Sun | The Province.
File source