Canada
Cops charge four suspects after drug and gun bust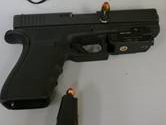 Article content
Four people face charges after a bust in which York Regional Police seized drugs, including fentanyl, and a loaded pistol in the Town of Georgina.
Article content
Police alleged officers saw four people acting suspiciously in a parking lot on Sept. 29 in the Metro Rd.-Simcoe Ave. area. Officers concluded the four were trafficking drugs.
Article content
A search of those in the parking lot and their vehicle uncovered a loaded handgun, a magazine containing 15 bullets, 15 loose rounds of ammunition, 91 grams of cocaine, 143 grams of fentanyl, five grams of methamphetamines, 131 dilaudid tablets, 25 percocets, 40 hydromorphone tablets and $2,000, according to police.
Four suspects — Gregory Perdomo-Perezi, 28, of Bolton; Marissa Gurica, 34, of Georgina; Will Martin, 31, of no fixed address; and a 17-year-old Toronto youth — face a variety of drug and firearms charges.
"Investigators would like to warn residents of the presence of purple, red and rainbow-coloured fentanyl being distributed in Georgina," added police. "Residents are reminded that if fentanyl is mistaken for another less-potent opioid like morphine, heroin or oxycodone, overdoses can easily occur. Depending on how it's administered, the user may not notice the difference until it's too late."
File source