Canada
City of Ottawa, police warned in advance truckers would stay for weeks, block access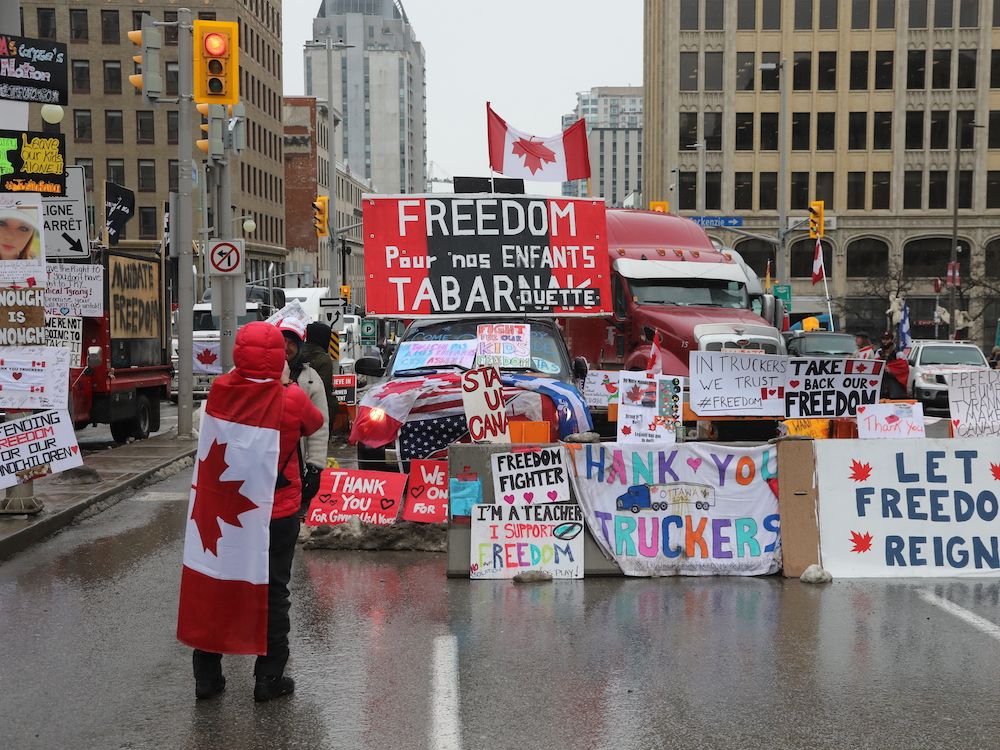 Ottawa city manager says notice of the convoy was shared with Ottawa police, who assessed the protesters would clear out after the first weekend
Article content
OTTAWA – The City of Ottawa received clear warnings several days before they arrived that Freedom Convoy protesters were planning to stay for weeks, and in much bigger numbers than police expected, according to emails and testimony at the Public Order Emergency Commission.
Article content
Ottawa's City Manager Steve Kanellakos told the commission the city expected the convoy protesters to stay only through the first weekend of the protest and then leave.
Article content
That information was based on assessments from the Ottawa Police Service (OPS), which the city followed as it planned for the first weekend of protests on Jan. 29.
"That first Wednesday was when they thought the last of them might leave. And the majority of them leaving after the weekend," Kanellakos testified. "This was information provided to the city on the 26th of January."
But the city received information and assessments from other organizations that contradicted the OPS assessments and indicated protesters planned on staying for up to three months.
Article content
For example, in the days leading up to the protests that began in Ottawa on Jan. 29, emails laying out plans for a longer-term blockade from convoy organizers to various hotels in the city were being forwarded to top city brass and the mayor's office from local hotel association president Steve Ball.
In one email to a hotel, a convoy organizer inquired about booking rooms for 10,000 to 15,000 people for at least 30 days, and up to 90 days.
Ball also warned the city that the convoy participants had made clear they would be blocking access to the city.
"They will leave their trucks in place, chain them together, and attempt to block all accesses to the city," a staffer in Mayor Jim Watson's office explained, based on explanations provided to Ball by a convoy member in the days before they arrived in Ottawa.
Article content
News reports and social media also indicated the truckers intended to stay well beyond the first weekend of protests, despite OPS assessments.
Kanellakos said they shared that information with police, but there are often different assessments and information about how the protest would unfold, something the capital has a lot of experience with.
"The last 20 years that I've been involved they handle those demonstrations very well. And the people have confidence in their assessment of the situation," he said. "Most every protest we've had, whether it was a G8, G20, farmers protests, the numbers vary widely leading into the actual protests. That is a normal situation in my experience."
Even city councillors disagreed with OPS assessments of the size of the incoming demonstrator group in the days leading up to the first weekend of Freedom Convoy protests in Ottawa.
Article content
"Many are now saying shut down the City until the restrictions are lifted. This is going to last more than a weekend," Councillor Riley Brockington said in an email to top city brass on Jan. 26 about messages by convoy participants that were showed at the commission.
"The OPS today estimated 1,000-2,000 to protest. No way. Expect many more," he added.
Kanellakos also addressed the decision to allow heavy trucks into the core. He said blocking the streets in the core would have moved the convoy, but would not have prevented it.
"The risk was they would leave their vehicles on the 417, or in neighborhoods all over the city and just walk away," he testified.
He said that assessment continued into the second weekend of the protests, when more trucks flooded into the city, because police were still concerned they didn't have the authority to keep truckers out without infringing their charter rights.
Article content
"For the second weekend, the posture from OPS was still that there was no legal authority to stop them from entering," he said.
Two weeks into the blockades, Kanellakos revealed that communication had "broken down" between OPS and protest organizers, creating a "significant issue" in negotiations to end the protest.
He said police came to him at city hall on Feb 8 and "implored" him to meet with organizers to continue negotiations to clear the streets.
Despite his initial reticence, he eventually told Mayor Jim Watson he would agree to a meeting and a few hours later, OPS organized a secret meeting between him and three convoy "organizers" (Tom Marazzo and lawyers Keith Wilson and Eva Chipuik) at city hall.
Kanellakos said they discussed moving trucks out of some neighbourhood streets and into streets surrounding the parliamentary precinct in exchange for a possible meeting with Mayor Watson. But a final deal was finalized a few days later, on Feb. 13.
Article content
In a letter sent to organizers and made public, Watson said the deal was for trucks to leave residential areas and move to Wellington street (in front of Parliament) and the Sir John A. Macdonald Parkway. Many, but not all, trucks did that.
The deal infuriated the head of the Parliamentary Protective Services (PPS) — in charge of security on Parliament Hill — who wrote a message to Kanellakos denouncing the decision to further concentrate trucks around the parliamentary precinct.
"Quite honestly Steve I am at a loss as to how this sort of agreement could have been worked out with a clear disregard to security, especially considering that we just finished a bomb blast assessment which included the threat of explosive being transferred via large vehicles," PPS Superintendent Larry Brookson wrote to Kanellakos.
Article content
After the trucks were set up and entrenched in the capital's streets. Kanellakos told former police chief Peter Sloly's lawyer during cross-examination that he did not believe OPS had the necessary resources to remove them by itself.
He also said the city did not have enough heavy tow trucks to remove parked convoy vehicles on its own. Kanellakos explained the city's transit authority OC Transpo owned two heavy tow trucks, but staff didn't feel safe using them to remove heavy trucks from the core.
He said other companies and municipalities didn't want to take part either.
"We ended up calling tow truck companies in other cities, the province, the federal government, looking to see if we could access heavy duty tow trucks for use in the event," he said. "And you're getting declined by everybody we call in that they didn't want to get involved."
Article content
Kanellakos said there were three main reasons why tow truck companies refused to go into the encampments and tow away convoy trucks.
He said some feared for their staff's safety because "it could be quite conflictual when you take someone's truck." Others feared damage to their own vehicles, as well as reputational damage that would lead them to lose business. Finally, a third towing group were sympathizers of the protest and didn't want to remove the Freedom Convoy trucks.
He said even if tow trucks were available, it would have been difficult to use them amid the chaos downtown.
"You need to secure the area where the actual physical truck is protected before you can bring the tow truck in and be able to move it out."
Article content
Kanellakos confirmed Ottawa bylaw enforcement agents neither ticketed nor attempted to tow vehicles in the Freedom Convoy "red zone" (downtown streets fully blockaded by trucks) because they refused to "go in without police support."
He said there was concern for bylaw agents' safety and a fear of creating a "volatile situation" in a "crowded area" where police would struggle to come in to support them.
Twitter: RyanTumilty
Email: [email protected]