Canada
City approves study of wildlife overpass that doesn't end in rail yard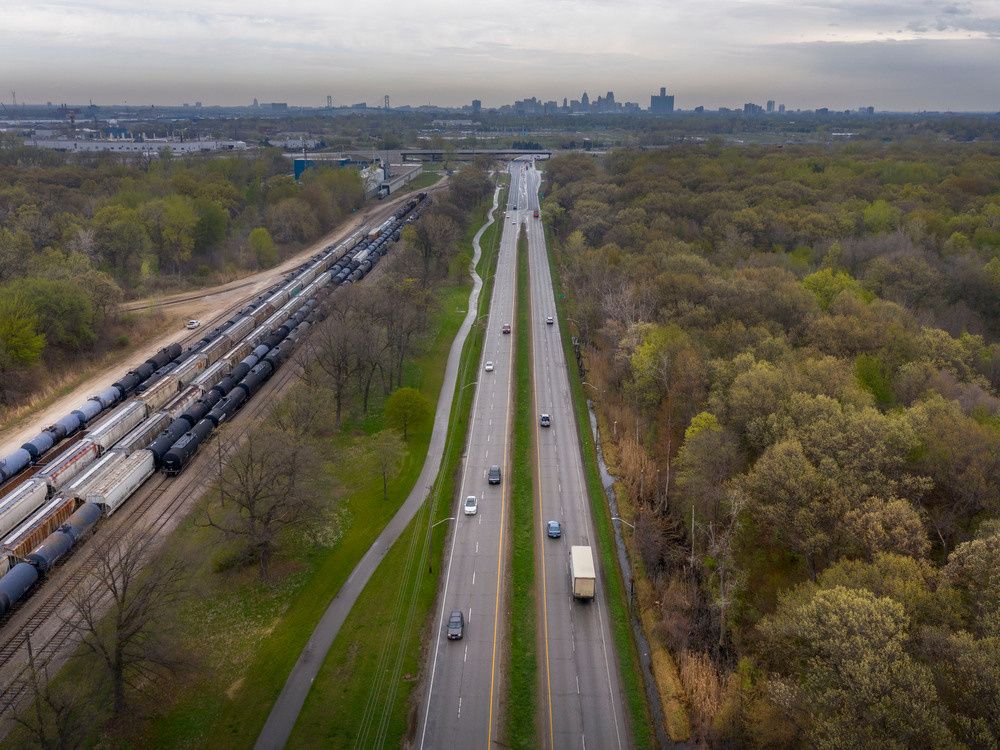 Article content
The likely prospect of Windsor getting a national urban park on its west side has prompted a second look at a previously proposed wildlife crossing over Ojibway Parkway, this time for one to extend beyond the adjacent railway tracks.
Article content
City council on Tuesday gave a hired consultant the green light to perform an additional environmental assessment for the crossing and approved another $150,000 to pay for it.
Article content
The new funds for an assessment that has already cost $250,000 come out of $1.5 million in "seed money" for a new wildlife crossing provided by the Windsor-Detroit Bridge Authority as part of its Community Benefits Plan related to the nearby Gordie Howe International Bridge project.
The "preferred" solution presented last year — a 50-metre-wide green bridge over Ojibway Parkway just south of Broadway Street — would have cost $15.3 million and stopped short of the Essex Terminal Railway tracks to the west. A proposed crossing to protect wildlife from motor traffic, but which ended at the edge of a fenced-off rail yard, sparked much public criticism.
Article content
But with momentum building for an Ojibway national urban park being shepherded by Parks Canada, the city is now looking at extending the overpass footprint.
"I love that we're making it better. I love that we're looking at expanding it," said Ward 1 Coun. Fred Francis.
Patricia McGorman, an area resident who appeared before council as a virtual delegate, said she opposed the wildlife overpass's proposed location, fearing it would destroy "provincially significant woodland." Instead, she suggested an alternative site for the crossing south of Black Oak Heritage Park.
In response, James Chacko, the city's manager of parks and recreation, said multiple areas have already been reviewed — by city staff, previous consultants, and the current consultant — to determine the "optimal" crossing location. The expanded environmental assessment approved by council on Tuesday will afford another opportunity to evaluate the best alternatives.
Article content
In a written submission, Friends of Ojibway Prairie president Bill Roesel, a former City of Windsor forester, expressed support for the amended environmental assessment agreement to include the proposed overpass extension.
"Connectivity between the natural areas that make up the Ojibway Prairie Complex is crucial for wildlife, including the many species at risk that make their habitat within the ecosystem," Roesel wrote. "We strongly support working toward a solution that provides the best connectivity between Black Oak Heritage Park, Ojibway Shores and the rest of the Ojibway Prairie Complex."
David Hanna, a local urban planning advocate and avid city council watcher, also supported the more detailed research study for the proposed wildlife crossing, stating the area's rare species deserve the protection an extended overpass would provide. 
Article content
When a wildlife crossing might be built remains unclear. City administration is anticipating a report back on the expanded environmental assessment near the end of 2023.
But with the project's cost expected to be in the neighbourhood of $20 to $30 million, Windsor Mayor Drew Dilkens said it "could only reasonably happen with the support from another level of government." The national urban park, he said, "lends itself perfectly to this type of investment."
It was announced in May that Transport Canada had signed an agreement with Parks Canada to transfer Ojibway Shores from the Windsor Port Authority as part of the process of creating a national urban park in Windsor. However, Chacko said the transfer has not yet taken place.
Article content
"We're aware that (the negotiations) are continuing, but they have not been finalized to date," he said.
Also still in question are the boundaries of a future national urban park, its ultimate governance model, its ownership, and the funding for its ongoing maintenance, Chacko said. City administration is currently having those discussions with Parks Canada.
Whether the park is created through the process being led by Parks Canada or as a result of a private member's bill from MP Brian Masse (NDP — Windsor West) is also unknown. The city is currently navigating both processes.
"The end result of each of those certainly does appear to be the creation of a national urban park that would encompass all of these properties," Chacko said. "How that takes shape and how that ultimately looks is still to be determined."