Canada
Chris Selley: Misogynist hashtag should be a wake-up call to Pierre Poilievre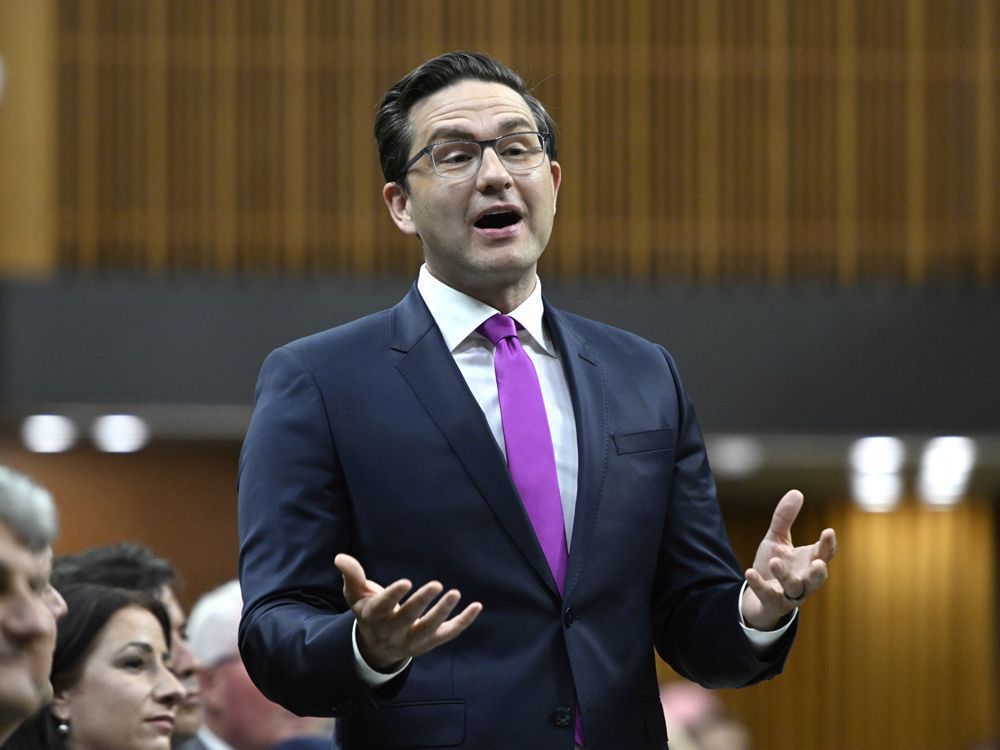 He has a compelling and important message, and a very tired opponent in Justin Trudeau. There is no need to wink at weirdos and extremists
Get the latest from Chris Selley straight to your inbox
Article content
On Thursday afternoon, the Conservative Party of Canada announced it was calling off the search for whoever added the hashtag #mgtow to hundreds of videos on Pierre Poilievre's YouTube channel beginning in 2018. The hashtag refers to "Men Going Their Own Way," a group of proudly pitiful males who have decided society is too poisoned by feminism for them ever to find a partner, and therefore think it best they limit their social group to other male failures. That might sound like a win at first blush, but similarly radicalized men — so-called "incels" — have committed some notable atrocities.
Article content
The hunt for the culprit was only a few hours old. Global News reported on the hashtags, which are hidden in the coding of YouTube videos and designed to steer viewers toward content they might want to see, on Thursday morning. "(Poilievre) has confirmed with current staff who were working with his office in 2018 that they did not add the tag," the outlet reported later in the day. Poilievre had ordered the hashtag removed, condemned the men who are going their own way and in the House of Commons on Thursday reminded us that Justin Trudeau dressed up repeatedly in blackface. Apparently that's supposed to be the end of it.
Article content
Unless the culprit was Poilievre himself, trying to leave it there seems like a very bad idea. This episode could well leave a bigger bruise on Poilievre's pre-election record than all the other attempts thus far to link him with right-wing extremism.
Article content
Those attempts usually require some time to explain to the unfamiliar, and asking them to make some assumptions: Poilievre met congenially in Ottawa with Convoy Person X, who is friends with Very Nasty Person Y, who adheres to Very Unpleasant Cause Q or who at the very least knows Person Z who adheres to it. (This is why politicians don't generally wade out in support of not-very-well-understood protests that have shut down large parts of nations' capitals. All risk, not much reward: The convoyers are most likely to vote for the People's Party, if at all.) When Conservatives cry "double standard!" they are often quite right: For example, no one accused Naomi Klein and her NDP friends of undermining Canadian democracy when they trafficked in woolly-headed World Economic Forum-related conspiracy theories.
Article content
That is not a good reason to traffic in, wink to or nod at crazy people or ideas — not unless you see politics primarily as a campus-politics game of Gotcha, which Poilievre often seems to.
But this hashtag business is cut and dry. MGTWs, and similar groups of militant male social rejects, are likely unknown to the vast majority of Canadians. But as bizarre and bewildering as their worldview is, it's not hard to explain. Basically they blame women for all their problems in the same way anti-Semites blame the Jews. Their scarcity is their only saving grace. They aren't a voting bloc, let alone one worth wooing.
Article content
If a political party isn't willing to try to justify something like this, then it had better look interested in finding out who made it happen and why. It didn't happen by accident. And Poilievre is, after all, auditioning to be prime minister — auditioning to replace a famously tone-deaf, out-of-touch prime minister whose mouth is just as capable of astonishing feats of stupidity as his government. "It's just a stupid hashtag," Conservative partisans insist on social media. OK, so what the hell was it doing there?
Poilievre's central campaign plank is arguably one of the most important we have seen in recent times. "Young people, who did everything we asked them to do are stuck trapped in their parents' basements," he tweeted on Thursday. "Since Trudeau took office, the price of the average house has doubled, as local gatekeepers block new home construction. Remove the gatekeepers. Build more houses now."
Article content
Easier said than done. But there is huge potential for social unrest in not doing it. To pick one remarkable data point among many, courtesy of economist Mike Moffatt: In May of this year the average price of a home in Tillsonburg, Ont. — a town of 19,000 people roughly halfway between Toronto and Windsor, served by neither intercity transit nor a four-lane highway — was greater than that of a condominium in Tokyo.
Article content
It's pure political malpractice on the other parties' behalf that that issue was just sitting there, waiting to be embraced and meshed perfectly with traditional conservative thinking: Get rid of red tape; build, build, build. If Poilievre could help break down the NIMBY barriers he wants to by withholding federal funding to intransigent provinces and municipalities — a big if, but there are crazier ideas out there in Canadian politics — he could make a huge, lasting and positive mark on Canadian history.
This hashtag debacle should be the last reminder he needs to wipe the smirk off his face, abandon the campus-politics schtick (if he's capable of it) and get busy selling that vision to the unconverted.
Get the latest from Chris Selley straight to your inbox