Canada
Ambassador Bridge company drops new span, but pushing for plaza expansion on west end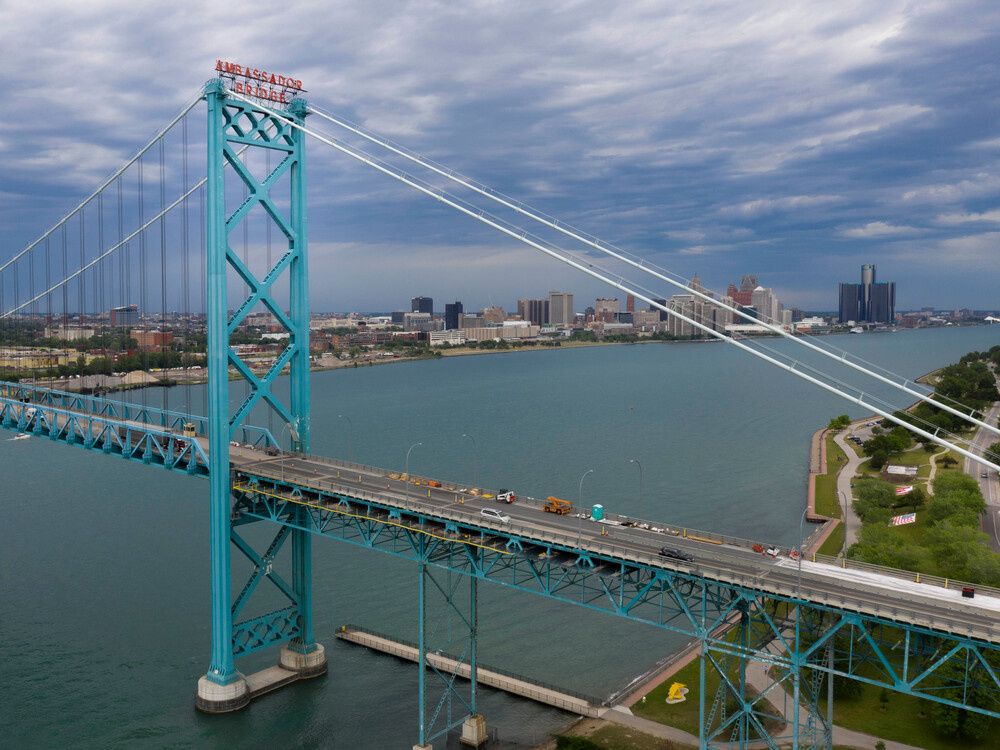 Article content
Attempts to build a new twin span of the Ambassador Bridge appear dead for the foreseeable future, but City of Windsor officials remain in discussions with the bridge company to expand the current Canada customs plaza to include secondary truck inspection on the city's west end.
Article content
"We are meeting with them on a regular basis," said City Solicitor Shelby Askin-Hager. "The permit for construction of the span has expired. They don't want to construct another span, but they still have interest in the plaza."
Article content
Currently, secondary truck inspection at the bridge takes place two kilometres away on a large site off Malden Road, not near any residents, but "doesn't work well" for either Canada Border Services Agency (CBSA) or the bridge company, she said.
We are working with them and continuing to talk
The bridge company owns an extensive amount of property in Sandwich Towne that includes Indian Road, Mill Street, plus the former Forster Secondary School and its playing field which in some form would feature a new secondary truck inspection site connected to the current bridge plaza.
Article content
"I can't discuss the focus of our discussions, but we are continuing to look at what a go-forward position would be on a plaza expansion," said Askin-Hager who noted the two sides met as recently as last Friday.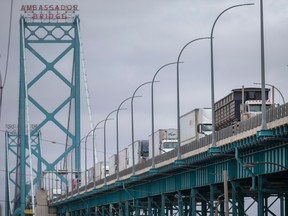 City administrators are well aware of protecting nearby residents in Sandwich in terms of any bridge plaza expansion, she said.
"Obviously our concerns have never changed with respect to ensuring the residents are protected and ensuring (the bridge company) is not taking more housing stock where they don't need to," Askin-Hager said. "We are working with them and continuing to talk."
Meanwhile, plans for a twin span are off the table, according to the president of the bridge company in a letter issued Tuesday to Detroit's city council.
Article content
The Canadian permit issued in 2017 that gave the company a five-year window to launch construction of a new six-lane cable stayed bridge next to the existing 93-year-old crossing expired on Aug. 31. It lapsed after the bridge company failed to meet roughly a dozen conditions, most notably a concrete plan to tear down the existing crossing.
There were ongoing discussions over the past year between the federal government and bridge company on whether the conditions could be met, narrowed down or a permit extension granted, but now it appears the company has no further desire to construct a new bridge.
In a two-page letter by Bridge company President Dan Stamper, he informed Detroit's council the company has decided not to apply for a new Canadian permit "for several reasons."
Article content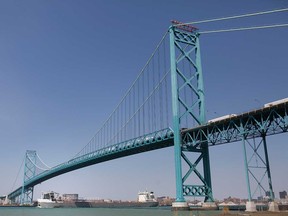 He cited how the company has spent a "significant amount of money" repairing the existing bridge which will "extend its useful life by many decades."
Stamper also blames the Canadian government for continuing to block a twin span because of its insistence the current bridge must be demolished.
His letter also noted how cross-border traffic has "steadily declined" over the last 20 years and "finally, the (Gordie Howe International Bridge) will open in a few years adding capacity in the corridor."
"Some or all of these important circumstances would have to change significantly for us to reconsider building a new bridge," said Stamper in the letter.
The bridge president issued the letter to Detroit's council Tuesday due to its ongoing efforts to secure a large piece of Riverfront Park in Detroit which sits next to the bridge.
Article content
A parcel of the park is the last remaining property required by the bridge company on the U.S. side should it ever proceed with building a new span.
A land swap agreement was reached in 2015 between the bridge company and Detroit officials that would see the bridge owners get the park parcel in exchange for some properties it controls near the riverfront closer to downtown.
But the city of Detroit can not give away parkland without several approvals, including at the federal level, so talks between the bridge company and Detroit's council have continued.
Council has put up resistance to completing the deal out of fear giving up the park parcel will either lead to renewed efforts by bridge owner Matthew Moroun to build the twin span or further expand the current bridge's U.S. customs operations — both of which would have negative impacts on nearby residential communities in southwest Detroit.
Article content
Stamper in his letter to council claimed the park site is only desired for "more efficient maintenance" of the bridge and to act as a "buffer between bridge operations and the remainder of Riverside Park."
Local MP Brian Masse (NDP — Windsor-West), who represents the riding where the bridge is located, was glad to hear the bridge company is dropping plans for a second span, but concerned about potential plaza expansion to accommodate trucks into Sandwich.
"I have a lot of concerns with relocation of the (truck inspection) plaza and what that will mean for the community," he said. "This needs to be thoroughly looked at, not only at the government level, but community input is needed, as well.
"We've already seen this company never lives up to their promise of green space or anything else. That continues to be their record. I definitely hope this wouldn't move forward until there are consultations with the community and also a commitment to provide community benefits."
File source