Canada
Adam Zivo: These aid workers go where others won't — the Russians tried to bomb them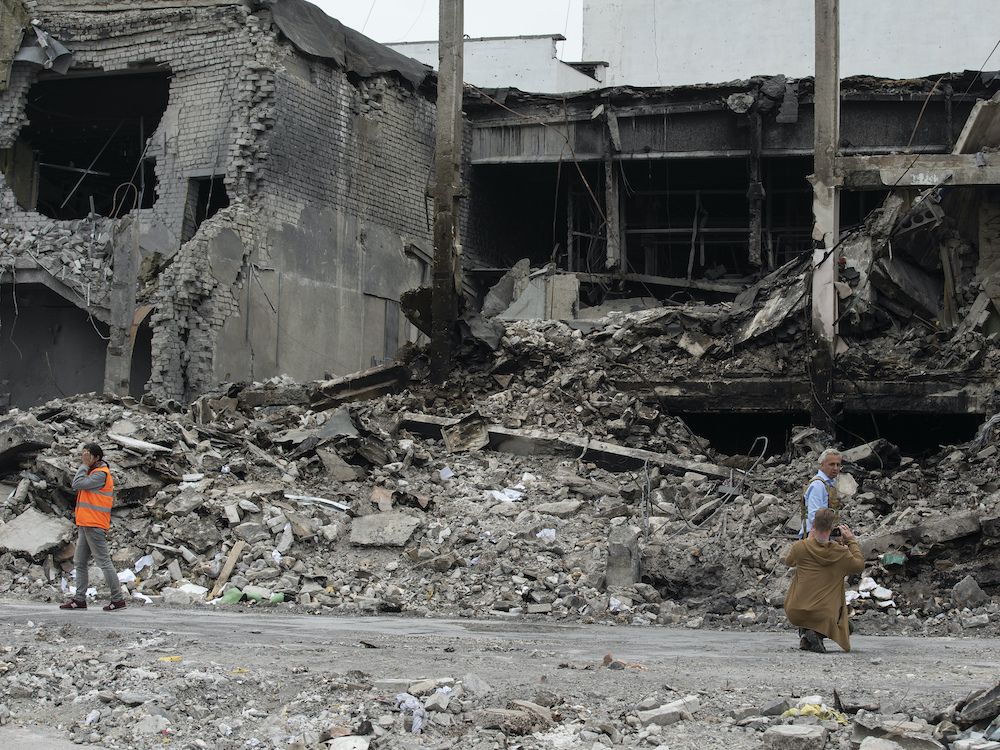 'Here, you can taste the war in your mouth'
Article content
KHARKIV, Ukraine — Last Saturday, I accompanied humanitarian aid workers delivering medical supplies to liberated villages just north of Kharkiv, right beside the front line and Russian border. But our trip had to be aborted when, during a brief stop at a bridge, the Russians fired on us with artillery — they missed.
Article content
Video above shot by National Post Columnist Adam Zivo on May 21, 2022: An aid worker describes a refugee shelter that was destroyed by Russian bombing in Dergachi, a village near Kharkiv, Ukraine. Russian artillery then explodes 200 metres away.
Earlier that day, I met with Mission Kharkiv, a local grassroots organization that delivers medical supplies to residents in the area. The project's founder, Rostislav Filippenko, is a mathematics PhD student whose family lives in Kharkiv. On the fourth day of the war, eager to be useful, Filippenko contacted two local hospitals and put together a list of their needs.
He sent this list to his contacts in Spain, at which point the Spanish media picked up his story. An ensuing outpour of Spanish support led to 30 tons of medical aid being delivered to Ukraine — thus Mission Kharkiv was born.
Article content
As of now, the group processes and delivers medical donations from abroad, handling last-mile logistics so these donations can actually reach vulnerable communities. Mission Kharkiv specializes in supporting the chronically ill, such as diabetics and cancer patients, and evacuates particularly serious cases to foreign hospitals for treatment where possible.
Filippenko noted that some larger NGOs simply drop off donated supplies in hospital lobbies, leading to some supplies being stolen or sold for a profit. However, Mission Kharkiv is led by a team of local medical professionals (such as doctors and pharmacists), which allows them to reduce opportunities for corruption by delivering supplies directly to patients or vetted medical providers. The group also utilizes a stringent accountability system which includes photos of each completed delivery.
Article content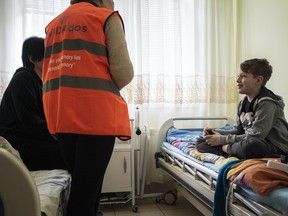 I met Mission Kharkiv's team in Lviv back in April, eventually writing an article about them for the Ottawa Citizen. At that time, Filippenko shared a story about how, earlier in the war, a bomb landed around the corner from their warehouse, ejecting shrapnel into a local woman's abdomen. His volunteers administered first aid, but she bled out and died. Filippenko was astounded when, immediately afterwards, the volunteers continued working in the warehouse so they could save more lives.
Now that I was in Kharkiv, I could see the warehouse in real life. The project had grown since we last spoke — cavernous rooms were filled with supplies. Antibiotics, traumatology equipment, mobility support for the elderly — they seemingly had everything. There were about ten volunteers throughout the building, categorizing donations and organizing requests. The scale and professionalism was impressive for a project that didn't exist three months ago.
Article content
Deliveries made to high-risk areas are handled by special volunteers. Filippenko pointed to a shelf where medical packages sat ready for delivery — the ones going to dangerous places were marked with the name of whichever risk-tolerant driver best knew the area.
As we left for a children's hospital, Filippenko pointed to a fence that was riddled with holes. That was where that woman had died earlier — the one who bled to death from shrapnel.
In the car, we were accompanied by two older women from Olvidados, a Madrid-based aid organization that has partnered with Mission Kharkiv. The two women, Olga and Teresa, were warm and vaguely maternal. They had previously been in Syria, and, back in Madrid, their organization helped feed 2,000 people, providing 30 tons of food per month.
Article content
"Here, you can taste the war in your mouth. You can taste the sadness and the terror in your body. Olvidados means 'forgotten.' Our mission is to go where nobody is. There are no NGOs here. Yesterday in the hotel, we couldn't have breakfast because they don't have food. You can really feel that they don't have food. In a good hotel, you want to have food but you can't. We always try to go where it is difficult, but it is very dangerous," said Olga.
She beseeched the world to step in with aid — their Spanish donors were exhausted and they were concerned that interest in the Ukrainian humanitarian crisis was waning.
When we reached the children's hospital, it was quiet. The hospital was operating at low capacity as many of the staff had fled and were too scared to return. The vice-director, Vladlena Viktorovna, showed us three patients — a preteen girl who had issues with her legs due to COVID, a little boy whose face was half paralyzed and a little girl who was in a vegetative state and was being fed pureed fruit by a nurse.
Article content
In a kitchenette, Viktorovna offered us cinnamon buns baked by volunteers. She lives in the hospital these days, as her home is in a heavily bombed neighbourhood and lacks electricity and water. "I'm not afraid here — of anything. We try to calm down the parents and the children. We tell them that the hospital is a saintly place, like a church. I tell our volunteers that we have good angels guarding us – it is safe here, while outside it is not safe. Everyday, we start our day feeling good because it's forbidden to feel bad in front of children."
Logistical problems had plagued the hospital since the beginning of the war. "Drug stores were closed. Shops were closed. When some products are out-of-stock, we can't buy anything. Even if we have money," she said.
Article content
After visiting the hospital, we returned to the warehouse and met with soldiers who were tasked with escorting us on a mission to deliver medication to Ruskaya Lozovaya — a village northeast of Kharkiv. Fortuitously, my friend Anton had gifted me military-grade body armour earlier that day, so I joined them, borrowing a spare helmet. Off we went, packed into two cars.
On the road to the village, we passed by countless military checkpoints. The countryside was deserted. There were almost no cars and most of the buildings were heavily damaged and burned. It felt post-apocalyptic — just stillness punctuated by the thunderclaps of artillery that grew louder and louder.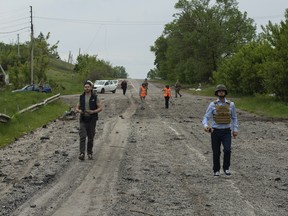 We stopped by a destroyed tank to take some photos — nervous, quick, in and out. Then we resumed our journey and approached a bridge which the Ukrainian army had blown up to prevent a Russian advance. We stopped there, too. Flippenko and I walked close to the crater. Somewhere in the distance, but not so far away, was the percussion of war. A lush countryside. A broken bridge. Eyes darting everywhere. Tick, tick, tick— there wasn't much time.
Article content
Then there was another boom — much closer to us than all the others. Like it was just beside us, in the trees. I felt it in my body. We ran back to the cars, the soldiers urging us to hurry. We needed to go. The enemy was aiming at the group. As we sped away, the soldiers explained that it is safer to travel in a single car, because the Russians don't like to waste their ammunition on trivial targets. They prefer maximizing death. When cars move in groups of two or more, they notice. "The artillery was closer than we thought," one soldier said.
Fifteen minutes later, we stopped on the road. The soldiers' car had a flat tire, so we waited for a replacement. It seemed unbelievable that the group was targeted — Olga and Teresa were wearing neon orange vests, and my body armour was clearly marked "press." To the Russians near Kharkiv, civilians are just another target.
Article content
I interviewed the driver of our car — a woman in her mid fifties. She lived in Geneva and was visiting family in Ukraine when the war started. Her return ticket was for the day after the invasion began. Her two boys were volunteering with Mission Kharkiv, so she stayed and did her part, too. As long as she was with them, she was at peace.
After we fixed the flat tire, we drove through Dergachi, another dangerous village, which was also eerily deserted. We stopped by a cultural centre that had been functioning as a refugee shelter until it was bombed earlier this month. It was disturbing to see a massive crater in a building knowing that this is where people were hiding for safety. Apparently about seven people had died in that bombing, but as one of the soldiers clarified, many others had been injured — arms and legs had littered the area. I was recording audio nonstop on my phone and I walked away a bit and was about to stop recording when there was a boom. A loud boom. A boom that was worse than any thunderclap and went through my bones and shook my eardrums. A plume of smoke could be seen about 200 metres away.
Article content
Everyone ran for cover. Olga and Teresa hid behind a slab of rubble and I crouched behind a tree with the soldiers. A car alarm whined. Then there was shouting — shouting, shouting, shouting from the soliders: "Let's go! Get in the car!" We ran. And then we sped away again, tires almost screeching. Fast, fast, fast.
Then we got away. They weren't targeting us this time — the Russians sleep through the afternoon and shell at random in the early evening. It wakes them up, I guess. One of the soldiers laughed because I was biting my fingernails — "Do you need a drink?" They said it was incredibly rare for civilians to have this kind of experience.
Olga and Teresa were shaken by what had happened, despite their long history of working in war zones. They said that they had never expected to be bombed. Shortly afterwards, they left for Romania to organize the delivery of another trailer of aid to Ukraine.
Article content
On a phone call from Romania, Olga said, "I'm trying to repair my mind as soon as possible because I'm still working, because I remember the eyes of all the people I've seen. But it's impossible to change my thoughts. In the night, when I go to sleep, I want to repair my mind by myself, not with a cup of wine, but it's hard. You see that you can die in one second. I have a life, like everybody. But I don't want to think about this."
Filippenko also contemplated the Russians' attempt to hit us. "It was a mortar explosion, which, for civilians, is the worst. A single mortar explosion spreads fragments over a wide area and it's pretty f****ng bad. I think we're pretty lucky."
He said that though he has experienced all kinds of explosions throughout the war, this was the worst. Going forward, he and all of his volunteers will be required to have body armour and helmets during deliveries.
Thank god for the Russians' terrible aim.
National Post